Commentary
This report begins: 'The particulars of the Life and Death of Miss AGNES RAE, a gentleman's daughter, belonging to near Dunfermline, who was betrayed and seduced by a young gentleman ; she became pregnant to him ; his love turned to hatred for her, and ordered his servants to turn her out of doors ; she was then reduced to poverty and obliged to beg alms from door to door, and on Monday last was found in a deplorable condition, lying dead in a byre belonging to Mr Blackburn, between Dunfermline and Kinross : with a copy of a beautiful and interesting Letter, and a copy of Verses, which were found in her pocket-book, written in her own handwriting.' Printed by Kirkwood in Glasgow.
This broadsheet combines a mixture of literary styles, including a general introduction, a personal account of her tragedy seemingly written by Agnes Rae herself, and an instructional ballad to conclude the sheet. The broadsheet tells of how Miss Rae was led astray and seduced by a young gentleman, and how this situation left her poverty and caused her subsequent death. It is possible that this broadsheet is a work of fiction, intended as a moral code of practice and warning to make young people behave themselves.
Broadsides are single sheets of paper, printed on one side, to be read unfolded. They carried public information such as proclamations as well as ballads and news of the day. Cheaply available, they were sold on the streets by pedlars and chapmen. Broadsides offer a valuable insight into many aspects of the society they were published in, and the National Library of Scotland holds over 250,000 of them.

Probable date of publication: 1830 shelfmark: F.3.a.13(39)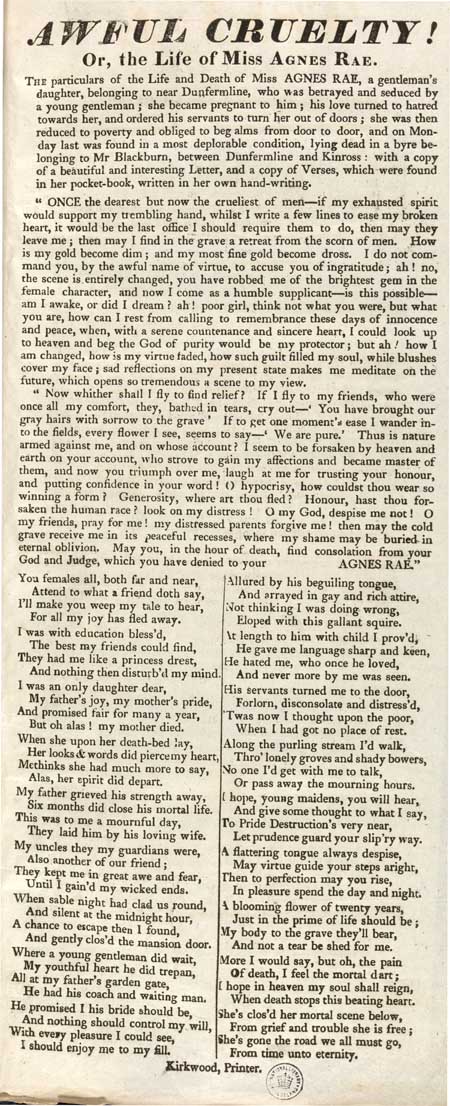 View larger image