Commentary
This ballad begins: 'Leave of my minde why thinks thou on, / She that was once my dear / does thou not know that she is gone, / and married now I hear / what madness make the recolect / to think on such a maide / who allwise payd me with neglect / and my desinges bewraed.' The text preceding it reads: 'To a Pleasant New Tune'.
There are other copies of these lyrics to 'a pleasant new tune' held in the National Library of Scotland's collection. This lamentation genre has its origins in the Bible. The Lamentations of Jeremiah detailed Judah's desolation at the Fall of Jerusalem in 586 BC to the Babylonian King, Nebuchadnezzar. Thereafter a tradition developed to express grief for the dead, with the poems being written in a special metre called 'elegiac'. Lamentation eventually became a traditional Scottish expression of grief, accompanied by bagpipes, at clan funerals.
Early ballads were dramatic or humorous narrative songs derived from folk culture that predated printing. Originally perpetuated by word of mouth, many ballads survive because they were recorded on broadsides. Musical notation was rarely printed, as tunes were usually established favourites. The term 'ballad' eventually applied more broadly to any kind of topical or popular verse.

Probable date of publication: 1701 shelfmark: Ry.III.a.10(066)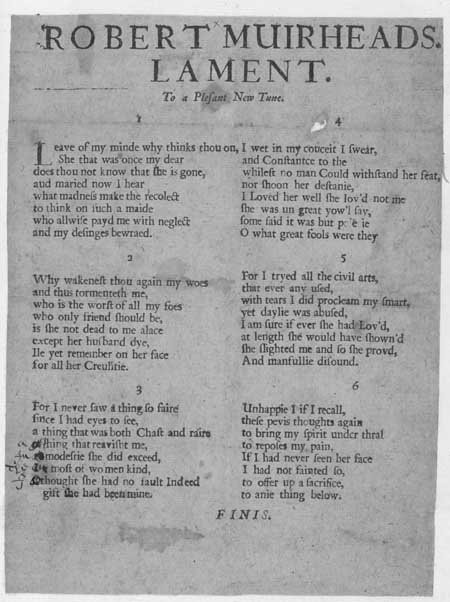 View larger image