Commentary
This ballad begins: 'Fy on the Wars that hurri'd Willie from me, / Who to love me just had Sworn, / They made him Captive sure to undo me; / Wo's me he will ne're return. / A Thousand Lowns abroad will fight him; / He from Thousands ne'er will run.' The text preceding it reads: 'An excellent New Song, Much in request'.
This is an interesting glimpse of eighteenth- and nineteenth-century Scottish society. During this period, first civil and then foreign wars dominated politics. Scots were renowned for travelling abroad both as soldiers and as mercenaries. Here, fears for loved ones are voiced, perhaps a theme that would have been familiar to the audience. There is a further look at this period's attitude towards materialistic finery and fashions, as the lover's dress is described in detail.
Early ballads were dramatic or humorous narrative songs derived from folk culture that predated printing. Originally perpetuated by word of mouth, many ballads survive because they were recorded on broadsides. Musical notation was rarely printed, as tunes were usually established favourites. The term 'ballad' eventually applied more broadly to any kind of topical or popular verse.

Probable date of publication: 1710 shelfmark: Ry.III.a.10(062)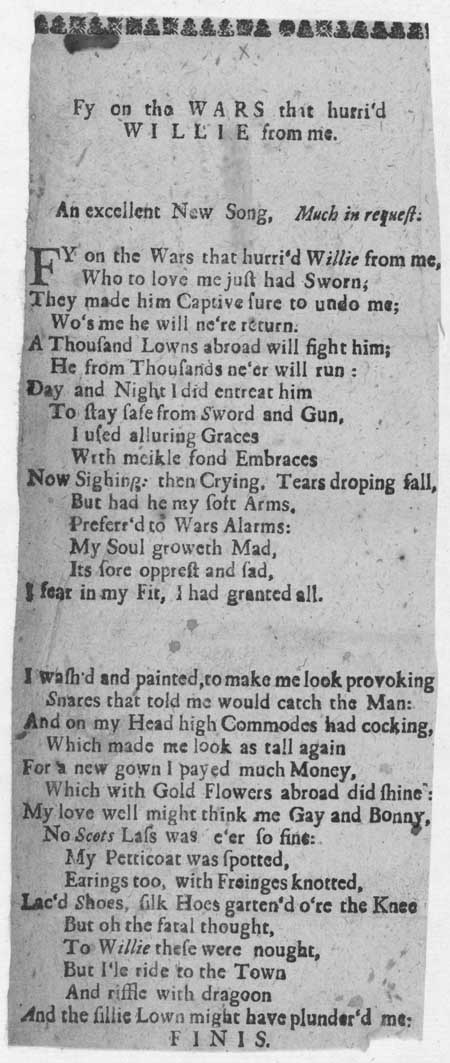 View larger image