Commentary
This ballad begins: 'Hope farewel, adieu to all Pleasure, / No Torment so great as Love in despair: / Sylvia frowns, my Endeavours to please her, / And laughs at those pains she makes me to bear.' A generic woodcut has been included to add to the market appeal of the sheet. This broadside ballad should be sung to the tune of 'Hail great Sir, &c'. It was probably printed by John Reid in Edinburgh.
Many of these broadside ballads stem from a purely oral tradition and even when recorded at the time, were treated as ephemera. As a result not much information is available on either the lyrics or the melody, although they were probably well-known at the time. The use of the name Sylvia here, however, does reflect the growth in classical interest during the eighteenth and nineteenth centuries. Always a popular Italian name and having direct Roman origins, it was used as a literary motif to convey sophisticated Italian connotations.
Broadsides are often crudely illustrated with woodcuts - the earliest form of printed illustration, first used in the mid-fifteenth century. Inclusion of an illustration on a broadside increased its perceived value, especially among the illiterate. To keep costs down, publishers would normally reuse their limited stock of generic woodcuts.

Probable date of publication: 1701 shelfmark: Ry.III.a.10(051)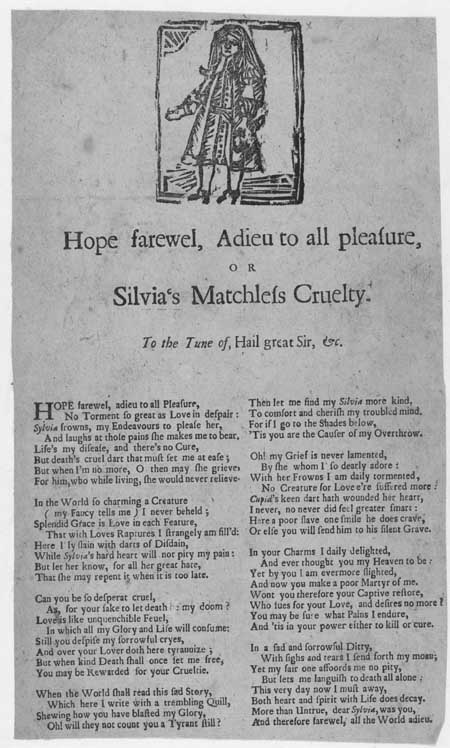 View larger image