Commentary
This ballad begins: 'FAREWELL to Lochaber, and farewell my Jean, / Where heartsome with thee I've mony a Day been; / For Lochaber no more, Lochaber no more, / We'll may be return to Lochaber no more.' This ballad is sung to the tune of 'Lochaber no more', and there is a generic woodcut scene of hunting at the top of the page.
The tune to this piece is believed to have been based on the Irish air, 'Limerick's Lamentation'. The majority of scholars believe the original was adapted by the Irish harpist, Thomas Connellan (1640-1698) although it has recently been suggested that Myles O'Reilly (b. 1635), another Irish harpist, may have made these changes. The lyrics were written by Allan Ramsay (1686-1757), and although he was not a declared Jacobite supporter, they do reveal his Jacobite sympathies.
Broadsides are often crudely illustrated with woodcuts - the earliest form of printed illustration, first used in the mid-fifteenth century. Inclusion of an illustration on a broadside increased its perceived value, especially among the illiterate. To keep costs down, publishers would normally reuse their limited stock of generic woodcuts.

Probable date published: 1723 shelfmark: Ry.III.a.10(046)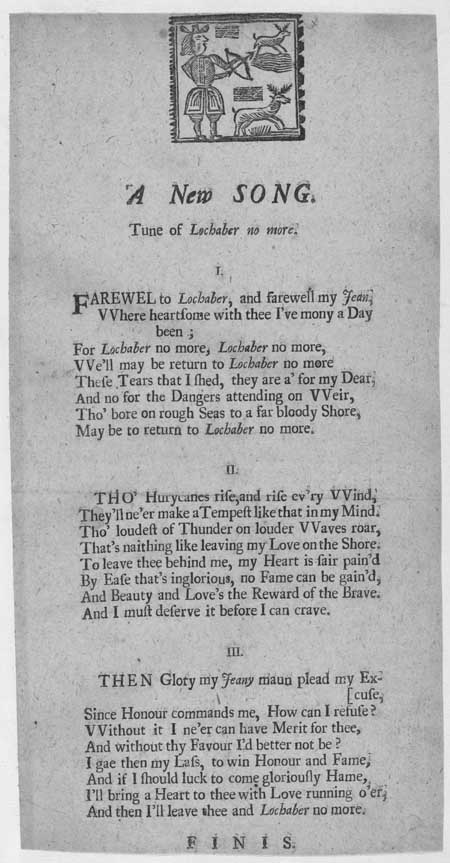 View larger image