Commentary
This ballad begins: 'It fell about the Lambmass Tide, / When the Leaves were fresh & green, / Lizie Bailie is to Gartartain / to see her Sister Jean. / She had not been in Gartartain, / even but a little while, / Till Luck and Fortune happn'd her, / and she went to the Isle.' This was a popular ballad, first published as a broadside but later collected in 'Herd's Ancient and Modern Songs' in 1776.
'Bonnie Lizie Balie' is about a girl who falls in love with a Highlander against the wishes of her Lowland family, and despite having suitors in the Lowlands. Tension and distrust between Highlands and Lowlands existed for much of Scotland's history and are reflected in the country's art and literature. The Highlands was often perceived to be wild, foreign-tongued, violent and uncivilised. This perception began to take on a more romantic appeal in the eighteenth and nineteenth centuries, due to the popularity of James MacPherson's 'Ossian' poems and Sir Walter Scott's 'Waverley' novels.
Early ballads were dramatic or humorous narrative songs derived from folk culture that predated printing. Originally perpetuated by word of mouth, many ballads survive because they were recorded on broadsides. Musical notation was rarely printed, as tunes were usually established favourites. The term 'ballad' eventually applied more broadly to any kind of topical or popular verse.

Probable date of publication: 1701 shelfmark: Ry.III.a.10(045)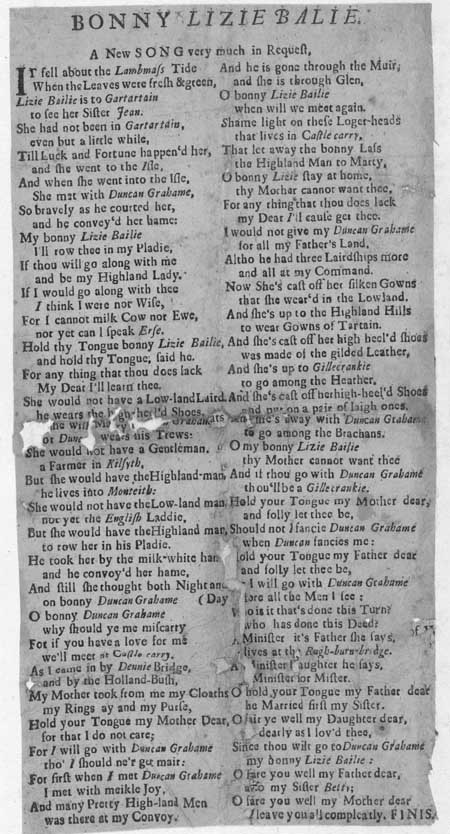 View larger image