Commentary
Verse 1: 'There dwells a Man into this Town, / some say they call him Finlay, / He is a brisk and able Man, / O! if I knew but Finlay,' The ballad was to be 'Sung with it's own proper Tune'.
This ballad is narrated by a woman, who recalls her clandestine, implicitly sexual encounter with a young man named Finlay. The ballad subverts the stern prebyterian moral codes that prevailed in Scotland between the sixteenth and the nineteenth centuries. The narrator is no passive innocent or victim: not only does she recall the tryst with pleasure, but it is she who arranges it in the first place, having heard of Finlay's 'reputation'.
Early ballads were dramatic or humorous narrative songs derived from folk culture that predated printing. Originally perpetuated by word of mouth, many ballads survive because they were recorded on broadsides. Musical notation was rarely printed, as tunes were usually established favourites. The term 'ballad' eventually applied more broadly to any kind of topical or popular verse.

Probable date of publication: 1701 shelfmark: Ry.III.a.10(043)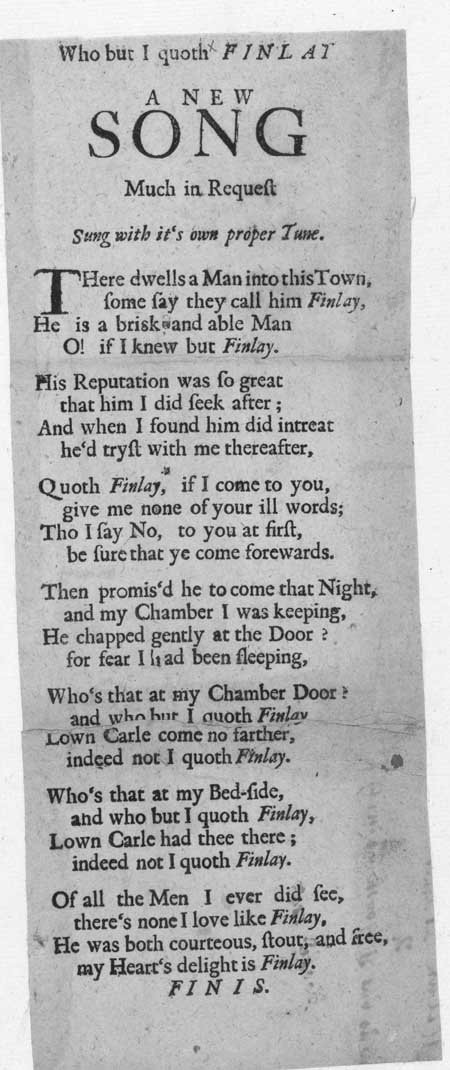 View larger image