Commentary
Verse 1: 'Tonald Bayn, her nane dear Shoy, / Maks a' Folk sad save Robin Roy / Who kend him sin he was a Boy, / her nane sell Swons, / To think he'd hangs like Gilderoy, by Loulan Louns.' The lament is 'For the Death of Donald Bayn, alias M'evan Vanifranck, who was Execute in the Grass Market of Edinburgh, on Wednesday the 9th Day of January 1723' and added in pencil: ['For Robbery he dyed denying most of the crimes he was condemned for'].
This ballad contains transcriptions of Highland pronounciation and phraseology such as 'her nane sels', meaning 'his', 'Sh' substituted for a soft 'G', and 'T' substituted for initial 'D', as in 'Shentleman' and 'Tonald'. Such renderings of Highland English would later become more familiar to the general public through the bestselling novels of Sir Walter Scott. The story in this ballad is also the sort that inspired Scott, featuring a clansman vowing revenge against the enemies of his dead companion.
Early ballads were dramatic or humorous narrative songs derived from folk culture that predated printing. Originally perpetuated by word of mouth, many ballads survive because they were recorded on broadsides. Musical notation was rarely printed, as tunes were usually established favourites. The term 'ballad' eventually applied more broadly to any kind of topical or popular verse.

Probable date of publication: 1723 shelfmark: Ry.III.a.10(036)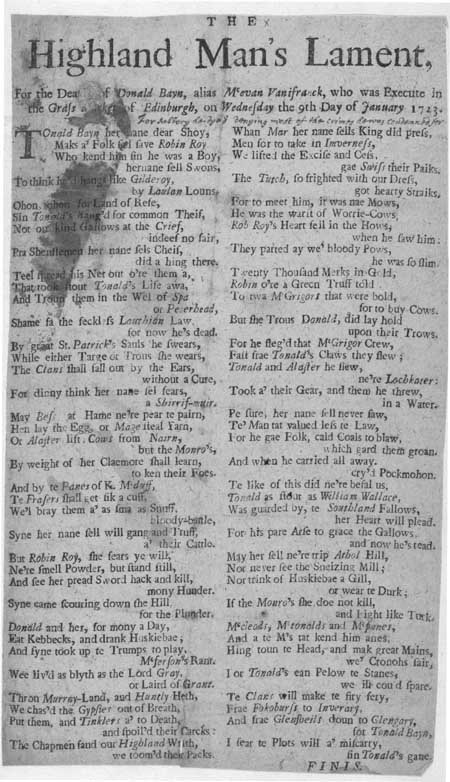 View larger image