Commentary
Verse 1: 'Now if you'l but stay, I'll tell you the Way, / It's how the Bridegroom ran awa-Man, / his name is John Dinmure he call'd his bride limmer, / his Living is at Ravenshaw-Man, / And he ran, and she ran, and she ran, and he ran, / And from the Brid he's run awa-Man.' The ballad was to be sung to the tune of 'The Race of Sherriff-muir'.
The tale here is of a bridegroom who has run away from his bride on their wedding night without consummating the marriage. It appears that the bridegroom has been tricked into marriage before discovering that the bride's family has no money. The poem is in a fast-paced Scots, with repeated refrains, that complements the frantic pursuit of the bridegroom by his bride and the townspeople.
Early ballads were dramatic or humorous narrative songs derived from folk culture that predated printing. Originally perpetuated by word of mouth, many ballads survive because they were recorded on broadsides. Musical notation was rarely printed, as tunes were usually established favourites. The term 'ballad' eventually applied more broadly to any kind of topical or popular verse.

Probable date of publication: 1720 shelfmark: Ry.III.a.10(008)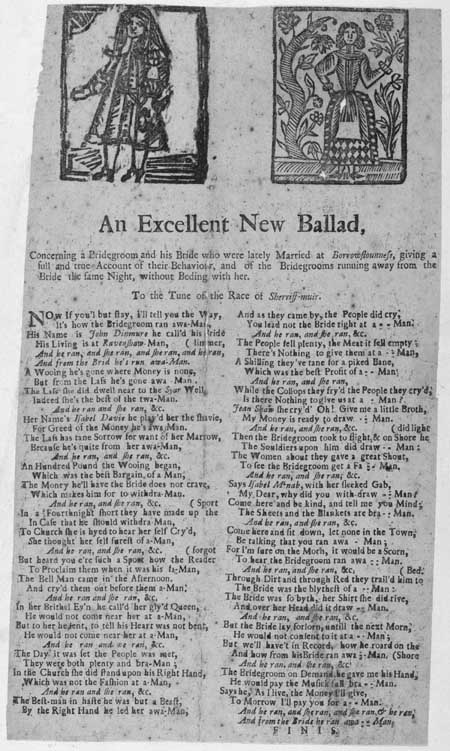 View larger image