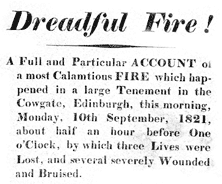 Dreadful Fire!
View this broadside

Dreadful Fire!
Broadsides, like today's tabloids, use dramatic headlines to attract the readers' attention.
'Dreadful fire!' about a fire in Edinburgh's Cowgate in 1821 immediately draws in the reader. There follows a detailed description of what exactly happened.
Broadsides of this nature were probably produced immediately after the event and would have been of great interest of people in the area.
Tay Bridge Disaster
View this broadside
Tay Bridge Disaster
T

he stunning collapse of the Tay Bridge in December 1879 was widely covered in the press at the time.

By the latter half of the 19th century newspapers were beginning to take over from broadsides, but the broadside was still effective in covering single dramatic events.

This broadside is one of a number produced about the Tayside tragedy, and with its simple wood-engraving and heavy bold type easily surpasses the staid style of newspaper reporting.