Transcription
THE APPLE PRATIES.
My name is Ted O'Mannon. I come from sweet Killarney O,
Sure I can whistle, I can sing, sure I can plough, and I can sow;
And when I'm courting purty girls, I never use the blarney O,
I'll prove to you my meaning sure, and that before I go.
Sure my country I'd ne'er renounce, for England, aye or France & Spain
Though honour on me, I am sure they would bestow ;
And gently take me by the hand, saying, you're welcome to our happy land
For you come from sweet ould Ireland where the apple praties grow.
I could tell a great deal more, if I could trace my pedigree,
My mother was a Fagan, and my father I don't know;
I'd ninty-nine relations on the Banks of sweet Killarney O,
That I'll prove without.you stirring, if you write to Michael Row.
I don't belong to the bulgrudderies, or any low born families,
I sprung from ancient history, and I'll prove it to be so;
I sprung from the O's and Macs?the darling sons of Paddy Whack
And the Knowlens of ould Ireland where the apple praties grow.
St Patrick was our Saint, and a clever man he was in troth,
And his blessings on ould Ireland he largely did bestow ;
He banished every toad and frog, for fear they would disgrace the sod,
And by his blessed mitre he ordered them to go.
It is a fact most certainly, that cannot contrad cted be,
If you trace old Irish history, you'll find it to be true,
No such heroes can be got on any earthly spot,
Like the boys of sweet ould Ireland, where the apple praties grow.
ENCORE VERSES.
Sure I have told you what I was, now I will tell you what I mean ;
I mean to be a jolly boy as long as I have tin;
'Pon my soul I'll sing and laugh, fill my bowl and drink it off,
And nobody will tell me that it's either shame or sin.
So here's a toast?a loyal one?success and luck to Paddy s land,
And may we live to see it exempted of all woe;
And may her sons now far away, come back to sing St. Patrick's Day,
Among our green valleys where the apple praties grew.
For ould Ireland is a land of the purest hospitality,
The home of mirth and frolic, and the soil where heroes dwell;
And it grieves me to record it, that misrule and tyranny,
Have made of Lovely Erin, a chaos?a hell.
Still we hope to see the day, when tyrannies shall fade away
When liberty shall cease to have, on earth a single foe;
When our land shall be again the glory of the western main,
So Hurrah ! for dear ould Ireland, where the apple praties grow.
Probable period of publication: 1860-1880 shelfmark: L.C.Fol.178.A.2(066)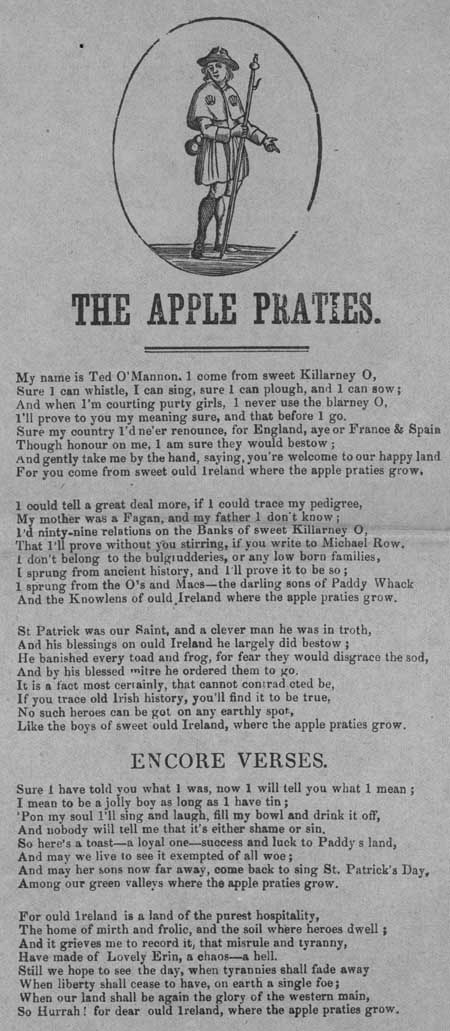 View larger image