Transcription
THE
Darlin' old Stick
My name is bold Morgan M'Carthy, from Trim,
My relations all dead, except one brother Jim ;
He's gone a sogering out to Cow-Bull,
I dare say he's laid low with a kick on the skull.
But let him be dead or let him be living,
A prayer for his corpse I'll be giving,
To send him soon home or to heaven,
For he left me this darlin' old,stick.
If that stick had a tongue it could tell you some me tal
How it battered the countenance of the Neils ;
It made bits of skuls to fly about in the air
And it's been the promoter of fnn at each fair.
For I swear by the toe nails of Moses,
It has often broke bridges of noses ;
' Of the faction that dare to oppose us?
It's the darlin' knipeen of a stick.
The last time I used it 'twas on Patrick's Day,
Larry Fegan and I got into a shillay ;
Went on a space to the Fair of Athboy,
Where I danced and when done kissed Kate M' Evoy
Then her sweetheart went out for his cousin,
And by japers he brough in a dozen,
A coldrum they would have knocked us in,
If I had not a taste of a stick.
War was the word when the faction came in,
And to pummice us well they pulled off the skin,
Like a Hercules there 1 stood for attack,
And the first that came in I sent down on his back,
Then I shoved out the eye of Pat Clancy,
For he once humbugged sister Nancy,
In the meantime poor Kate took a fancy
To myself and my bit of a stick.
I smathered her sweetheart until he was black,
She tipped me a wink we were off in a crack,
We went to a house the other end of the town,
And we oheerd up our spirits by letting some down
When I got her snug into a corner,
The whiskey beginning to warm her,
She told me her sweetheart was an informer ;
Oh, it was then I said prayers for my stick.
We got whistificated to such a degree,
For support poor Kate had to lean against me)
I promised to see her safe to her abode,
By the 'ternal! we fell clean into the mud on the road.
We were rousen by the magistrate's order,
Before we could get a toe further?
Surrounded by peelers of murther,
Was myself and my innocent stick. -
When the trial came on Kitty swore to the fact,
That before I set too I was decently whacked,
And the judge who had a little more feeling than sense
He said what I had done was in my own defence.
But one chap swore against me named, Carey,
Though on that night he was at Tipperray,
He'd swear a coal porter was a cannary,
To transport me and my stick.
"When I was acquitted I leapt from the dock,
And the gay fellows all around me did flock ;
I'd a pain in my shoulder I shook hands so often,
For the boys all imagined I'd see my own coffin.
I went and bought a gold ring, sirs,
And Kate to the priest did bring sirs,
So the next night you come I will sing, sirs,
The adventures of me and my stick.

LOCH KATRINE WATER.
The brave highland chieftains went forth heart and hand,
For to welcome their Queen at the head of their clan ;.
And the sons of St. Muago proved loyal and true,
On the day that our Queen went Loch Katrine to view,
In the month of October on the 14th day,
She turned on the water to Glasgow they say,
While all that was present so loudly did cheer,
For to welcome the Queen tha' we all loved so dear.
From city and village, from cottage and hall,
To welcome the Queen they went forth one and all,
From the lowlands and highlands they were to be seen,
That day at Loch Katrine to welcome their Queen.
The Water Commissioners to the loch did repair,
And the provost and magistrates likewise were there,
And the head engineer Mr Bateman was seen,
On the platform that' day for to welcome the Queen.
And the Volunteer Rifles from Glasgow did go,
For to welcome their Qaeen and their loyalty show,
By the rain on that day they got jolly well wet,
And some got a cold they will never forge,
When the little Rob Roy she at length hove in sight,
Each bosom beat high with a thrill of delight,
Loch Katrine that day lay calm and serene,
Rejoicing it bore on its bosom a Queen.
'Midst the cheers of the people that day she did land,
And God save the Queen was played up from each band,
While the brave Athol Highlander', cannons did roar,
For to give her a welcome she ne'er got before.
When the Glasgow old wives gets the water to drink,
They'l never need any more whisky I think,
At the public-house counters no more they will clatter,
For instead of the blue, they'l drink Loch Katrine water.
And Forbes M' Kenzie they vow and declare,
They'll drown in the loch, and the devil may care.
With the shebeen-house keepers who fortunes have made,
By poisoning the folk since this act was made.
To Glasgow it will be a blessing I'm sure,
The Loch Katrine water so wholesome and pure,
What fevers and plagues it will from us keep,
And we hope its promoters a blessing will reap.
May the Queen o'er us be long spared to reign,
And may good luck attend her by land and by main,
So let each loyal subject give a hearty huzza,
To the Queen for the honour she did us that day.
By JOHN WILSON, Ballad-Singer, to Her Majesty.
Probable period of publication: 1860-1880 shelfmark: L.C.Fol.178.A.2(300)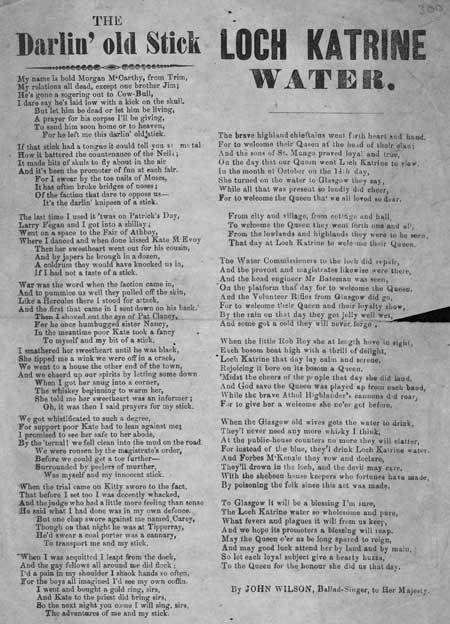 View larger image