Transcription
GARDNER TAMMY.
Tune?" Gloomy Winter's now awa'."
THE storm rag'd o'er on ilka hill,
The wind blew hard, but Tam was still;
Far, far frae hame a grave doth fill,
The warmest hearted Tammy, O.
His heart was kind, his saul sincere;
But wae betide his cruel fair ;
Her name for gudesake dinna speir :
She was the death o' Tammy, O.
Weel could he dance, an' weel could sing,
Aft wad he show the Highland fling;
At kirns and fairs nane could him ding,
The auld, the handsome Tammy, O.
To see him o'er the social bowl
Wi' Maitland Watt, a jovial soul;
His laugh how blythe, now winds doth howl
Out o'er the grave o' Tammy, O.
Ye friends o' Tam come join wi' me,
His mem'ry drink wi' three times three,
A chiel like him we'll never see,
Now eidens Gardner Tammy, O.
Probable period of publication: 1830-1850 shelfmark: L.C.Fol.178.A.2(232)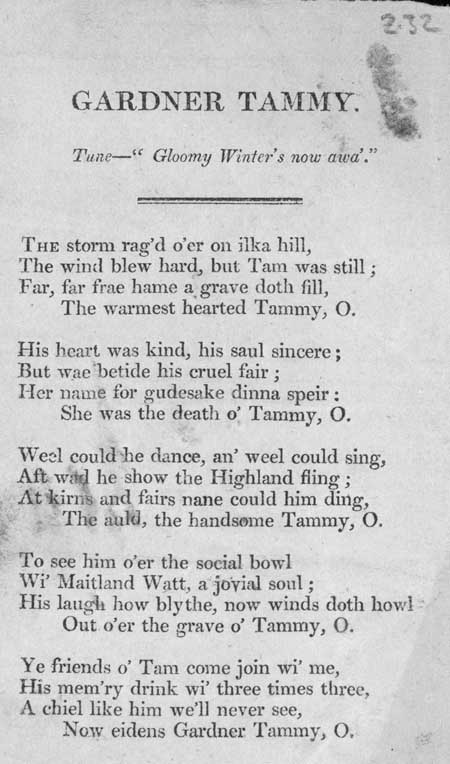 View larger image