Transcription
THE
Cardinal's Coach Couped.
OR THE
Whigs Lamentation for the Episcopal Toleration,
Licenced and Entered according to Order.
A Las! Our Kirk has got a Scoup,
Upon her Covenanted Doup,
I fear the run the Gantlet Loup,
For all her Leagues.
The Cardinal has got a Coup,
With's Dutch Intrigues.
for fear Sachevert shou'd worrie
Our Darling Kirk, he in a Hurrie
Gets up, and cries Poor Folk of Currie,
Again we'll be ;
Unless you Sighing Sisters stir ye,
And joyn with me.
He made more Haste than was good Speed,
Poor Man he couped Arse o're Head,
for which our Hearts were like to bleed,
When we it saw,
His very Coach-horse out of dread,
Him would not draw.
Such Overturning is not common,
I fear it prove a Fatal Omen,
And rouze the Courage of the Roman,
And Curate Loons ;
To Bothwel Bridge then we shall go Man,
Get they their Gowns.
Alas ! our Sport is like to spill,
Since we have lost our Billie Will,
A Man may see of little Skill,
We'l be undone,
Get they a Toleration Bill,
We'l change our Tune.
And truely I think it's no Wonder,
Tho' we meet with a Clap of Thunder,
Considering how great a Blunder
Of no old Date ;
Say what we will, we labour under,
In Kirk and State.
For now the Government well sees:
We preach the things we don't practise,
The guilded Bait that dims our Eyes,
Is Pride and Self,
Tho Parity we do Idolize,
Yet more our Pelf.
Again its known, that Presbytry,
Can ne're consist with Monarchy,
Our Kingdom, Crown, Antiquity,
At last we Sold,
A thing will make our Memory
Stink when its told.
Murder of Kings, or Abdication,
Are most Conspicuous Demonstration,
Of Presbyterian Moderation,
We only want
To take the Oath of Abjuration,
To make a Saint.
But now I see the Government,
With this Prelatick Parliament,
To cast us off are fully bent ;
So let use be
Upon our Guard the more intent,
Before we Flee.
Saul in a strait to Witch of Endor,
And Sweden's King to Turk at Bender,
Made their Address; so let us render ,
What e're befall,
Our Kirk and Cause to one that's tender,
Of our Caball.
Then my Advice is you will hear,
The fittest Man is Major Weir;
Let's Yelp, and Yell till he appear,
With's Staff in Hand,
T think We need the less to fear,
If he Command.
He'll leave the gloomy Shades below,
Some Stratagem to us he'll show,
How we may reach a Fatal blow
To Prelacie ;
Or of our Danger let us know
The Certaintie.
With rousty Rappiers in our Hand,
Spades, Forks, and Grapes as we demand,
Like Egypt's Locusts thro' the land,
We'l fill each place,
And match in Covenanted Band,
Like Babes of Grace
And if we chance to lose the Field
Forc'd to the Curat Lowns to yeild,
We'l take our Heels for the best Shield,
And from some Sister;
Beneath her Petticoat get Bield.
In our great Mister.
And yet I cannot shun to smile
When I think on the Canting Stile,
We used in our late Exile,
To mend our Breeks;
For well I mind it all the while,
We grew like Greeks.
For our Extemporary Lecture,
We drank the purest of the Nectar,
When once my Lady's Woman deckt her:
And which was best,
The Laird himself durst not us Hector,
Tho' her we drest.
Lest you should think I'm speaking Lies,
Bear witness House of Cherry-trees,
Where D---ie strove the Niece to please,
Instead of Daughter;
And hid himself between her Thighs,
For fear of Saughter.
From such a warm Herculian Task,
Proceeds Mas J-- of In---sk,
Who apes his Daid without a Masque.
Nor is it strange,
The Liquor favour of the Cask,
Nor's Nature change.
As mindfull Salmond strive to be,
At place where they were Spawn'd ; so he,
Still thinks upon the Cherry-tree,
Glad to Embrace,
Some pleasaut Object to the Eye ;
In such a place.
Beneath this Tree, he did espy,
A Lady Fair, and none her by,
With rude Address he made her cry;
Till her Good Man
Came with his Cane, then speedily.
Away he ran.
LONDON, Printed by John Morphew near Stationers-Hall. 1711.
Date of publication: 1711 shelfmark: APS.4.96.34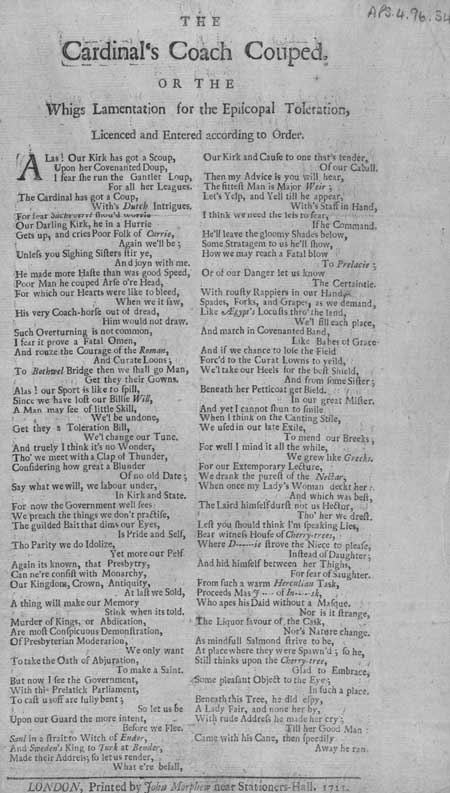 View larger image