Transcription
The Genuine last Speeches and dying words of THOMAS SMITH and GEORGE STEPHENSON.
Who were Executed at the West End of the Tolbooth of Edinburgh, on Wednesday the 21st of January, 1807, for the Crime of
Horse Stealing; contained in Two Letters from them to their Wives, writtten by their own hands.
Letter from Thomas Smith to his Wife.
Dear and loving Wife, Edinburgh, Jan. 1st, 1807.
THESE are my last dying words and wishes to you, which
I hope you will attend to, and doing so, you will find
for your good after I am gone from this world. I hope and
trust in God, however, that I shall be for ever happy in ever-
lasting glory, through the blood of our dear Saviour, sweet
Jesus Christ, who died for poor sinners ; where also I hope
and trust to meet you and my dear Babes; and to 'have you
delivered into my arms by our Lord, -I have asked the Mi-
nister, whether, if we both went to glory and happiness, (I
mean you, my dear Wife, whom I love as dearly as my own
precious life,) we should know each other in that glorious
place or not ? He says there is no doubt but we shall, or else
how came the rich man to know the beggar who was in
Abraham's bosom ? So dear loving Wife, let you marry who
you will for your next husband, I hope and trust, let your
days and years be ever so long, or ever so short, that you will
pray to God, and that your prayers may be, that he will de-
liver you to me in everlasting happiness and glory, where I
hope and trust in God, you and I shall meet. This is my
prayer night and day, my dear sweet Wife , and I hope it
will be your's.
Had the Cord been pleased to have restored me again to
you, my dear Wife we should have been the happiest couple
that ever lived in the world ; and still I hope you will be
happy in this troublesome world, if you take my advice and
I make no doubt but you will do so, as you are sure in your
own mind that I should be very sorry to advise you to do any
thing for your hurt. So pray do not forget what I now say
to you.
Dear Wife, Do not merely read this and throw it in the
fire, but save it and read it at different time, for this is my
desire, and I hope you will attend to it. Dear Wife, It is
my desire from my heart, that you will not part with my
Watch nor any of the seals, but keep them for my sake, till
my own son, William Humerston Smith, is old enough to
take care of it; and I hope and trust, you will give it to him ;
and tell him, it was his own dear Father's watch, and that it
was my desire he should have it ; and that he should keep it
for my sake -Dear Wife, Let you marry who you will, pray
make this agreement with them, that they are never to wear
that watch, but that you are to keep it yourself, till my son
can take care of it. If you make this agreement before you
marry; it will occasion no difference between you afterwards.
Dear Wife. I think your best way to act after my death,
will be to go home, and sell off all you have, but your bed
and bed clothes, and take these by the waggon, or by water,
which ever you may think best, and go to the town where
-------------------- lives, and where every one will caress
you, and lament for you, and be glad to see you ; and they
will help you into some way of doing that will be better for
you than staying at----------banks, to spend all you have, or
to marry a poor Pitman, or any other drunken men ; for that
would be still but ending your days in far worse unhappiness
than any thing you could do besides. You are worthy of
yourself of a gentleman, or a good tradesman, who can main-
tain you as you ought to be. Never let it come into your
mind, that any person of good sense will despise you, or think
you unworthy of being a Wife, if you behave yourself, as I
hope, you will do. Now my dear Wife, believe this to be a
truth, and that it is for your good both in this world and with
a view to the next, that you let no man living overcome you
by promises, nor by oaths, or ever such fair speeches. For
depend upon it, a man that makes such oaths and promises,
he only wants to satisfy his own lust; and any man that wish-
es to make a woman his whore I am sure he has no regard
for her.
And now I pray God to bless you and to direct you in your duty;
for I shall not be able to give you many more advice. Pray take my
advice ; And for God's sake take care what you do. Believe me, my
dear, and speakimg in my last moments in the presence of him who
knows my heart, that I love you beyond expression. God have mercy
on you and my dear babes. Had I been but restored to you again, I
never should have thought I could have done enough for you to have
made you sufficiently happy.
"Give my love to WILL and his wife, at J-----------------, I mean
if you ever see them. As long as I have life and sense in me, I will
pray to God that we may meet again at the last day of judgment. I
hope to be in glory when my breath departs. God bless you. and may
he be with you forever and ever. Amen.
My last request is, that you see me buried before you leave me.
From your own dear husband's dying hand, THOMAS SMITH.

Letter from George Stephenson to his Wife.
My Dear Wife Edinburgh, January, 2d 1807.
MY God has granted me grace to write these few lines
to you ; and I hope you and my Dear Little Child
are well.-My dear Wife, I hope you will forgive me for
the ill using of you, as I have my dear Wife. I send you these
few lines to let you know, that I am dead ; And I hope you
will always take care of my Dear Little Angel.
My dear Wife,-My distress calls me to think of parting
with you.-The will of the Lord be done.-I thank you for
your tender care of me : may the Lord bless and reward you
for it, and sanctify your own tenderness, and support you un-
der it, As you have studied to live a life of faith and prayer
all your days, so I hope and believe you will continue to the
end. In all your difficulties and fears. O encourage yourself
in the Lord your God ; commit your ways to him ; trust him
that is faithful and true.-I resign you, my dear, to the Hus-
band of Husbands, our dearest Lord Jesus Christ.- My
Children,. Your earthly father must leave you ; but he leaves
you to the care of your Heavenly Father, who is immortal.
O cleave fast to him ! Trifle not about your souls concerns in
time of health ! Mind these things as the one thing needful
This you will not repent of, when you come within a near
view of death, and endless eternity, O press for clear views
of your interest in Christ, the only surety and Saviour of sin-
ners. Among other evidences of it, live by faith on him,
and study holiness in heart and life.
Dear children,-Think how you will be able to stand before
Christ, your Judge, at the Last Day, unless you have Christ's
image on you, and be made new creatures. Lord make you
all such, and bless you with his best blessing -My blessing be
upon you all.-What means God gave me, I have beslowed on
you, or lest them to you. Be kind and careful of your .Mo.
ther, while you have her; and let none of you forget, that
though I go before you to the dust, you must all quickly follow
me. O that we may all meet together, at the right hand of
our blessed Redeemer, to see his face, and praise him forever.
The time is near; be ye therefore also ready.
Now, my dear Witsand Children,? Remember what it a-
bove, as the words of your affectionate Hasband and Loving
Father,'who, being dead, yot herebyspeaketh td.you for your
eternal good and happiness. May they sink deep into your
hearts ; so prayeth your loving Husband.
My dear Wife,?I have been long afflicted since I left you;
and 1 hope the Lord has taken me to everlasting rest and hap-
piness ?And I hope the Lord will bless and protecl you all,
and forever be your guide.
So no more from your loving Husband.
This is my own hand-writing before my death.
GEORGE STEPHENSON.
Thomas Smith, aged 39 years, has left a wiseand five child-
ren, three by a former marriage, and two by his wife to whom
the above letter is addresied. Besides the above he has wrote
several letters to his children and other friends. They all con-
tain earnest expostulations with them to do their utmost take
to his widow, and to behave themselves properly, and to take
warning by his unsortunate situition, has also untimely end.
George Stephenson, aged 32 yea»s, has also left a wife and
children. His wife knew nothing of his being in prison, nor
would she hear of his situation till some days after his death, ar
she lived' in the neighbourhood of London : and no word was
to be sent her till after his death.
They behaved with great propriety on the scaffold. After the
clergymen who attended them in prison had left them to their own
meditations, they engaged in prayer with vast servour and devotion,
after the manner of the Church of England. They continued some
minutes previous to their going on the drop in vast agitation.
When they went on the drop, and had the satal rope about their
neck, they still continued making use of the prayer-book, till the
Executioner gave them intimation that their time was gone; the
prayer-book was immediately dropped, and they launched into
eternity ; where from every appearance or evidence that could be
given, they are now happy.
The crime for which they were condemned they fully acknow-
ledged.
Agreeable to the practice of the Church of England, the religi-
ous cermony of that church was gone about over the corps previ-
ous to their being buried.
At their own desire, lime was put into their coffins, to prevent
their being of use for dissection.
Augus, Printer.
Date of publication: 1807 shelfmark: APS.4.96.2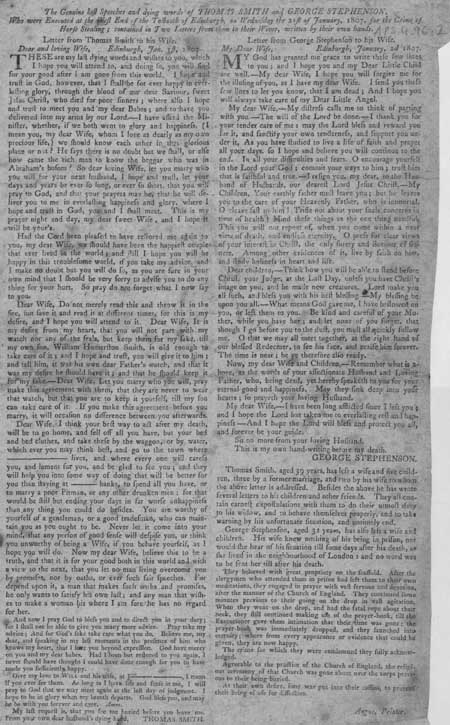 View larger image