Transcription
ON A COMFORTABLE CUP OF TEA.
I WONDER how people in drunkenness can delight,
For often drunkenness ends in spite.
A comfortable cup of tea will neither harm you nor me,
Those who only take a cup of tea,
To their neighbours they'll have another to gi'e.
Round the tea-table there's contentment and peace,
They choose a respectable man to say grace.
The third command at the tea-table is seldom broke,
With one another they often pass a harmless joke.
But with the drunkard it is not often so,
God's law they often break, and proves one another's foe.
If people would look forward to grey hairs and clothing thin,
They would hang the little gill-stoup on a pin,
And slip awa' hame with their drunken groat,
And think on the time they may need a new coat,
To beggary with drink many one does come,
For in my lifetime I bare seen some.
Thomas Boston speaks of an inn by the way,
But people should not very long there stay.
I wish all drunken people the 5th of Galatians to read,
And with sober people begin to take up their head.
All them that do love a cup of good tea,
It is not like whisky, and that you'll see ;
These are the proper company for you and me.
Tea parties mast in friendship and in peace,
To young or old they'll never bring disgrace.
All drunkards, I hope, will take an advice from me?
Give over drinking whisky, and take a good cop of tea.
I hope good people God's goodness will not forget,
While round the tea-table they do sit.
JANET REID, CARNOCK.
Macdonald, Printer, Carrubbers' Close, Edinburgh.
Probable period of publication: 1840-1842 shelfmark: RB.m.143(107)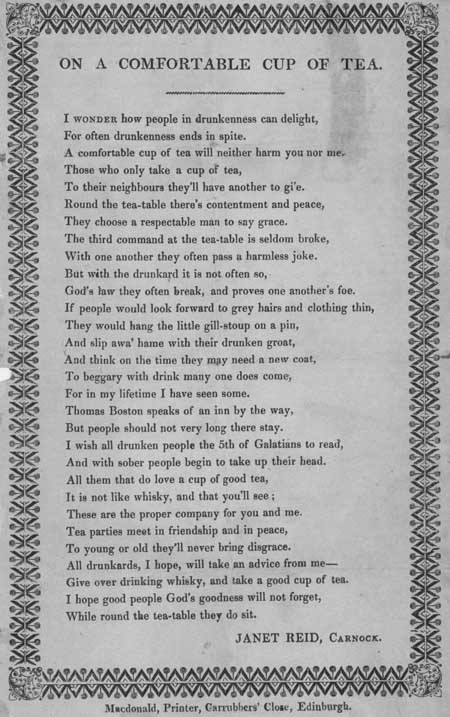 View larger image