Transcription
AN
E L E G Y
On the Reverend Doctor JOHN GlLLIES, one of the Ministers
of Glasgow, who died in the 84 th year of his Age, and the
54th year-of his Ministry.
The Reverend Doctor JOHN GILLIES was beyond all doubt an eminently pious man
beside which, he was a man of profound Erudition.' He was a most excellent Classical
Scholar, and uncommonly well skilled in the Oriental Languages, which circumstance ren-
dered him fully able to consult the Sacred Writings in their original purity unhurt by tranf-
lation, He composed many useful works ; among others he published '' an Hebrew Manual
for the use of Students of that Language.------" Historical Collections respesting the state
and progress of religion in various places and at different periods, in two volumes octavo.
"'Devotional Exercises on various passages of Scripture, In two volumes octavo.'-?A
complete version of the Psalms of David, adapted for families, in one volume, with. notes,
chiefly selected from Doctor Horne's excellent Commentary on the Psalms "?-?" Paradise
Lost, with notes from Scripture, in One volume, shewing that the principal beauties in that
inimitable Poem are borrowed from the Scripture, and quoting the verses of Scripture below
the text of the Poem, &c.''------That his labours in the Pulpit might be more. extensively use-
ful, He published weekly for a considerable time, a brief abstract or abridgement of his Lec-
tures, in the size of a small pamphlet, and, to extend the sale, at the low price of one half-
penny per number, under the title of Exhortations to his Parishioners. In short, Doctor,
Gillies was a man actuated by the strongest desire of Doing Good and promoting human happi
ness,?nor were his benevolent intentions warped by any narrow prejudices' of Partial Part
Spirit, (A SPIRIT FOREIGN TO THAT OF CHRIST.) His memory will long be he
in estimation as he was a venerable pattern of every Good Word and Work, He died in perfe
peace at his house in Dunlop Street Glasgow, on Tuesday the 29th day of March 1796, in.
84th year of his age and 54th year of his Ministry. He was ordained Minister of the Co
Kirk of Glasgow on the 29th day of July 1742.
THE Saint is gone--to all who knew him dear,
Who spent in usefulness his Period here,
From active virtue never did he cease,
But his whole Life was Piety and Peace:
In frame devout and constant pious mood,
He went about, for ever Doing Good.
In Church he Preach'd with unaffected grace,
His modest looks adorn'd the sacred place,
He taught no Doctrines New to fish for fame,
His good old fashion'd truths were still the same,
Christ and him Crucified his constant theme.
while others frame Discourses stiff with art,
His honest aim was to amend the Heart,
More anxious for to prove a Sound Divine
Than with vain modern show of words to shine.
Resolv'd was he to use his Talents given,
To guide the wand'ring sinner towards Heaven,
And like a worthy Saint was ever glad,
To sooth the sorrows of the sick-man's bed,
with his most fervent prayers he joy'd to pour
The Balm of Comfort at the dying hour.
No partial narrow views debas'd his mind,
But to all Sects and Parties he was kind,
Like his great Lord who came from Heaven above,
whose first and chief commandment is to Love.
He preach'd repentance and reprov'd delay,
Allur'd to brighter worlds and led the way
To the blest regions of Eternal Day
Then sure it will be deem'd presumption none
To say, this venerable Saint is gone
To sing HOSANNAHS round his Master s Throne !!!
Probable date published: 1796- shelfmark: 6.365(107)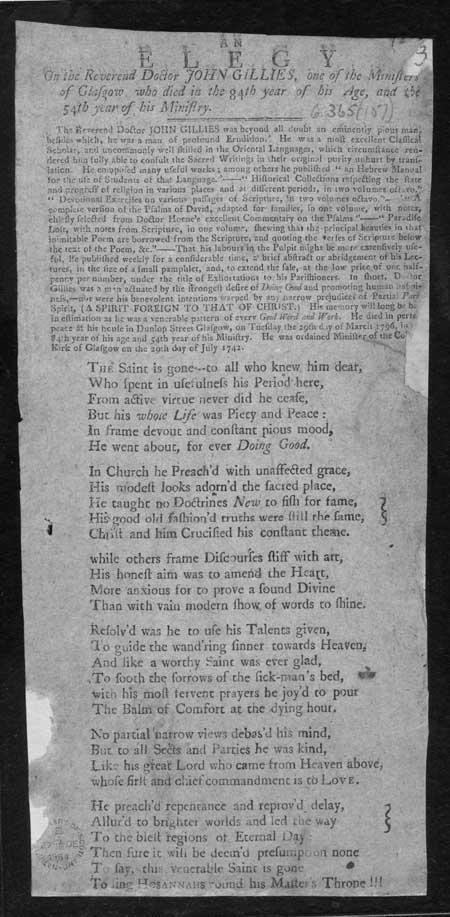 View larger image