Transcription
A List of those who are Indicted, and to be tried before the Circuit
Court of Justiciary, to be opened at Glasgow on Tuesday the 20th
day of September 1791.
JAMES PLUNKET, late Soldier in the
35th regiment of foot, present prisoner in the
tolbooth of Glasgow, You are Indicted and
accused at the instance of Robert Dundas of
Arniston, Esq; His Majesty's Advocate, for his
Majesty's interest, That upon the night of
Wednesday the 20th day of April 1791, you
the said James Plunket, having met with Robert
Wilson, silver smith in Glasgow, upon the
streets of the city, who was returning home
from supper, you did, upon pretence of your
being a stranger, induce the said Robert Wil-
son to accompany you to your lodgings, and
having led him to the bottom of the New Ven-
nal, which leads from the High street of Glas-
gow above the College, Where you said you
lied, you the said James Planket did then and
there violently affault and throw down the said
Robert Wilson and having presented a cutless
or some other lethal weapon to his breast with
which you threatned instantly to destroy him if
he made any noise or resistance you did then and
there rob the said Robert Wilson of two or three
sixpences and some halfpennies, of his shoes and
buckles, silver watch, having a steel chain & brass
key appeaded tost with all which aftergving the
said Robert Wilson a violent blow upon the
temple you did immediately thereafter run off.
And you the said James Plaoket having been ap-
prehended the next day being the 20th day of
April 1719 you did of that date emit and sign a
declaration in presence of john Hamilton junr.
Esq; one of the magistrates of Glasgow which
Was signed by the said John Hamilton and the
said declaration together with the said silver
Watch which is marked on the inside, " James
" Wright junr. London 379 &c." as also the
said pair of Buckles and the said pair of shoes
which two last articles are marked and labelled
and subscribed by you the said James Plunket,
and by the said Jahn Hamilton Esq; being all
to be used in evidence against you &c.
John Turner, Andrew Neilson, Andrew
Park, John Smith, Carters, and Andrew Ar-
neil Flesher a'll in Glasgow for throwing Mar-
- garet Mitchel from a window one story high
ia the Goosedubs opon the 19th day of April
1791, whereby her leg was broke and she died
next day.
Thomas Marrison, accused of house-break-
ing and theft.
Elizabeth Weir, wise of James Cuningham
accused of theft, and reset of theft, &c..
George Davidson, son of James Davidson
Wright in Thurso in the County of Caithness;
Indicted and accused, &c. for feloniously, for-
ging, uttering and useing two bills, the one di-
scounted at the Thistle Bank, for L( o : 6s.
dated at Lanerk the 28 April 17.95. and said
to be drawn by William Honyman Esq; She-
riff Depute of Lanarkshire, and accepted by
James Neilson shoemaker in Lanerk ; and the
other L. 68 : 15 : 9d. Discounted at the Roy-
al Banking office in Glasgow, said to be drawn
by the said Mr. Honyman, and accepted by
Alexander Allison merchant in Lanerk, which
Bills appeared to be Im[] by the D[]er,
& James Honyman his Brother, whom the said
George Davidson personated at both the said
Banking-offices when he got the Cash.
Elizabeth Swinso,. calling herself wife of
Joseph Philpot soldier in his Majesty's 50 Regt
of foot, Indicted and accused &c for the al-
ledged murder of her own child on the 29 of
Novr, 1791 and of which she was at that time
said to be pregnant, by throwing it in the river
Clyde.
John Dewar, residing at,Farnaze in.the
parish of Neilston, and County of Renfrew,
and late manager of the printfie at []z[],
Indicted and accused at the instance of M[],
Fultons, Finlay, Ure and Company 'Merch-
ants in Glasgow, with con[] of Robert
Dundass of Arnislon, Esq: his Majest; y Ad-
vocate, for his Majesty's interest, Accused of
entering by means of false keys or other ille-
gal means into the colour-house at F[]ze,
for the purpose of injuring, destroying or ab-
stracting the colours kept and prepared in said
house for printing of linens and other goods,
which door was locked, and to which no per-
son gets access except the colour-maker or
those who assist him, The said John Dewar
had formerly been dismissed the service of the
Company.
Christian Cameron alias Agaes M'Kerchric;
accused of breaking into the house of James
Clydesdale at Rind Muir and carrying off a great
quantity of wearing apperel, &c,
James Calder and Peter M Lintock accused
of attacking a soldier upon a Sunday evening
when returning from roll-calling, and stabbing
him in a cruel manner, to the danger of his life
Three others are Indicted at Hamilton.
Date of publication: 1791 shelfmark: 6.365(086)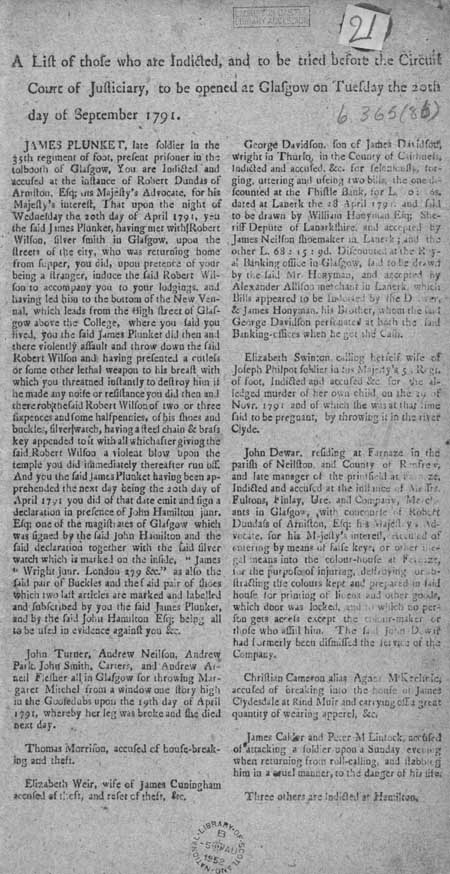 View larger image