Transcription
IN HERIOT's-WALKS, &c.
A new Song, Compos'd by Mr. Ramondon, Senior,
To its own Proper Tune.
IN Heriot's-Walks as I was Roving,
I met my Love, she gayly drest,
Frown'd when I talkt to her of Loving
And bid me set my Heart at rest.
How! set my Heart at rest? Dear Angel,
O tell me quickly, Fair one do?
You may go Rove on, and Range Still,
For never shall Man my Heart Subdue.
Wou'd I presume to attempt her Honour?
What did I take her if for? she said;
I bow'd, and told her, that I thought her
A Charming, Chast but Cruel Maid.
To gloomy Grotto's I'd retire,
Sad as the Dove that's lost his Mate;
Dote of in thought her I admire,
Since for to Love in vain's my Fate.
When Mournful Sounds salute the Lover,
It will remind her, Cruel Dear!
What your unkindness did Discover,
Banishing hope and raising Fear.
All your Smooth artful ways of Talking,
Never shall bring my heart to Sin,
Vice always real pleasures baulking,
Make us repent we did begin.
Shall Momentary Bless allure me,
To Act a Crime so much Amiss.
Nay, you your Self would ne'er endure me,
Were I to taste the Baneful Bless.
E're I destroy that Resolution,
Hear, Charming Saint, your Votary's Vow,
May I meet Death and wild Confusion,
If I'll ask more than you'll allow.
I will allow with inclination,
Since you'r so good as to promise this,
That you may take to Seal the Passion.
A modest, Chast, and Civil kiss.
Awfully I approacht the Charmer,
O Good! said she, I'm sure you'l tell;
Then seem'd to start as I would harm her,
And so by Chance on purpose fell,
When she was down, what Mortal Creature
Cou'd have refrain'd the yeilding Dame?
Thus Opportunity and Nature,
Reason and Honour Overcame,
I gain'd my Point, through Love's Assistance,
She blusht for my not proving True;
Not for her own kind Non-resistance,
What could a poor Weak Woman do?
So Since you'r nought beyond all Measure,
I'll very angry be I'll swear.
Once more I will incur displeasure,
Will you, says she, do if you dare:
Oh! you'r so rude, no Soul can bear you,
Little I thought this would ensue:
Leave off or I Will Scratch, and tear you,
Nay pinch you, till you're black and blue.
I would Call out, but some would hear me,
Nay kill you, but 'twould make you Dye.
Leave me, my Dear, to Come nigh more thee,
Wer't nor for you, Joy, I would Cry.
I did not think you'd prove so Cruel,
As all my quiet to destroy,
Read in my eyes my grief, my Jewel,
But in my Heart my coming Joy.
F I N I S.
Edinburgh, Printed and sold by John Reid, In Pearson's-Closs, on the North-fide of Street 2 little above the
Cross, where are to be sold all lorts of Story Books, and Ballads, 1715
Date of publication: 1715 shelfmark: 6.365(002)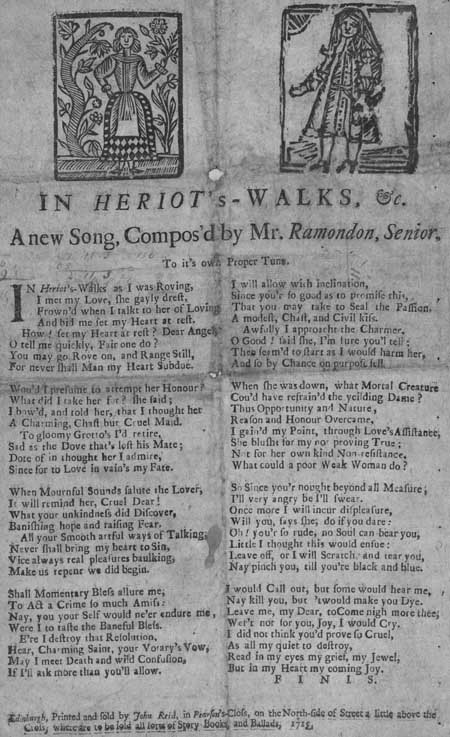 View larger image