Transcription
BATTLE
An account of a horrible dispute which took place between a Cobler, and
his Wife the day after King Crispian's procession; For the Cobler had
that day got tiptinto his fob the price of heelingand soling a pair of
shoes and went into a public house in the Grasmarket and where the wife
catched him with an account of what happened
I wonder where does my old cob-
ling, bungling, sapless, brainless
noddle ramble to at this time of the
night, amongst his drunken sots and
companion I'll warrant you; but I'll
go seek for him, and if I meet with
a spark upon the way that will tip
for a sixpence to graft a pair of
horns upon his head, and make him
a fit companion for the rest of the
Ram-horned Bucks of the town.?
When I found him, he was sitting
in a tap-room of that well known
Public-house, the sign of the Cat
and Bagpipes, crying out, Land-
lord be frisky and bring us more
whisky, for we'll never be hanged
for debt. When in comes his dear
loving wife, with a hey-day Mr.
Mend-all, Mr. Spend-all, Mr. Good-
for-nothing at-all, bad in bed and
worse up, have I found you here
roaring out for more guzel, whilst I
and your three poor children at
home have neither meat, drink nor
candle light, but in a starving con-
dition; I tell you what Margery,
sit down and be good company,
these are all my old friends and ac-
quaintances, and will help me to
more work; it was Rob, Tom and
Harry, that brought me here to
spend our three farthings a-piece ;
I, with a plague to you and them
both; three farthings might be your
challenge, but will as many shill-
ings pay your shot. I'll tell you
what, my dear wife, if you do not
sit down and be good company,
walk home, take your supper, and
go to bed, and I'11 follow you when
I am ready. The poor woman ne-
ver grew angry till she heard the
Word go home; I believe she would
sooner have got a glass of whisky
at the time, when she began to him,
with you funk, you fop, you kitchen
Sop, you juis of a dish-cloath, you
syrop of a cinder, you hog, you cob-
ling dog and worse, there has not
been as much meat in our house for
this week past as would feed a mous,
were it not for the honest steekstich
to get a bit to keep soul and body
together for farting I would tell you
how I get it to, and that would be
nothing to your credit.
O you scandless jade how can
you say so ; where is the half peck
of coals and the sixpenny loaf that
I left in the cupboard the other
day, your house is liker a cook sho p
than a poor man's house; if I hear
any more of your complaints I'll
give you your breakfast with strap
leather to-mo-row morning, that
will serve you for six months or
longer ; you wish to make me be-
lieve that I don't know the diffe-
rence between a sheeps-head and a
carrot ; nor do you know the diffe-
rence yourself, you rascle, were it
uot for our honest neighbour Mr.
Stitch the tailor, your poor children
would long since been in the poor-
house, you in bridwell, and your
poor wife in bedlam. O madam
I understand how the game goes
you and Mr. Stitch takes a stitch in
my absence ; but I swear by my last
and awl, if ever he enters my house
or stall, I'll castrate the rascle, and
tell the merry tale to the rest of my
horned companions how I spoil'd
your sport.
She did not like to hear the tailor
beat down in any such a manner, she
flew at him like a pole-cat, fastened
-her claws in the hair of his head,
crying out you rascle if all your
soudering,brazeriug, tinkering coop-
ering, soot-bag society were at your
back I would let you know the dif-
ference between a sheeps-head and
a carrot.?The clock struck twelve,
the landlord bundled them both out
of doors, and they walked both has-
tily up the street for fear of the po-
lice, and got into their own house,
where they ended the battle with the
strap and pinchers.
PRINTED FOR JOHN CAMERON.
Probable date published: 1820-1830 shelfmark: L.C.1268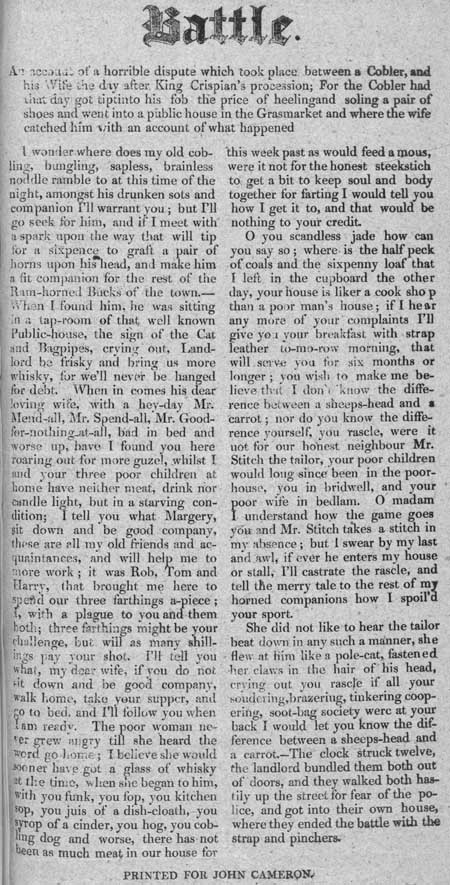 View larger image