Transcription
The Husband's Secret let out!!
In this fair town not lung ago,
As I have heard the story; go,
Two sweethearts lived a loving pair,
Who courted many a tedious year!
At length to end Low's pleasing strife,
Resolved to become man and wife,
To church they went and soon were wedded,
With freinds made merry and were bedded.
And then on doubt between the sheets,
By some means made both
At nine months end expect a birth,
To bring a subject on the earth;
But no such thing for three times nine,
Produced a birth, or yet a sign,
Which caused much trouble and contention.
But here the instance I shall mention.
Wife.---Dear husband, I am almost wild.
To think that I'm not yet with
You know my dear it is my wish,
We toil all night and catch no fish.
Husband.-- Well my dear, perhaps we might,
If we were only to act right,
There is no fault in me I think,
I am well in health and seldom drink,
Among the girls I never go,
To do the thing that's wrong you know,
Wife.---Don't preach to me about your sober life,
For you can't satisfy your wife.
Husband.?Truly, I believe no man can
Satisfy the mind of a woman.
Wife,- O, tell me not of such foolish stuff,
Our next door neighbour's quite enough,
They were not wed so soon as we.
And yet they've children two, you see.
Husband.---I always strive to do my best,
And leave to providence the rest.
Months passed on with many a word,
Until a circumstance oocur'd
That on this subject threw a light,
And proved that madam was not right.
The servant maid a girl though chaste,
Began to swell about the
The mist ess often looked and smiled,
Indeed, 1 think the girl's with
But, I'll ask the forward jade,
By whom, and how, and whence 'twas made,
The time and place, and then I'll say,
Pack up you slut and go away :
The bell was rung, the girl appears,
Not knowing what, she had no fears.
Mistress.---Susan, I am sorry to say.
You seem quite in the way,
Therefore to me confess the truth,
And tell me who's the wicked youth,
That has seduced thy tender frame,
Nay, don't be shy, come tell his name.
Susan?-O, madam on my bended knees,
I crave forgiveness if you please,
And unto you 1 will confess,
Who 'twas destroy'd my happiness.
Mistress.-?Come, come, be quick, or at a venture,
The constable shall be sent for,
If prison, penance, or pelf, can do it,
The rascal shall be made to rue it.
Susan -Then madam pity my disaster,
For I most own it was my master,
He kissed me, pressed me. sweetly smiled,
And then, oh dear, he
Mistress.-?Your master slut, my husband can't,
He could not do it I'm sure of that,
If true, where did he do the act.
Speak out you strumpet, tell the fact.
Susan.---Why madam, he got in late one night
In bed room, by candle light.
Mistress.---Where was I, that did not see it,
Susan.?Why madam, you were fast asleep.
Mistress.? O, Susan, Susan, more disgrace,
Why not cry murder, scratch his face,
Kick, bite, scream, call aloud for me,
Do any thing from him to flee.
Susan.?My mistress dear, to tell you true,
I was afraid of waking you,
And I confess, he kissed so sweet,
I could not for the world retreat I
Mistress.- -Then Susan, now to your disgrace.
Pack up this instant, leave your place,
Take your master too, you might.
For by the Gods I swear this might
Before I sleep upon his bed!
I'll plant the horns upon his head,
He first in folly's road has run,
I'll finish what he has begun,
If be tries the maids. I'll try the man;
Where he's got one, I'll have ten.
No. 42.
Probable date published: 1830-1850 shelfmark: L.C.1268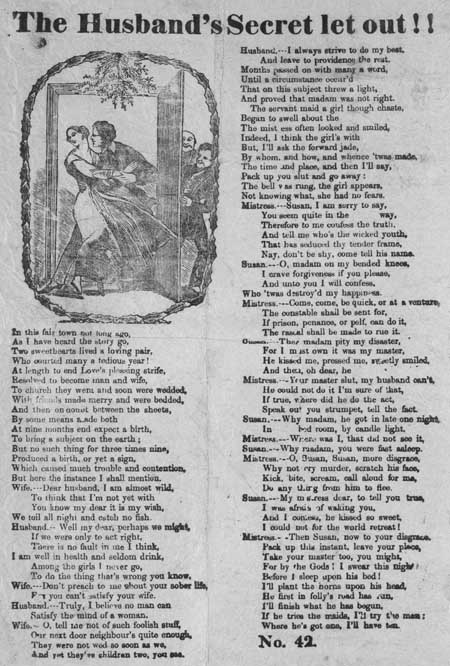 View larger image