Transcription
The Life and History
OF
ROBERT the RAVEN.
Peers, Gentlemen, give Audience,
To Fable ta 'en from Common Sense.
The British Birds of late call'd over,
A Grand Fowl bred up at H---r,
Exalted him to great Renown,
Deck'd with a rich Imperial Crown';
He swore he would maintain their Cause,
Religion, Liberties and Laws.
This Eagle then he did create
Rob Raven Minister of State.
Full twenty Years Rob rul'd the Roast,
Enhanc'd, dispos'd each gainful Post.
Misled the Council of the Nation,
Invented many a new Taxation,
Advanc'd, degraded at his Pleasure,
Plunder'd the publick Stock and Treasure.
Corrupting ministerial Tools,
Made Havock of the Nation's Spoils.
His blund'ring Treaties did advance
The Pow'r and Trade of Rival France.
Our Pow'r, Wealth, Trade did quite decay,
To Spanish Vultures made a Prey.
No more the French Cock stood in Aw,
O'er the Young Eagle he did craw.
Her Int'rest Rob did quite betray
To many rav'ning Birds of Prey,
Who pluck'd her Wings, and held her down,
Despoil'd of her Imperial Crown.
True British Birds did long lament,
Made many a heavy loud Complaint;
Our Nation brought to great disgrace,
At last Rob yielded up his place.
Of all our Product, Trade, and Toil,
This Raven wears the golden Spoil;
He's black and fat, immensely rich,
And still the Eagle doth bewitch;
Tho' he be rav'nous, most unclean,
He lurks and rules behind the Screen.
That Grievances may be redress'd,
Peers, chuse a Hawk of a good Nest,
Of Birth, and Worth, and Metal Keen,
To drive Rob from behind the Screen;
Even such a Nest, as is most clean,
Dalkeith, Redbraes or Aberdeen.
Probable date published: 1742- shelfmark: Ry.III.a.10(101)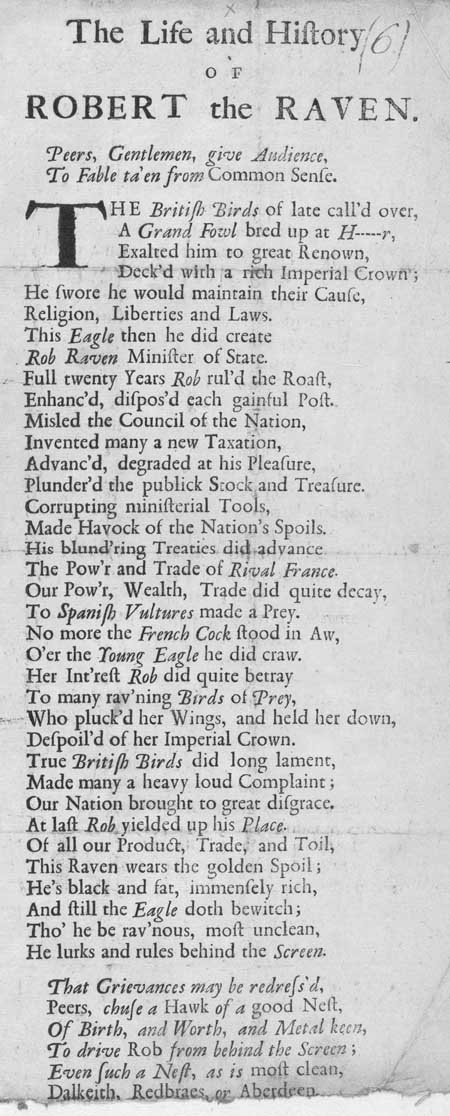 View larger image