Transcription
The Forger's Doom:
OR,
John Currie's last Speech.
I Find I was a Fool to mock the Laws;
My Notes are finely chang'd for Hangie's Taas;
I thought to've turn'd them all to ready Cash;
But now I'm paid for every Pound a Lash.
Is this the Way to clear me o'er the Nail,
To drive it tbro' my Ears, and lash me down the Tail;
Sturvy prompt Payment; fy upon such Clerks,
Instead of Sterling Coin, to pay with good broad Marks;
Trone Weight, i'faith, and that my Back will feell;
They'l forge my Flesh, and there ingrave their Seal.
The L A W of old, ingrav'n was on Stones;
But now it is ingrav'n on Flesh and Bones;
I thought that Rome and W--?s were not a-kin,
But here's a Popish Penance for my Sin,
To save my Soul, they'l mortify my Skin:
That cruel Bank, O how was I beguil'd ?
Their Note was lawful, mine a Bastard Child,
In shape and Features, and in Sense the same,
How then can their's be straight, and mine be lame?
Since they so much resemble one another,
Why should not mine be honour'd as a Brother?
Once I believ'd 'twas Policy and Sense,
To draw a daily Bill on David Spence.
After a twelve Months Plea, I'll ne'er forget,
Sharp was the Way he's ta'en to pay the Debt,
Naked turn'd me to dance upon the Street;
And yet they say, That Falshood hasn't Feet.
Curst be the Man invented knacks of Law,
A base Bug-bear, to keep the World in Awe;
Of all it's Tricks, with which the World is curs'd,
Conjunct Probations, surely is the worst.
Why may not I, Bookbinder to my Trade,
Forge Paper as a Smith may forge a Spade?
Thanks to my Stars, I have a Pair of Hands,
Can forge Bills faster, than the Smith's forge Bands
Some forge a Lie, and others forge an Oath,
And yet the Law doth overlook them both.
Is not this partial in a high Degree,
To punish none, save dextrous Men like me.
O is there not some blessed foreign Clime,
Where Forg'ry yet was never made a Crime ?
I'll travel there, and carrry on the Prank,
Till all the Earth become John Currie's Bank.
Farewel,dear friends, you'l shortly hear frae me
And send my Compliments beyond the Sea. |
That ye may drink their Health who send me from a Tree.
Date published: 1728 shelfmark: Ry.III.a.10(092)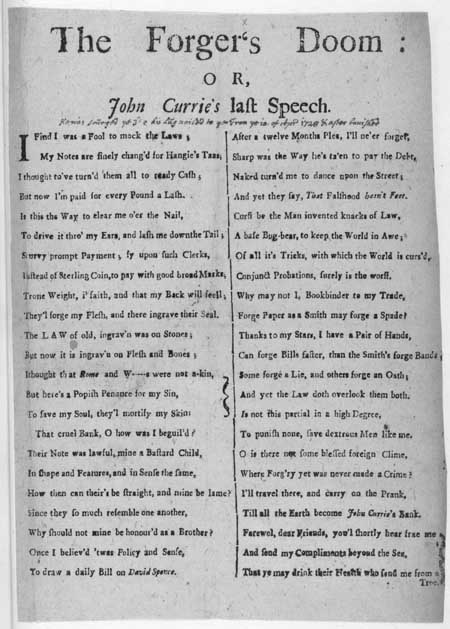 View larger image