Transcription
POEM
On the much to be lamented Death of Captain Chiesly and Lieu-
tenant Moody, with a particular Account how they were Slain.
O! Now my Muse Dramatick stand aside,
Let Tears for Commas Clausulas divide.
Let deepest Sorrow Dictate every Word,
Each Sentence Savor of the Fatal Sword.
Joy quite forgot, let no such Thing be here,
Sound sad QuŠrelas O ye Tragick Quier
Sad is the Thame,change now your Nots ye Nine,
Let Doolful Echos Treeble every Line.
Inspire my Heart, my Head, my Hand, my Pen,
While I do Write, and Weep and Write again.
Two Sons of Mars, who bravely late Campigns
Withstood their Foes, and fors't their Fronteer Lines.
Brave Martial Spirits, tho' mid'st Death and Wounds,
They did not fear to Face the French Platouns,
But fought for Honour and for Laural Crowns. }
From fiercest Foes they scorn'd to turn their Face,
Till War detcrmin'd in a happy Peace.
Ah ! Peace to them open'd for Death a Door,
Brave Ajax fell, tho' Trojan Wars were o're, }
The Vilats Testifie his Purple Gore.
Now šursed Wrath doth dearest Friends Disjoint,
Each gainst his Fellows Breast presents his Point.
O! do I awake, or is't th'effect of Dreams,
No, no, the Purple Blood runs down in Massie Streams,
Ah ! Pity wer't, but who can change Decree
Or alter Events of sad Destanie.
No sooner did the one Receive the Fatal Wound,
But th'others Life must instantly Compound.
Tragedians now need no more Strain their Wits,
To Busk up Shadows Empty Counterfits;
In Hidious Shapes t'amaze the frighted Mind,
Here a Substantial Tragedie we find.
Acted without a Vizard one the Stage, }
Each fell a Victum to his Fellows Rage; }
Curst be the Time in which they did Ingage: }
Let Darkness Cover that Unlucky Hour,
May it be Banish't from the Twenty four;
Let it be wraped in the darkest Night,
No Voice be heard on't, save what tends to Fright.
Brave Chiesly, why was Fate to thee so Cruel;. }
To suffer thee to Die as doth a Fool, }
Escapt in Fight, and yet fell in a Duel. }
Or why dear Moody now doth Fortune Scoff,
Which once assisted thee to carry off
Thy Colours from the Proud insulting Foes,
Regardless of their Fury or their Blows ;
Curs'd be th' unlucky Spot upon our Street,
Where Destany ordained you to meet.
Let Perfect hatred be it's ugly Doom,
Make it more Noysom than that Place in Rome ;
Where Babel's Whore, th'Adultress Pope Joan,
Brought furth her Brat and prov'd she was no Man.
Let Passengers Weep when they look thereon,
And at the Fatal Cairn throw a Stone ;
That every Age may to another tell,
Here both the Captain and Lieutenant Fell.
FINIS.
Probable date published: 1720 shelfmark: Ry.III.c.36(148)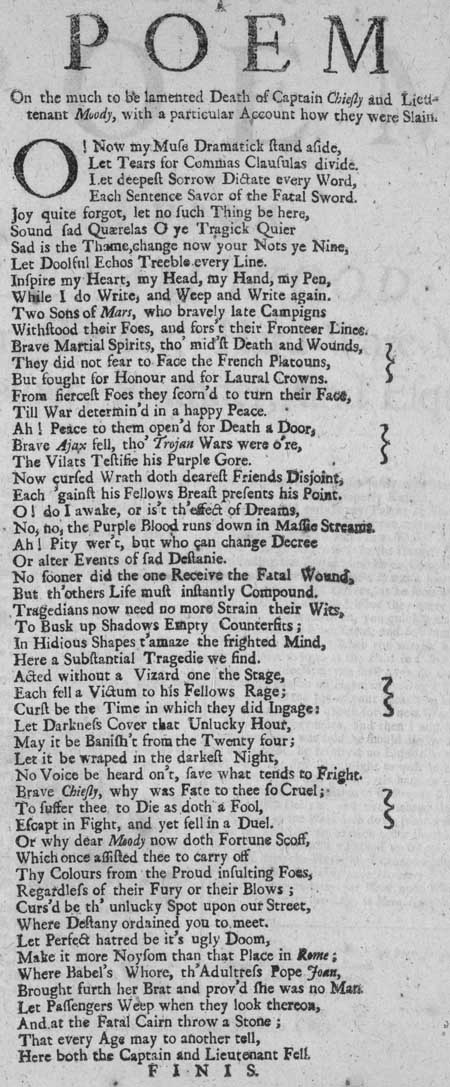 View larger image