Transcription
A Panegyrick on Philip King of Spain, upon his renouncing his
Crown and Kingdoms, to live in a Hermitage,
By Mr. Pennecuik.
HAIL Miracle of Monarchs who resigns,
Thy Crown, thy Kingdoms, and thy Golden Mines,
Mocking the royal Pageantry of State,
Ambitious rather to be good, than great;
Whilst others proudly struggle for a Crown,
You throw your Grandure and Regalia down ;
Warm'd with an Altar Coal, thy Heart doth pant,
To find a Jesus, and commence a Saint.
Had you like Charles, the Martyre, Britain's King,
Who now in Heaven doth lo Triumphs sing,
Felt the rebellious Subjects pois'nous Breath,
And by a cursed Cromwell push'd to Death ;
Or had the Turk and Monster Merriweys,
The Rogue who sovereign Majesty betrays,
Audaciously presum'd thy Throne to climb,
And from thy Temples pull'd the Diadem ;
No Wonder you had loath'd the regal Toil,
Dispis'd the Purple and the anointing Oil,
Fled to a lonly Hermitage to dwell,
And sigh thy rigid Fate in a religious Cell,
But in the pride of Life and Success too,
When mighty Monarchs were afraid of you,
Nor Foreign or domestick Wars did feel,
And Fortune seem'd naill'd to your Chariot Wheel,
To give the Slip to fortune and betray,
A Jilt perhaps had other Game to Play,
For fickle Fortune, often sports with Kings,
Stops their Carreor, and clips their Eagle Wings,
Knowing her Cheats, you play'd upon the Square,
And subtile as she is, ye did betray her,
O glorious Philip, thy great Name shall fly,
As far as there is Seas or Earth or Sky.
Dayly with pleasure, doth the Sun arise,
Dispells the Night, and brightens up the Skies,
To show the drouzie World, his honest Face,
And View thy vast Dominions in his Race,
For thee he dcth spontaniously Toil,
To ripen into Gold thy sacred Soil,
Early and late thy ample Fortune spyes,
And when he doth roll down the Northren Skies,
Leaves us poor Mortalls in our Dark abodes
To tell thy Riches to our Antipods.
B U T you renounce these Fields of golden Ore,
In solitude the Donator to adore,
So Charles the fifth, tyr'd with the Worlds affairs
Retir'd and spent his Hoary Age in Prayers,
Thou art the Subject of our sacred Song,
Phillip d' Espagne, le Grand et le bon,
Tho' some conclude you a politick Prince,
( Honi soit qai mal y pense )
Gone to a Desart from a deep Intrigue,
To form a. Plot and Crush the Gallick League. F I N I S.
Probable date published: 1724- shelfmark: Ry.III.c.36(124)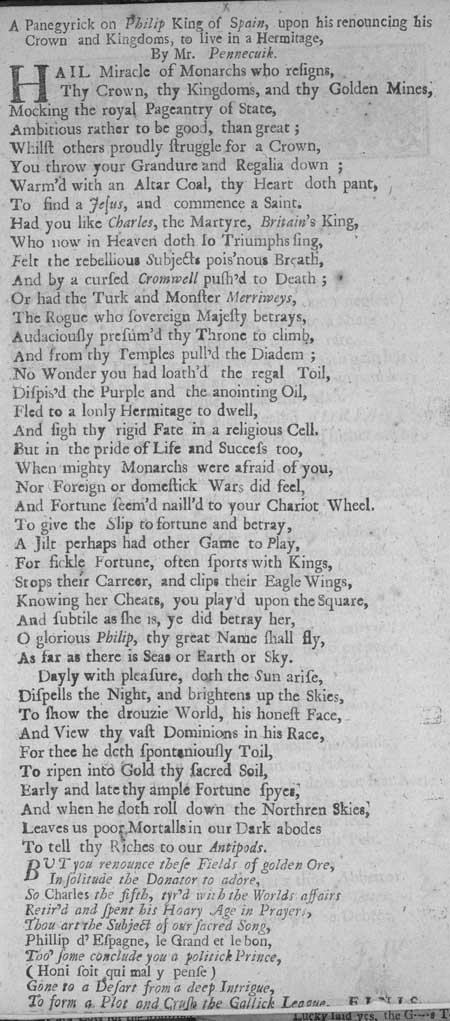 View larger image