Transcription
AN
ELEGY
On the much to be Lamented Death,
0 F
Mr. John Merry Surgeon
Apothecary.
IS MERRY Dead, his Active Spirit flown ?
And none to lend a Tear, a Sigh, a Groan ?
For Edinburgh's loss, me thinks at least all Eyes
Since Tongues (cannot) should weep large Elegies,
Expect no Muses for they at his Death
Conpassionate, lost their Poetick Breath,
Expect no joyful Strain, for he's past all Fate,
His Name( if Learning live )shall have no date,
Who can deny but he deserv'd great Fame ;
His Country may rejoice to hear his Name,
That Profit yeild'd to all Nations where he went,
And in strange Lands his inclinations bent,
His Studie was to make good Surgeons known,
Rebuk'd the bad, their Studies to return,
Abroad they plac'd him in a Surgeons State
The Learned saw his Studie was so great,
The Gravest there his Learnirg did Commend,
Whereby he brought great things to perfect end
A wonder is how World Men Reward,
And those who save Men's Lives they least Regard,
Blind is that Age that doth the best despise
A common thing Vice lets not Vertue rise,
None can Rob Learned MERRY of his Right,
His Lamp did give such pure and glittering Light,
Pass on with Praise throw every Soil and Coast,
Where MERRY's known he shall be honoured most,
Be hush'd ye gentle winds, nor breath aloud,
The Fatal and unwelcome News Abroad,
Doubles thy blow oh Death! now from thy Dart,
Thou'swound'd the Nation, in one and everypart,
Let Honour to his Memory now be paid,
Ten thousand Tears be on his Ashes laid,
But now he's gone tho worthy of all Praise,
O that I from the Ground his Monument could raise,
Princes nor Kings can't be exempt from Death,
The greatest Monarch must resign his Breath.
Probable date published: 1720- shelfmark: Ry.III.c.36(109)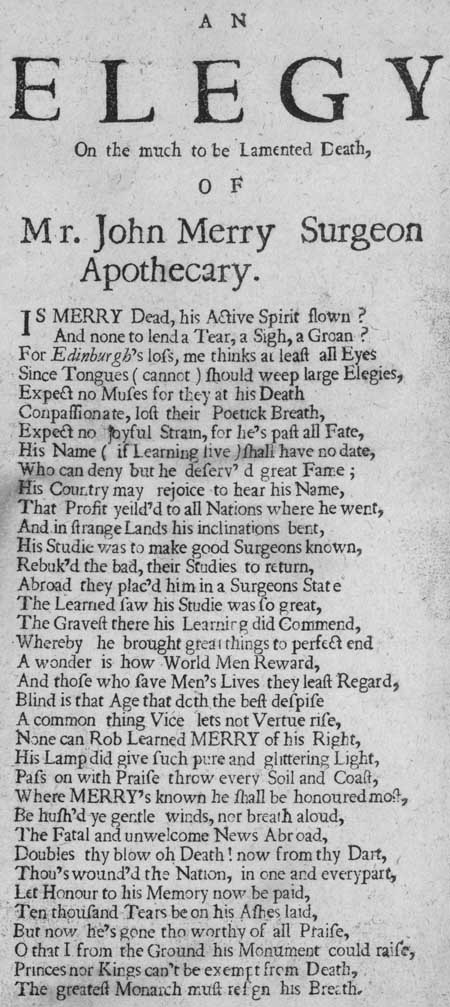 View larger image