Transcription
T H E
Tnicklarian Doctor's
Lamentation
For the Absence of his Majesty King
GEORGE, and the old Antient
Parliament.
GREAT Sir,I am now become Your humble Servant, when I can do no
better: I am not so well aquaint with your Majesty is I was with
Your Predecessor; but however, I hear tell you are an right Honest Man,
but seeing makes believing: There are many in Scotland will not believe it,
till ye come to them, and give every one of them a Loaf and a great pice of Flesh
and a Flagen of Wine as King David did to all his People both to the Men and
to the Women; and believe my Word, my Wife will never have that kind-
ness to your Majesty as she ought to have before ye do it. Cur poor Peo-
ple are glad of Meat and Drink, but Your Majesty will fay we are Re-
bells, we are not worthy of either Meat or Drink: I consess we have not
that love to your Majesty as Jonathan had to David: Put however if ye
would come to Scotland, and fill me fow of Meat and Drink, I shall both
Fight for you and Pray for you, which is not my ordinary, your Majesty gets
but few Prayers except from thosethat hath Posts and Pensions from you in
Scotland, but if ye would come to us, and give us that small Thing that we de-
fire, we shall all of us Pray whole sail for your Majesty, which will do more
good then the Ministers Prayers, ye may know that it was for your example
that it was Cronicled, how much Meat and Drink that King gave to his Peo-
ple, what is my bussiness to read about his Meat and his Drink, for I cannot be
the better of it but rather the worse. The Parliament made you King but the
poor in Scotland hath found little Favour by it by reason of your Majestys
absence and our old Custom of Parliament. (But your Majesty will say we
may come to you if we Want) But I say your Parliament hath laid so much duty
Upon the Leather, (that we cannot get shoon to carry us up to you ) I hope
your Majesty will not be offended because I beg a Favour from Your Majesty
seeing the greatest in our Nation sikes Posts from You ? and there are many that
hath Posts under your Majesty which is not wordy of it, especiall those that
that I shall Name.
Collonl Mack-kartney that Sticked Duke Hamiltoun. Nixt the Watter
broke the Skin of both my Legs, and a loss that if was not the Bone.
Nixt the Pope that was seeking with a Sword.
Ednburgh, Printed for the Author R. s, and to be Sold at his Dwelling-House at the Head of the college- wynd.
Probable date published: 1714-1727 shelfmark: Ry.III.c.36(083)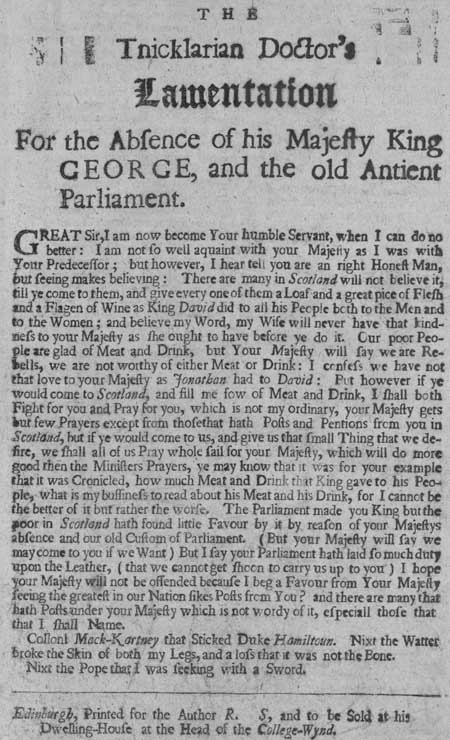 View larger image