Transcription
The St. James's surprizing and afrightful
APPARITION
Being a fearful and terrible Account of a wonderful Vision that appeared at St.
James's Pork, near St. James's House on Saturday Night, being the 13th of
January 1722. Which Surprized all tie Centinels, of four Men without Heads,
bearing a Coffin with four Wheels upon their shoulders, and another headless
Person riding on Horseback before the Coffla, which so terrified the Centinel that
first saw it that be fell to the Ground in a swoon, whilst the Apparition marched
towards the late Duke of Buckingham's House. The Truth of this is attested by
several Centinels who perceived the said Apparition.
WHatever the World may think of Apparitions and Spectres, 'tis very certain,
such has been before, and learned Divines still own the fame Exist, and ave
appeared in the several past Ages. There are so many things upon Record of this
Nature, that it would be numberless to Name them; and if Signs and Tokens
from Heaven seem to fortell certain accidents to Kingdoms and Nations, I see no
Reason why the Divine Power may not make use of the Ministry of Spirits to
indigitate some extraordinarly Events that may happen; or why be might not
raise Forms or Ideas to the Understandings, as the Spirits had existingly appear-
ed, either to punish the Guilty, or to manifest his Will; add this he can do to what
Persons he pleases, as the Gift of Tongues was given by a supernatural Power to the
Apostles. But leaving the solution of these Difficulties to Wiser-Heads, I proceed
to instance a late Circumstance that seems to be very strange and surprizing, and
leave it to my Reader to make what suitable marks upon it as they shall think fit.
While a profound silence and deep sleep had seized the Country, Town and
Court, on saturday Night about the hours of twelve and one, as a poor Centinel
was upon his Duty there passed by him a surprizing Apparition that struck him
with an unspeakable terror; but soon resuming his military Courage, he looked
more curiously at them, and asked, Who they were? But no Voice answering neither
hearing any Noice of their Feet, as might be expected in such an universal silence,
he ventur'd to draw nearer, and then he was confound'd indeed! There appeared
no less to him than a solemn, mournful and yet a very odd spectacie as tho' the
whole society of unhappy Criminals that were beheaded had appointed to meet in a
strange Cavalcade, at the Funeral of one of their Brethren. First appeared a Man
I should have said part of a Man on Horseback, in very lately Trappings, with a
Wand in his Hand, but without a Head ; next appeared a Coffin with sour wheels,
like those resembling the Chariot Wheels of the Heathen God's, and this Coffin was
bore upon the shoulders of four Bodies withont heads, and behind followed two
Men with lighted torches in their hands, without heads too, the Light of which
torches made it more obvious to the amazed spectators; and on the Coffin lay a
Knife, as tho' that was the Instrument whereby the Deceas'd lost his Life.
You may imagine the surprize of the poor Centinel on this account, at his
approach they seem'd to lay the Coffin on the Ground before him, but he immedi-
-ately fell down in a swoon, which occasion'd them to march forward towards the
Duke of Buckingham's House, where they were likewise perceived by the Centinel
at the Park-gate;soon afterwards the Guards coming to relieve the Centries,found the
first Centinel at some Distance from his Post in the rnost violent agitations ; but
after recovering himself, he related the Matter as it is here mentioned, which is also
coafirm'd by Others who perceived it likewise.
What ever such an appearance may pretend, we cannot, we dare not say ; not
is it reasonable to conclude what only is left to Time and Providence.But certainly
if any thing is intended or meant, either by real apparitions, or artful Delusions, 'tis
hoped a due Repentance will avert Divine Wrath as to the Former, like the penitent
Ninevites; and if such an appearance has been contrived by Men, may their wicked
Designs be frustrated, that seems to unhinge our present happy Constitution in
Church and State, destroy our Liberties, and is contriv'd as a Reproach against the
supernatural Power of the Almighty.
Likely date of publication: 1722 shelfmark: Ry.III.c.36(079)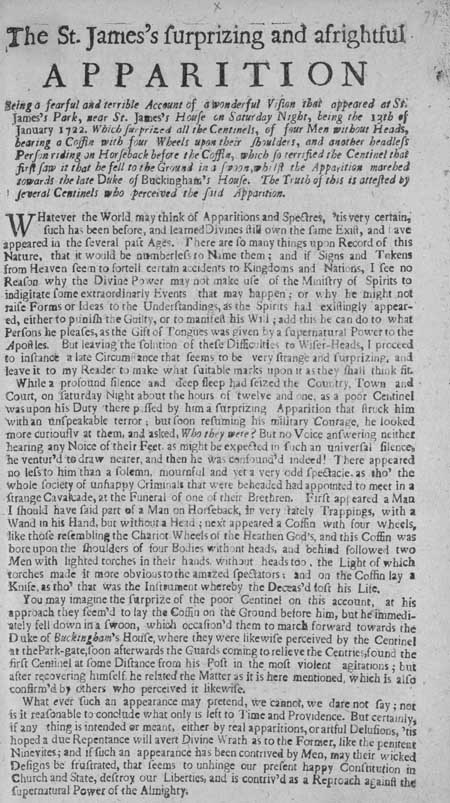 View larger image