Transcription
HUY and CRY
For APPREHENDING
GEORGE FACHNEY professor of Gaming,
and one of the subaltern Officers in Collonel cald-
well's new levied Regiment of Robbers
By John Dalgliesh, Lockman of Edinburgh.
How many Dangers do inviron
The Man that meddleth with cold Iron.
--------Hudibras.
OYes, O yes, both Young and Old,
Here a Reward in ready Gold,
Three Ganias upon Fachney's Head
To bring him in alive or dead,
And that ye may the faster Run,
I'll tell you what the Varlets done.
Tho' 'tis inacted by Martial Law,
( To keep all Soldiers in Awe )
That he for a Deserter Dy's,
Who basely from his Collours flyes,
Yet notwithstanding 'tis a Truth,
That Fakency, that unhappy Youth,
A born Heir unto the Gallows,
Has fled with other graceless Fellows,
From Colonel Caldwals's Cor,
Tho the Articles of War he Swore :
Was fairly listed and took Pay;
And yet scour'd off the other Day.
Coldwels's brave Officer is he,
As ever serv'd by Land or Sea,
He rais'd bis Troop, and ever since,
Nere fought a Farthing from his Prince.
Maintain'd them all, and that's a Wonder,|
upon no other Pay, than Plunder,
And all the Reason Fachney had,
Is e'en a Reason very Bad.
Because the Enemy had got
His Colonel by a wicked Plot,
What tho' in height of cruel Rage,
They clapt him in a strong Stone Cage
And People follow'd him with Curses,
Dying he liv'd by catting Purses;
And soon the foollsh Story ran,
The Colonel was a High way Man.
He did it to supply his Need,
And ev'ry Soldier Fights for Bread,
And 'tis by all Divines confest,
To Seep the High way is the best,
And that you may'nt return without him,
I'll give you all the Marks about him,
He's fallow Fac'd, no Blood appears,
'Twas banish'd by his panick Fears ;
When he and B?e without Pity,
Were to be scoug'd throw the City.
As to bis Hight, just such an other,
As Stephen Harries, his dear Brother :
His Legs are small, like Womens Rocks,
Thro' Salivations for the Pox ;
Albeit in Money he'slwell Stockit,
He has some inland Bills in's Pocket,
Five o'them forg'd O ! rare Bill maker.
And all indorc'd to William S---------ker
Three pair of Dice are in his Breeches,
The Bones, by which he Over-reaches,
All Flesh that e'er did with him play,
Throw Winters Night, or Summers Day,
Three clean Stocks of Gameing Cards,
To purge the Pockets of young Lairds,
A bollus and a dose of Pils,
To cure him of veneral Ills,
A letter Case with Vellum Skin,
With many good Receipts within,
Teaching the Art Legerdemain,
The Stakes at ev'ry Throw to Gain.
A List of all the Tosts and Whores,
And this fine Song of his Amours.
SONG.
I Keep my Horse, I keep my Whoor,
I have no Rents, yet am not Poor,
I Travel all the Land about;
Yet was not Born unto a Foot :
With Partridge, Pliver, Woodcock fine,
I do at Midnight often Dine,
And if my Whore be not in Cafe,
My Hosler's Daughter takes the place.
The Maids sit up and watch their turns,
It I stay long the Tapster mourns,
But when I Knock, O ! how they Bustle,
The Hosler yauns, the Servants justle,
,
And a this comes off, deliver your Purse Sir,
It next remain to tell his Haunts
then seek him not among the Saints,
Go not unto the House of prayer,
For never Motal saw bim there,
In Justice Courts, where Lawyers Plead,
Facbney ne're sets up bis Head
Or mongst Philosophers or Yeomen,
Merchants, Mechanicks. or grave Women
But go to Houses that keep Bauds,
And where ye bear the gaming Lads,
Knocking the Table cry G---D---.me,'
He's tan my long Ten--s wi' hi Pammee,
Step in and there ye'll Fachney see,
And that's the Way to win your Fee;
Then bring him ty'd with a Dog-leish,
And ye'll be paid by
JOHN DALGLISH.
Probable date published: 1722- shelfmark: Ry.III.c.36(060)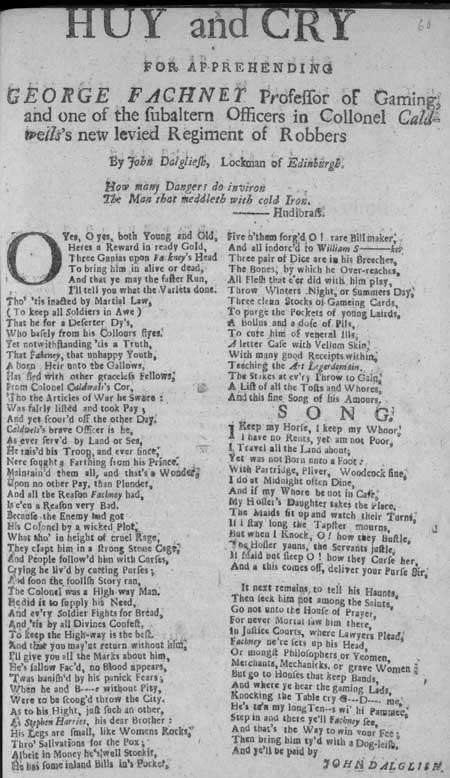 View larger image