Transcription
E L E G Y
O N T H E
Death of Nicol Muschet of Boghall
Written, at the Desire of his Friends,
TH E highest Pitch of Sorrow swells my Heart,
And dictates Words, without the Strokes of Art:
In moving Notes, cloath'd with a natural Rhyme,
I'll sing his Suff'rings, and his impious Crime :
Grief, and no other Passion, shall prevail,
Grief, mix'd with Love, shall tell the mournfull Tale.
My Muse shall speak without an angry Word,
Or keen Resentments of a Man injur'd :
A Muse that's chaste, abhors such wicked Tools;
Anger's the pleasant Paradise of Fools:
From the pure Fountain gentle Streams distil,
But Mudd and Noise from the polluted Rill:
Envy and Hatred is such noxious Fruit,
It proves a Man's Relation to the Brute:
By gentle Gales of Love shall Fancy move;
I'll blend deep Sorrow with the deepest Love.
How weak and wicked is theCreature Man!
A Lump of Mischief, and his Life's a Span;
Untutor'd by the Guardianship of Grace,
He to Destruction runs with nimble Pace.
A fatal Instance offers to my View ;
What is't that Sin and Folly will not do)
A pious Youth, nurs'd up with holy Care,
The Son of many Vows, and servent Pray'r ;
At Dawn of Life his Piety began,
Ere yet his Days had ripened unto Man;
In Nature's Morning, Buds of Grace appear,
The early Goodness did his Parents chear :
As Years advanc'd, so did Religion too,
Great were his Virtues, and his Failings few;
A flaming Zeal thro all his Actions ran,
Whilst yet a Child, the Promise of a Man:
It gladned holy Hearts to hear him pray,
Tho' in a rude Enthusiastick Way:
He learn'd strict Lessons from the Gospel-school,
And went so fast, he stept beyond the Rule.
Wild wand'ring Mountaineers did soon decoy,
And made a Pros'lyte of the hopeful Boy;
Who, fond of Faction, trample on the Laws,
Miscook the Tale, and spoil an honest Cause:
Sweet is the Song that from the Violin flies,
But if the Strings are crack't, the Musick dies;
So, in Religion, when we drive too far,
We split the Text, and dwindle into Jar.
Bred up in Learning, and the Surgeon's Skill,
Which learns the Way to cure, and not to kill;
He, thus accomplish'd, leaves a Rural Life,
To find his Fortune, and his future Wife.
To fair EDINA comes the country Lad,
Where he drops all the Piety he had: (bad!
Ah, Youth is soon debauch'd withCompany that's
Converting often with an impious Crew,
Who his Phanatick Maxims overthrew,
He lost his former Zeal, and broke his solemn Vow.
Soon did he learn Religion to deride,
Flies from his Faith, and joins the other Side.
This Slip of Life procur'd the impious Fault,
He drown'd Religion with the Juice of Malt,
And gave a-loose to Lust, O cursed Trade !
Paid frequent Visits to the Harlot's Bed:
By Passion hurry'd blindly Weds a Wife,
Now opens up his wicked Scenes of Life.
The Girl was sprung from an ignoble Blood,
And the her self but negatively good :
His Passion so degenerate unto Wrath,
He studies Ways to bring her unto Death.
When, once we deviate from the Ways of God,
We soon spy out and love Destruction's Road.
She looks upon him with a smiling Grace,
Sees Wrath in every Feature of his Face:
To take her Life, a thousand Shares are laid,
Sweet harmless Lass, she's ev'ry Day betray'd:
At last, with satan, who had form'd the Plot,'
He leads her to the Fields, and cuts her Throat.
I've plac'd his Sins in such a glaring Light,
To make the Mercies of the LORD shine bright:
Free Grace and Love rise in a glorious Scene,
Lo, he's recover'd from the Devil again!
He took a deep Remorse before he dy'd,
Became a real Saint, else good Men ly'd.
Hence we may learn, from this his dismal Blow,
How far in Sin a Son of GOD may go.
Thus I've perform'd the Office of a Friends,
Recorded his lewd Life, and pious End.
O may all Youths take Warning, and conspire
To loathe polluted Paths, which lead t'eternal fire
Date of publication: 1721 shelfmark: Ry.III.c.36(055)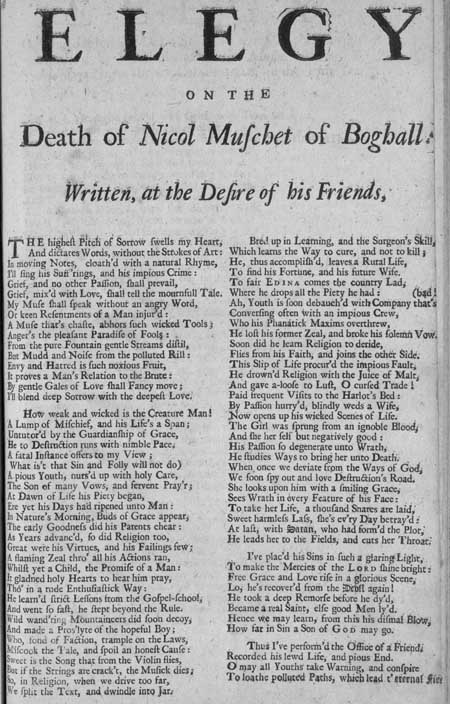 View larger image