Transcription
LETTER
F R O M A
Gentleman in England to his Friend
in Scotland, concerning the Reports
upon Colonel Charters.
Am perswaded, That the World is turn'd up side
down, and Lies or false Reports more Credited than
Truth. I could not but a little strange at your last
Letter concerning States Affairs. That His Majesty
was so afraid for the pretender, that He was forc'd
to go to Hanover; with many more Rediculous
Stories. It seems your News-Mongers, and Bussie
Bodies for want of Foreign News, raised idle Stories
and Calumnies at Home, and by their idle Practice spread them Abroad;
So that they become a Laughing to us of another Nation, to think that
the Generality in Scotland should be so foolish to believe every idle Story
that perhaps they may hear out of a drunken Fellow's Pate.
It was an Admiration to me, when ye wrote about a great Comet Star, that
should been seen, on the Fifteen of March; and that the Pope had sent an Ac-
count of it to all the Christian Kings, that it would destroy all Christendom.
And I wonder how any Judicious Person can credit such Romances.
I am perswaded, 'Tis Nothing that raises such, but a Conventicle of old
Wives, telling over their Dreams to each other, and some accidental Person
over-hearing .it, not knowing it a Dream; takes it for News, and so it runs
through like a Rattle-bag.
Ye also wrote concerning Colonel Charters, how he had met with a Spi-
rit, which should so affrighted him, that he could get no Rest nor Quiet, with
an awakned Conscience, and that the Spirit told him, He was to die, and the
Day of the Month when he should die; and that his Lady was forced to leave
New-mills for his Screeches and Cries.
Sir, I had not well read your Letter, when Business called me Abroad,
where I was met by Colonel Francis Charter s, walking upon the Streets,
as well in Health as ever I saw him, and as Merry and Jocal as ever he was
in his Life, I thought his Lady had good Ears, to hear from Newmills to
Chattingcross her Husband's Screeches. But I really strange Who can take
it upon their Conscience to invent such calumnious Fictions.
And it surprizes me, what can occasion his own Country People so much
to Vilipend that Gentleman ; For I have observed; he never came to Lon-
don, but I heard most clandestine Reproaches raised upon him by his own
Country. For I remember some Years ago, of a hidious Story relating to the
said Gentleman, which they inserted in the Scots Currant, as groundless and
false as this late One. But if Colonel Charters had prosecute the Raisers of
the first Calumny, it perhaps might have scar'd others from such Practices in
Time coming.
S I R,
London March I am your most humble Servant,
23. 1718.

EDINBURGH, Re-printed in the Year 1718.
Date of publication: 1718 shelfmark: Ry.III.c.36(040)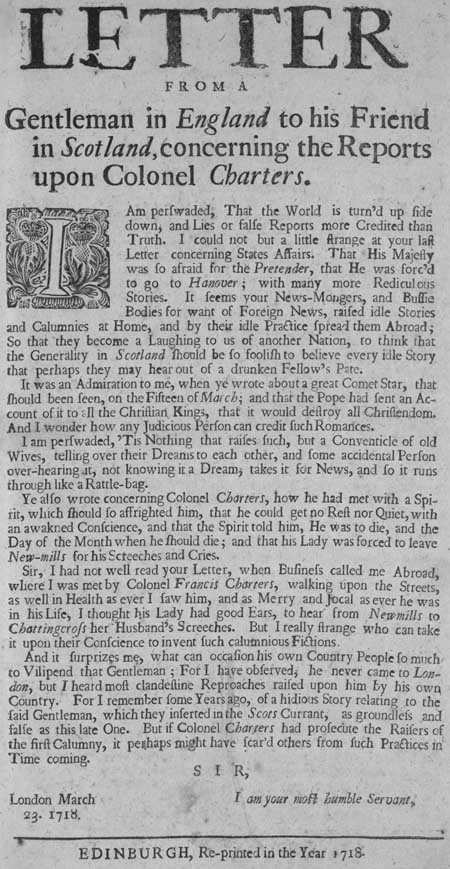 View larger image