Transcription
T H E L A S T
SPEECH and CONFESSION
OF
Thomas Bean, one of those Execut-
ed for the late Riot in Salisbury-
Court at London.
I AM brought hither by GOD'S Permission, Dear Follow Christians and Country-
men, against the ancient Laws of this Kingdom, and the undoubted Liberties of
this once Free People, by virtue of a new pretended Law, to suffer an Ig-
nominou Death, tho' nothing worahy of Death, even according to this new Constitu-
tion, could have been prov'd upon me, had I had but the Right of defending my self
allow'd me, which we Englishmen have hitherto so much glory'd in, and for which
we ordinarily appeal to GOD and our Country, as I do most solemnly now appeal
to both, in this my last Hour.
Beseeching the Almighty GOD, that he will not lay this Sin to the Charge of those
who have been instrumental in bringing me to this unexpected End, and that he will
not remember the Sins of my Youth, nor enter into Judgement with me for my ma-
nifold Transgressions against His most Holy Law, whereby I have merited not only
Temporal but Eternal Death, and have brought Dishonour upon the Holy Religion
which I profess, and which I am now going to Seal with my Blood.
It was the Zeal that burned in me to hear of certain Diabolical healths publickly
drunk in Defiance of all Law, as well as Religion, and particularly of Confusion to
the Church of England, with Hellish Reflections both on the Living and the Dead,
which kindled that Fire in me which would have been hard for Men of more Years
and Understanding, to have govern'd under such great and repeated Provocations.
GOD be merciful to me, and to all who gave them, and who have promoted there-
by this Scene, now before your Eyes, and grant that all may be waste away in
the Blood of CHRIST, into,whose Bowels of Love and Mercy I cast my self, in the
Fellowship of all Faithful Penitents, who are at Rest with Him.
I Die an unworthy Member of the Church of England, as by Law Establish'd
which GOD for ever preserve, and I protest against Popery and all Antichristans
whatsoever, and all Usurpation both in Church and] State. I say again, GOD for
ever preserve the Church of England, and make her Glorious, that all that dissent
from her may be Converted to her:
I Heartily pray that GOD would look upon this once Flourishing but now mi-
serable distracted Nation, and heal the Breaches there of by the only Expedient which
remains, and which is in the Hands of GOD to fulfil ; baffling all the Desgns and
Devices of wicked Men and Angels, against Truth, Justice, and Peace.
I beg of you all to help and assist me in this Hour of Death, with your servent
Prayers to the Father of Mercies, that I may be strengthened to overcome it thro'
the Blood of the Lamb, and have a Part in the Resurrection to Eternal Life. LORD
JESUS have Mercy on my Soul, LORD JESUS receive my Spirit. Amen,
LORD JESUS.
LONDON Printed, and EDINBURGH Re-Printed.
Probable date published: 1716 shelfmark: Ry.III.c.36(039)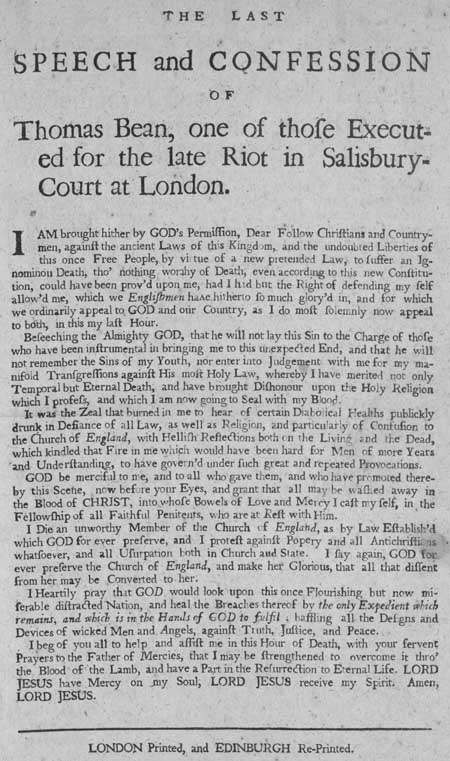 View larger image