Transcription
A N
E L E G Y

UPON
The much to be Lamented Death of Commissioner
Kello, who departed this Life the 2d. of Octo-
ber 1716.
A Bimalech a Champiou Bold and Stout,
had by a Woman all his Brains Dash'd out,
The Ambitions Youth did at a Crown aspire,
And thonght to have the Castle set on Fire,
But as he rashly Approach'd the Door.
A Woman who perhaps might be a Whore,
A piece of Milston droped ov'r the Wall,
Which by mischauce upon his Pate did fall.
Whereby the Case of his Prond Brains was crush'd
His Excit made, and Resnrpation hnsh'd. '
And Cicero a Man of great Renown.
Who on the Ground to Sleep had laid him down,
Was by a Femal Nailed to the Ground,
And he a Corps soon afterwards was found.
And Olifernus in an Am'rous fit,
His Heart and Life to Judatb did commit,
But she Regardless of his Life him Slew,
And with a Shable off his Head did hew.
These Three great Heros we have Nam'd before,
With sev'ral others we might mention more,
By Femal Hands Dtspatoh'd were and Slain,
Therefore lift none impute it as a stain,
Unto the Honoured Defunct that he fell,
By Femal Hands as some are pleas'd to tell,
Since many Heros of first Rate or Size,
By Woman have been Slaughter'd hy surprise;
But let us all Lament the Honour'd Squair,
Who by mischance fell iu the Unhappy Snare,
And was of Life at Unawars Depriv'd.
Whether by chanee or by a Plot contr;v'd,
The Caution's good, let every one take Care
To avoid the Danger of the fatal Snare.
He that in Vertue's Path abideth closs,
Can never be surpriz'd or put to Loss ;
For tho' to Dangers he may be expos'd.
And ev'n in midst of Dangers Throng inclos'd,
Nay, vanquished, or ov'n depriv'd of Life,
Shot with a Pistol, on stob'd with a Knife,
His Exite is not fatal, Vertue will
Through Death and Dangers grear support him still;
From dismal Accidents none can pretend
T' affirm, the Patient made a fatal End;
For vertuons Men have oft been snatch'd away
By Death, In several Shapes surprisingly:
As doth the Wicked, so the Righteous fell
By sudden Events, terrible to all.
Date of publication: 1716 shelfmark: Ry.III.c.36(027)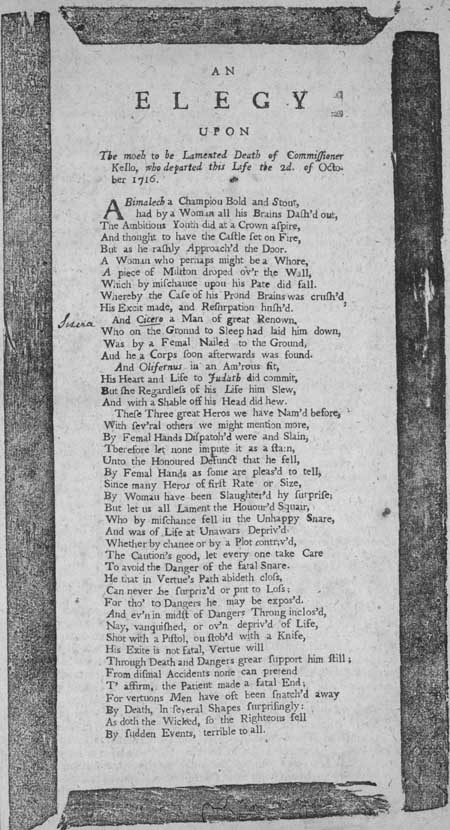 View larger image