Transcription
E L E G I E
On the never enough to be Lamented Cruel Death, of the most
Hopeful and Gallant Young Gentleman, Mr. William Rae,
of Chesters, who was Barbarously Mardered by George Bal.
lantine Younger of Craigmuir, Musgrave Mackgie, brother
to the Laird of Balmagie; and William Hamilton, Eldest. son
to Bailie Hamilton in Abbay of Holy-Rooa-Houje. In Febr.
1710. With Brief Description of his Penitentials.
O Fatal Death ! thou many Methods takes,
Poor Man to Kill, and Morral Hearts still breaks,
Some blaimeth Death, becaue it separateth Friends,
It King's from Thrones; Children from Parents Rends;
Yet it is good, because, it is the Door,
And Blessed Gate, to Everlisting Glore,
It Frees us from all Trouble, sorrows, Toil,
And us Transplants info the Heavenly Soil;
This Pleasant Youth, with a Sweet Comely Feature,
Accomplist well all the Gifts of Nature;
Was Educate in the Fear of the LORD,
Which at his Death, himself he did Record,
Of Mispent Time, he did Repent, and Cry,
And for Mercy he on CHRIST'S Love did ly;
This Pleasant Youth, Civil, Kind William Rue,
After Wounded by Cains curled Crue,
GOD grauted him good space tor to Repent,
And Grace also, for Time he had Mispent;
If he did Trust, Being Askt, To his own Merite ?
By CHRIST alone, he Hop'd the Heavens inherit.
Was his Answer, for Mercy he did cry,
And with true Faith, did on the LORD Rely;
With lift up Hards, and Eyes, with Groans, did Pray
(This Gracious Youth ) To CHRIST, his Rock.and Stay.
The Minister, who hither did Resorr,
To him Solace, And Mother to Comfort,
He satiafied with Answers, True Divine,
For which on Earth his Fame shall ever shine.
Physicians none, he would have him to cure,
For he his Hope on CHRIST had Anchor'd sure;
With Faith and Love, he only Lean'd on CHRIST,
With's Pious Mother, in Heaven he hopt to Tryst;
Which her ought make, and her Friends Sorrow foresake;
And from the Heavens, where h's there, comfort take,
For his Soul Lives, and does the Heavens inherite,
By CHRIST his Love,his Death, his Merite.
Huy and Cry after the Murderers of William Rue.
Committed in Febr. 16th. 1710. Aged 21.
THere is George Ballantine the Young Laird of Craigmuir
Cheif Murderer, who thinks himself secure,
William Hamilton, Son to Our Abbays Bailzie,
Musgrave Mackgie, is Thrid in this great Failzie,
Balmagie's Brother, these are the Persons Three,
Ought to be catcht in Lands where e're they be."
Who Murdered William Rue, that Gracious Youth,
Whose Memory shall Live, both North and South,
Who One or All of these Rogues Grip or Take,
'Tis Good Service they to their GOD will make,
Who Shelters them, Participates their Crime,
They're Cursed like Cain, I'le say no more this Time.
Date of publication: 1710 shelfmark: Ry.III.c.36(012)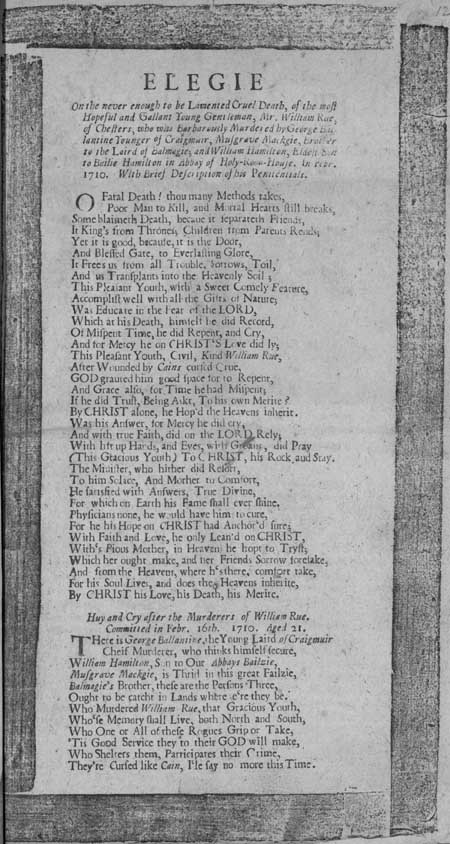 View larger image