Transcription
A N
E L E G Y
On the much to be Lamented Death, of the
Reverend,
Mr. Joseph Foord.
Minister of the Gospel at Edinburgh, who Depart-
ea this Life July the 15th, 1719. In the 26th,
Tear of his Age.
O Death, why Tyrranisest thou in thy Might ?
Why so sever,to strick so choice a Weight?
Why let'st out of the Ark a Noath's Dove,
While many Hearts were Arks unto his Love,
Hath Death a Power to break Affections Lock,
And stealthe Darling of the little Flock ?
Nay sure, what's lov'd to day, can't dy to morrow,
What's dead to love is still alive to sorrow,
This Youth still Lives and Lodging hath,
In Grateful Memories. in spit of Death.
He Lives not only now above the Skys,
But Lives on Earth, in Tears of many Eyes,
Zeal, Mildness, Grace gave air unto his Breath,
And hence his Favour Liveth after Death.
Behold a gracious Plant, for Fruit, for Flower,
A noble Saint for Zeal, for Faith, for Power.
His Walk, his Worship were of Stamp Divine,
His Doctrine, Practice all as burning shin'd,
His Life all Light and Heat, fed from Above,
His Lips all fervour, and his Heart all Love.
For Church,for State,for all he Prayed with Note,
No Case, no Place, no Friend nor Foe forgot.
He trode the Meek way by Faith and Prayer;
Was Cloath'd with gravity without Gray-Hair;
Was Master of his Passion all within,
Glad without Lightness, Angry without Sin.
A Mirror of true Love to Great and Small,
A Compound of Compassion towards all,
By Love he Conquer'd some of High Degree,
And Killed the meanest with his Courtesie,
His happy Soul is now above the Storm,
Fixt on his Rock, with Saints of highest Form ;
For while his Vessel past the troubled Occean,
He fail'd from Strength to Strength, with swiftest
Till on Immanual's Land he came a shore, (Motion
The Place to which he sent his Heart before.
Likely date of publication: 1719-1721 shelfmark: Ry.III.c.36(010)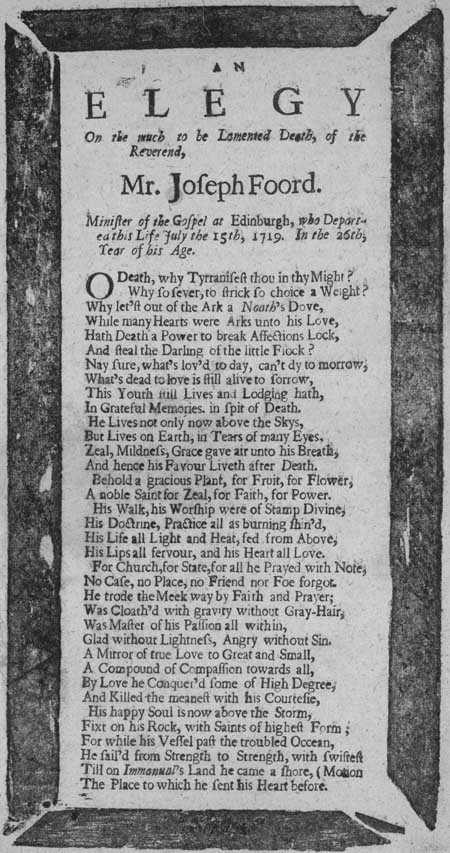 View larger image