Transcription
ELEGIE
On the Much to be Lamented Death, and Loss of the
Right HONOURABLE
WILLIAM EARL of CRAWFOORD,
and Lord L I N D S A Y, &c.
And One of His Majesties Most Honourable Privy Council, &c,
Departed this Life, March 6th. 1698.
YOU Noble Lords lay by your Robes, Come Mourn a while with me,
For good Lord Crawfoord that is gone into Eternitie!
You Nimphs upon Parnassus Tops, make doolfull Melodie,
With Tears of the Castalian Brook, for this great Destinie.
A Star is fallen into this Land, we may call it a Pole;
That none on Earth could ever pike in his Blanket a Hole.
Now PIETY has got a Blow; in Countrey and in Town,
He was a Pillar of the Church , Supporter of the Crown;
Jofia like he did behave, when Truth Iay at the Stake;
Would venture Life and Fortune both, but's Word he would not break.
If Argus should appear and weep, of that there's great need
Or Valley Hadarimmon like, to her Garments rould in blood,
Earl Crawfoord did behave himself in everie stop of Station,
He was a Credit to his Name, and Famous in the Nation,
He was a State's-man most intire, the King put him in Trust
To be a great Lord Theasurer, because he was most just:
He wore a Belt of Secrisie, and well did know it's worth,
There was a moto upon it, and that was called Truth ;
It one should venture to Descrive his Noble Ancient Stock,
Would need to have a DymondPen, to place it in a Rock.
But Death that fearful Bloodie Foe, Grand Enemie of Man,
Has bent his Bow, and with a Dart from Earth now has him taint.
Deaths Commission's very great, he bears a Bloodie Shield,
The Motto of his Scutcheon is, Te Mortals all come yeeld.
The Good Men they are taken away, unto the Kingdoms Loss,
He was prepared every hour, Death came not unaworse:
His Name will blossom in the Dust, and have a fragrant Smell;
For Piety and Faithfulness He others did excell.
There is a Plant sprung from his Loyns, his Honours to succeed,
That is so Vertuously inclin'd, does not eat idle Bread ;
Like a Young HERO he behaves, Humilitie's his Leader,
He is beloved of Every One, from King unto the Beggar.
Great Volumns might be wrote of him, that lyes into his Tomb;
My Pen cannot my Muse renown, therefore I must succumb.
If that Sylvester were alive, to Embellish this in Gold;
Our Rare Buchannan with his Pen, His Worth can scarce be told.
He's now gone to Seraphick bliss, the Heavens would not him want;
Though he was Cloath'd with Human Flesh, He was a Real Saint.
Since no Man can descrive him well, that in this Land does dwell:
He'l waken at the Trumpets Sound, and answer for himsell.
Date of publication: 1698 shelfmark: Ry.III.c.36(003)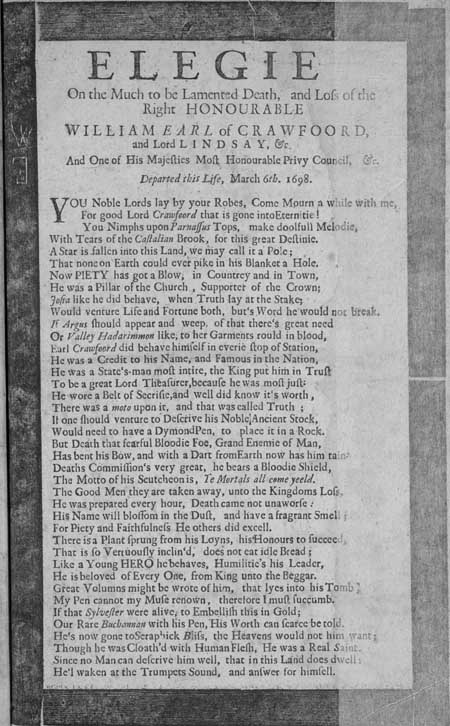 View larger image