Transcription
Resignation
OF
M I N I S T E R Y.
A Full, True, and particular Account of the Surprising and Much
Reted News just received by this Evening's London Mail,
of the Resignation of EARL GREY and the Present Ministery,
in conseqxence of their losing their motions for the Reduction of
the Malt and Window Tax Duties,-?With the resolution of the
House of Commons and the Inhabitants of London to Petition
his Majesty for their continuance in Office.
From the Caledonian Mercury, April 29th, 1833.
Ministers having on Friday been most unexpectedly left in a
minority on the subject of the Malt Tax, is confidently reported
that they intend to resign.
A corespondent, whose letter is dated Saturday, half-past five o'-
clock, writes, that " EARL GREY" is with the KING at THIS
MOMENT." There will be great difficulty, however, in accepting
their RESIGNATION, and the prevailing opinion seems to be,
that the HOUSE of COMMONS will vote an address to his MA-
JESTY praying him to RETAIN EARL GREY and his COL-
LEAGUES in Office. The division on the MALT TAX was to
say the least of it, most inconsiderate and rash ; indeed it was
uuite a surprise to every one ; and many who voted against the
MINISTERS are now, we understand, sosely vexel at their
folly. The result of the division was so completely unexpected
that our correspondent, like many others, had left the House, ne-
Ver dreaming of such a denouement, more especially as Govern-
ment had given no notice of attendance.The City, however, it is
believed, will take up the matter immediately, and petition the
King not to accept of the resignation of Lord Grey and his Col-
leagues ; in short, Ministers may threaten to go out, but they will
not be allowed?for who can possibly COME IN at present in their
stead?and all will soon go on smoothly. Some decided demon -
stration on their part has, however, become absolutely necessary.
For the reduction of half the MALT duty, amounting to upwards
of
TWO MILLIONS.
and the standing notice of motion for a TOTAL REDUCTION of
the HOUSE and WINDOW TAX, which is also likely in the
prosent temper of the House to be carried, would render it im-
possible for any Ministry to carry on the Government of the
Country.
Date of publication: 1833 shelfmark: L.C.Fol.74(151)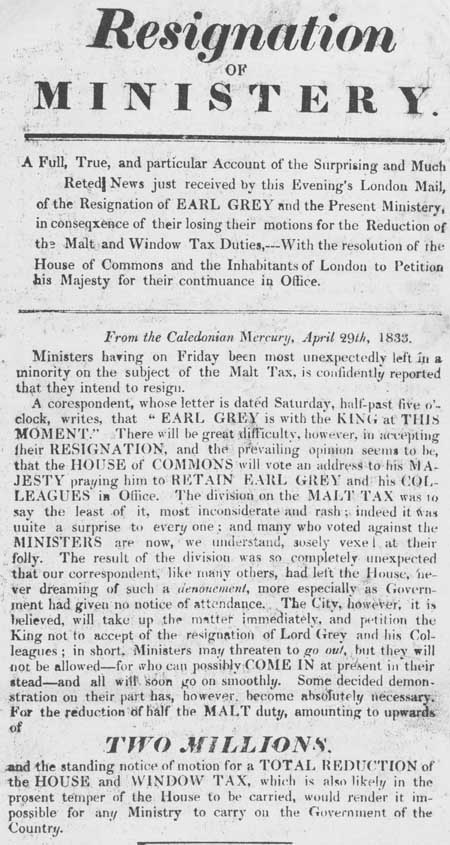 View larger image