Transcription
Fatal Love!
Or an account of that Cruel and Inhuman Murder which was committed on the body
of MARY JOHNSTON, a young Sertant Girl, near Blackburn, on Friday last.
July 4th, 1823, by JOHN WATSON, Cotton-spinner, in the same place, who
pretended to be Sweetheart. Also, a copy of the Letter sent by him in order to de-
coy her to the place where he committed the horrid deed, with the young women's
answer.
THE unfortunate woman who is the subject of our history, was born of ho-
nest labouring parents, who learned her to read write, and breb her up to
rabits of industry :?When old enough she went to service, ann lived at several
places of reputation. Being a comely woman, she had several sweethearts, and
had not attained her 18th year when she became acquainted with one John Wat-
son, a Cotton spinner, who lived in the neighbourhood of Blackburn. Being a
comely young man, and having much to say for himself, be soon gained her
love. She believed him sincere, not reflecting that
" Man was made for to deceive,
" And silly women to believe."
As they lived near each other, their meetings were frequent, and his promises
of marriage so repeatedly made, that she vainly flattered herself the time was nor
far distant when she should be united to a person she sincerely loved, and be
happy. But John was all deceit, and aimed at her ruin ; which, under promise
of marriage, and various other sacrifices, he completely effected. Repeated meet-
ngs of criminality produced the usual consequences, and the deluded girl found
herself pregnant, with the addition of her misery, that where she expected the
most comfort she found the least, for Watson not only evaded his promises, but
entirely forsook her. She seldom saw him but when she did, met with cold in-
difference and ill treatment, where he once loved he now hated, and he was con-
tinually ruminating how to get red of her and the infant in her womb. This
cruel treatment of an unfortunate girl whom he seduced was increased by fixing
his eyes on a farmers daughter, whose uncle had left her 400l. and he was de-
termined if possible to obtain her hand. The only obstacle to this was the preg-
nancy of Mary Johnston, for he had conversed with the other young woman,
and every thing seemed to favour his wishes. He formed various schemes to
get rid of the poor girl, till at length the devil put it into his head to murder her.
The dreadful resolution being once formed, the next consideration was how to
effect if. He resolved to decoy her out, on the following Sunday, to a private place
and there perpetrate the bloody deed. In pursuance of this plan he sent the fol-
lowing letter by a young man who assisted him in the same mill:?
"Dear Mary,?I hope these few lines will find you in good health, as I am a
present, they are sent to let know, I would be glad if you could contrive to meet
me about four o'clock to-morrow afternoon, and I will wait for you in the lane
below farmer Brown's fields, I beg you will not fail coming, as I have something
to propose to you which may be of the greatest benefit to us ; no more at present
from your loving friend, JOHN WATSON." On receiving this letter
she was some what comforted, and having obtained leave to go out on Friday
she sent the following answer :?
" Dear John,?Your affectionate letter has revived my drooping spirits ; and
God knows I have need of some comfort under my afflictions, which I have by
my indiscretion brought upon myself. I will not fail of meeting you at the
place appointed ; and till then I remain yours, the afflicted MARY JOHNSTON.
Punctual to the time, she met him at the appointed place, when, after walking
together till they came to an unfrenquented path, they sat down on a bank.
Here, putting his arms round her neck, as if going to kiss her, he, with a knife
which he had concealed in his hand, cut her throat in a dreadful manner, then
dragged her body to a ditch, threw in, and covered it with brambles. Thus hav-
ing perpetrated the cruel sct, he staid out till dark, when he returned home and
shifted his clothes, which had a great deal of blood upon them. The poor girl's
mistress was very uneasy at her staying out all night, snd every enquiry the next
day without hearing any tidings of her, and 'Watson, being questioned, denied
being in her company on Friday. As she had observed to be in a melancholy
way, a suspicion arose that she had destroyed herself. Her father and others
searched the ponds and fields round about, and at lenght observed some blood,
which they traced to a ditch, and there found the body. Watson was apprehend-
ed, on searching his house his bloody clothes were found, and in one of his pock-
ets the letter he received from the deceased. At his examination he denied know-
ing any thing of the girl, but being strictly questioned, and his conscience flying
in his face, " You villian!" said the Justice, " you have murdered the girl!" He
confessed the whole, and how he disposed of the body. He was then commit-
ted to prison fortrial Edinburgh ....Printed, for John Thom. Price One Penny.
Date of publication: 1823 shelfmark: Ry.III.a.2(42)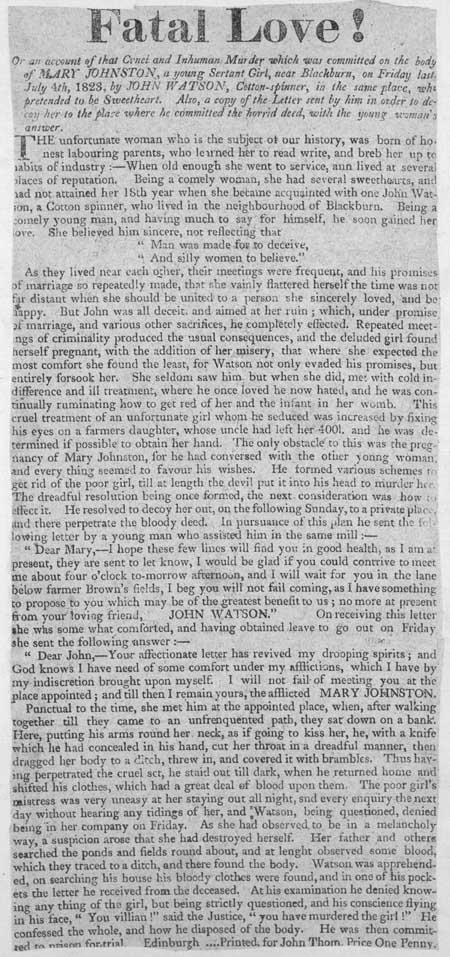 View larger image