Transcription
INHUMAN
ATROCITY!
A Full and Particular ACCOUNT of a most
HORRID and INHUMAN MURDER,
committed a few days ago, at Sunnybrae,
Parish of Saline, in Fife, on the Body of a
New Born Infant, by its own Unnatural
Mother, who put it on a large Fire, by which
it was nearly consumed before Discovered !
The following Paragraph, copied from " The Edinburgh
Observer," this morning, is truly shocking to the feelings of
humanity, and is, we have reason to be thankful, of very
rare occurrence in this part of the British Empire. That a si-
milar barbarous, unnatural, and horrid circumstance may never
occur here again, is our most sincere and fervent wish, for the
honour of humanity, as well as for that of our native country.
" Inhuman Atrocity.?A few days ago, a young woman, residing at Sunny-
brae, parish of Saline, had an illegitimare child, and in order to avoid the shame
which an exposure of her situation might have drawn upon her, barbarously
murdered the innocent infant in a manner at which human nature shudders.
" The unhappy mother lived under the same roof with an old woman, whose
apartment was separated only by a thin partition, on whom she called to come
and make her a warm drink, but prohibited her from preparing it at the fire of
the room they were in, saying that she had just heaped on a large fire to warm
the house, which she was unwilling to have touched or broken down. The old
woman was surprised on finding a very disagreeable smell issuing from the
fire, and after repeatedly interrogating the sick female, without obtaining any
satisfactory answer, turned up the coals, and to her unspeakable horror, found
in the midst of them, the half-consumed remains of the unnatural parent's
inhumanity.
" There being no assistance near, the wretched infanticide made her escape
next morning, and was seen in Dunfermline on the evening of that day, the
report of her crime not having then spread so far. Every exertion hae been
made to discover her, but as yet without success. Her parents are alive and
respectable."....Edinburgh Observer, 26th October, 1822.
We are sorry to have to say, that we have repeatedly read of the murder of
infants, in such a cruel and inhuman manner as the above, happening in some
other parts of the word at a distance ; but never, that we recollect of, so near
home. May the wretched mother be brought to a proper sense of her awful si-
tuation, ere it be too late?may she be brought to a speedy repentauce, and ob-
tain forgiveness of her manifold sins, through the mediation of her crucified
Saviour, from Him who is alone able and willing to pardon the greatest crimi-
nal ;?and, may all who read of the crimes she is said to have committed, be
preserved in the paths of virtue and rectitude, that they may, finally, die the
death of the righteous, and their latter end be like his.
PRICE ONE PENNY.
Date of publication: 1822 shelfmark: Ry.III.a.2(29)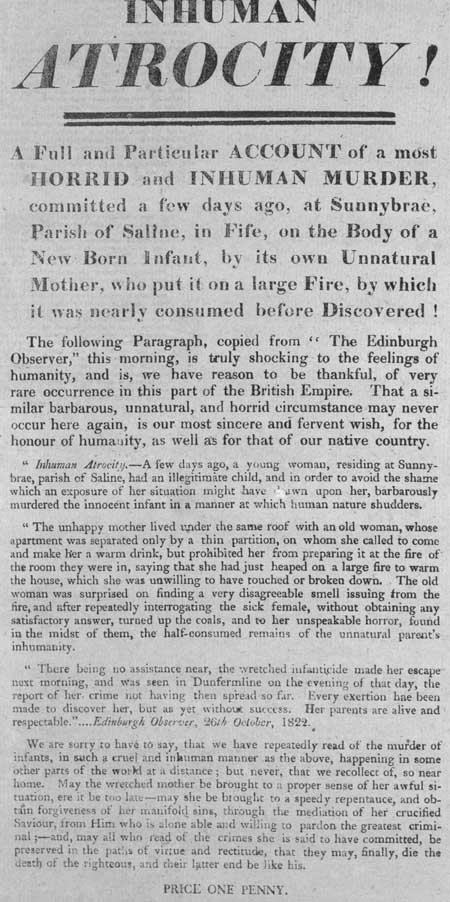 View larger image