Transcription
Susan's Adventures. Napoleon's Farewell to Paris.
Young Susan was a blooming maid.
So valliant stout and bold,
And when her sailor went on board,
Young Susan we are told,
Put on a jolly sailor's dress,
And daubed her hands with tar,
To cross the raging seas for love,
On board of a man-of-war.
It was in Portsmouth barbout,
This gallant ship was moored.
And when young Susan shipped,
There was nine hundred men on board,
It was then she was contented,
All bedaubed with pitch and tar.
To be with her sweet William.
On board of a man-of-war,
She washed the decks both fore and aft,
In winds and tempest cold
With her hands so soft she went alost,
Like a jolly sailor bold,
She kept her place, with her pretty face,
Bedaubed with pitch and tar
And no one Susan did suspect,
On board of a man-of-war.'
When in the Bay of Biscay,
She aloft like lightning flew,
Respected by the officers,
And all the jovial crew,
In battle she would boldly run,
Fearing neither wound nor scar,
And do her duty by the gun.
On board of a man-of-war.
She faced the walls of China,
Where her life was not insured,
And little did young William think,
His Susan, was on board,
By a cannon ball from the batteries,
She did receive a scar,
And she got slightly wounded,
On board of a man-of-war.
When on the deck young Susan fell,
Of all the whole ships crew,
Her William was the very first,
To her assistance flew,
She said my jolly sailor,
I've for you received a scar
Behold your faith full Susan bold,
On board of a man-of-war.
Then William on his Susan gazed,
With wonder and surprise.
He stood some moments motionless,
While tears rolled from his eyes,
He cried I wish Instead of you
I had received that scar,
Oh, love why did you venture,
On board of a man-of-war.
At length to England they returned,
And quickly married were,
The bells did ring and they'did sing,
And banish every care.
They often think upon that day,
When she received a scar,
And Susan followed her true love,
On board of a man-of-war.
FAREWELL ye splendid citadels, that metropolis call'd Paris,
Where Phoebes every morning shoots forth her revolving beams;
Where Flora's bright Aurora advancing from the orient.
With radient light adorning the pure shining streams.
At eve when Nectar retires, and the ocean glides like fire
And the universe admire her merchandise in store,
Commanding Flora's fragrance, the fertile fields to decorate,
To illuminate that royal Corsican again on the French shore.
My name is Napoleon Buonaparte, I'm conqueror of nations,
I've banished German legions, and drove kings from their throne
I've conquer'd dukes and earls, in splendid congregations,
Tho' they have transported me to St. Helena shore.
Like Hannibal, I've cross'd the Alps, burning sands, and rocky
cliffs,
O'er Russian bills, through frost and snow, I still the laural wore
I'm in a desert island where the rats ?the d------l would affright
Yet I hope to shine in armour bright, through europe once more.
Some say the first of my downfall was parting from my consort
To wed the German's daughter, which grieved me full sore,
But the female train I ne'er will blame, for she ne'er did me despair
She saw my sword in battle flame, and did me adore,
And I severely felt the rod, for meddling with the house of God
Coins and golden images, by thousands away I tore,
I stole Malta's golden gates, I did works of God disgrace,
But if he gives me time and place, back to him I will restore.
My golden eagles were pull'd down by Wellington's allied army,
My troops all disordered. I could no longer stand the field
I, alas, was sold that afternoon, all on the 18th of June,
My reinforcement prov'd traitorous ; which caused me to yield,
I'm it allied yoke, with fire and sword I made them smoke,
I've conquer'd Dutch and Danes, and surprised the grand Signor,
I've defeated Austrians and Russians, Portuguese and Prussians
Like Joshua, Alexander, or Casar of yore.
Now to the south of Africa and the Atlantic ocean.
To view the mild emotion and the flowing of the tide,
Banished from that royal crown of imperial promotion,
From the French throne of glory, to see those billows glide,
Three days I've stood the plain, liberty's cause to maintain,
Thousand. I've left slain end bleeding in their gore ;
I ne'er fled without revenge, nor co the allied army cringe,
But now my sword is sheathed and Paris is no more,
British Man-of-War.
It was in yon meadows I carelessly did stray.
And I beheld a lady fair with some young sailor gay;
He said, my lovely Susan, I soon must leave thee here,
And to cross the briny ocean in a British Man-of-War.
Pretty Susan fell a weeping, oh you ng; sailor, she did say,
How can you be so venturesome to throw yourself away
It's when that I am 21,I shall receive my store,
Jolly sailor do not venture in a British Man-of-War
Susan lovely Susan, the truth to you I will tell,
The British flag's insulted, old England knows it wed,
may be crowned with laurels, so like a jolly tar,
I will face the walls of China, in a British Man-of-War.
O sailor do not venture to face the prend Chinese,
For they will prove as treacherous as any Portugese,
And by some deadly dagger you may receive a scare,
So it's turn your inclination from a British Man-of-War.
Susan, lovely Susan, the time will quickly pass.
So come down to the Ferry-house, and take a parting glass,
My ship-mates they are waiting to row me from the shore,
And it's for'old England's glory in a British Man-of-War.
Then the sailor took his handkerchief and cut it fair in two
O Susan. keep one hull for me, and I'll do the same for you,
The bullets may surround me and cannos loudly roar,
I'll fight for lame and Susan in a British Man-of-War.'
Then a few more words together when her love let go her
hand,
The jovial crew they launched the boat right merrily from
the land;
The sailor waved his handkerchief when far away from
shore,
Pretty Susan blest her sailor in a British Man-of-war.
Probable period of publication: 1815-1821 shelfmark: L.C.Fol.70(139)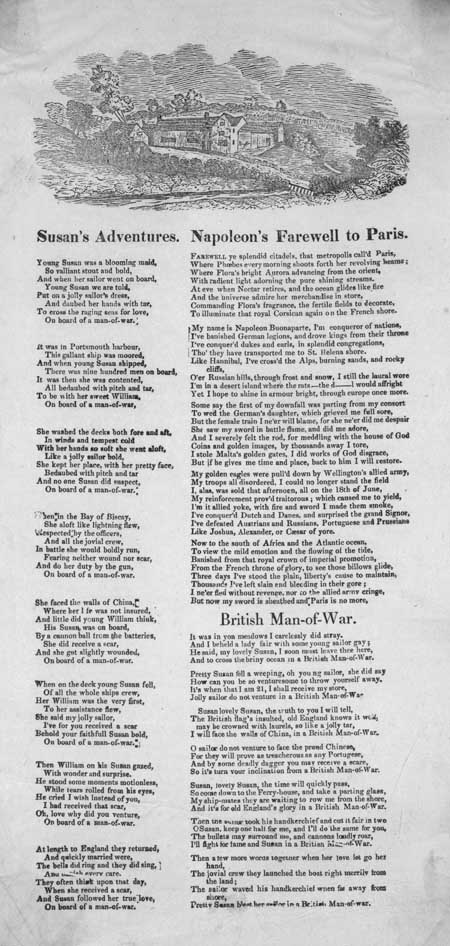 View larger image