Transcription
THE
ORPHAN BOY.
BY JOHN WILSON, GLASGOW.
I hear the people sing about the Drunkard's raggit
wean, alane,
As I wander through the streets, quite dejected &
Baith hungry, cauld, and raggit, and nae frien's
at a' hae I; Boy.
And oh! there's few to pity me, a puir wee Orphan
But ance I kent a faither's love, and a mither's ten
der care, share,
To soothe my wee bit sorrows, and my infant joy to
But noo, beneath the cauld clay, in you kirk-yard
they lie; Boy.
And noo I wander, quite forlorn, a puir wee Orphan
Wi' scarce a rag upon my back, or shoon upon my
feet, sleet
Exposed to ilka cauld blast, the hail, the rain, and
And often dreepit to the skin upon some stair I lie;
For oh! there's nane to shelter me a puir wee Orp-
han Boy. piece,
And often, when I'm hungry, and gangs to seek a
The folk dae tak' me for a thief, and threaten the
Police, faint am I;
Ithers turn me rudely frae their door while weak &
But oh! I ken I mauna steal, though I'm an Orp-
han Boy.
And often I've been glad, ither happy weans to see
Playin' in the streets, wi' their hearts a' fu' o' glee
I've quite forgot my sorrows, as I stood to see their
joy: Orphan Boy.
And oh! there's nane o' them like me, a puir wee
O surely they are happy weans, wha hae their par-
ents' dear to cheer:
To find them every comforts, and their little heart
But I'll put my trust in Him abune, wha hears the
orphan's cry: Orphan Boy
He's the only fren' that can protect the puir wee
Probable period of publication: 1860-1890 shelfmark: L.C.Fol.178.A.2(116)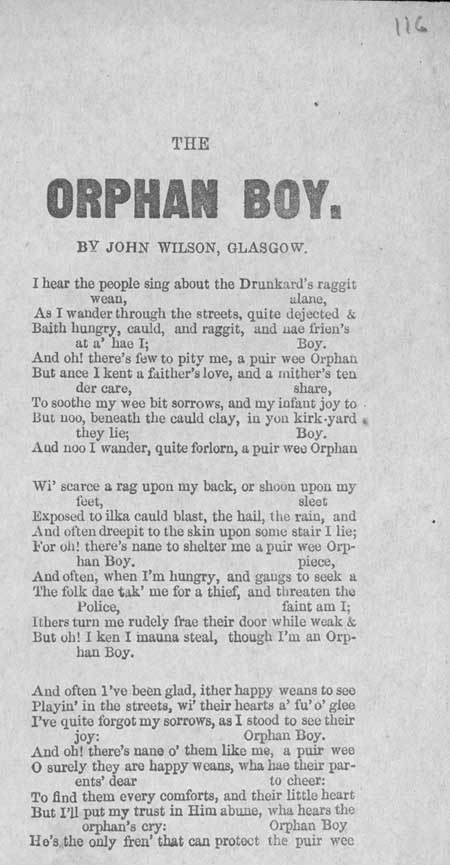 View larger image