Transcription
The Life and Strange Adventures of
The Female Foot-Boy.
Margaret M'Donald, the subject of the following
narrative, was born in 1842, of poor, but respectable
parents in this town. When she was but 13 years of
age, her parents died & left her & an older brother,
totally unprovided for Her brother though 5 years
older, was but an apprentice tailor, and his scanty
wages went but a short way in supporting them; and
having no relations to assist them, poor Margaret
was obliged to try and earn an honest penny, by
running errands, washing out houses, or doing any
little service the neighbours might require her to
do. She at length obtained a situation with Mrs
Walker to take charge of her child, but Margaret
being of a gay & thoughtlessdisposition,she neglected
the child for play, and was in consequence soon dis-
charged. Her brother gave her a good thrashing, &
told her he would not encourage her idleness any
longer. The next morning she rose early; and
when her brother went to his work, she dressed
herself in a suit of his Sunday clothes, thinking by
assuming male attire, she would be more fortunate
in obtaining employment. With a heavy heart and
a light purse she took the road. But she had not pro-
ceeded far, when she was engaged to assist in taking
a drove of sheep to the Market. With the few
shillings she received from the drover, she next
proceeded to Edinburgh; and, on the day after her
arrival in that City, while walking along George's
Street, she had the good fortune to pick up a
young lady's purse, which she had just dropped.
She ran after the lady and returned to her the
purse, which contained a considerable sum of money.
Miss Gordon of Rock-Vale Terrace was the ladys'
name, who was so well pleased at the honest action,
that she told the supposed young man to call upon
her the next day, which she did. The plain and
simple story she told of herself, the prepossessing
features, the good address, and the honesty of
returning the purse, all tended to gain the favour of
Miss Gordon and friends, who at once took her into
her service, and under the name of John M'Donald,
acted as footman, to the entire satisfaction of the
whole family. However, amongst the female
portion of the domestics, frequent quarrels occured
through jealousy of the footman, It was at length
discovered, that M'Donald was paying his addresses
to Miss Wilison, the daughter a respectable Grocer
and Provision Merchant, in the neighbourhood
where he frequently went for goods to Miss Gordon
For upwards of 3 years they kept a correspondence
with each other, until it became known to Mr
Wilson, that his daughter was keeping company
with Miss Gordon's footman. Mr Wilson called his
daughter in question, and cautioned her against
keeping company with a man she knew nothing
about, and forbade her in receiving his addresses in
future. But the lovers contrived to have frequent
meetings, until Mr Wilson found his orders dis-
obeyed ; he again called his daughter to talk
about it, when Miss Wilson with tears in her eyes,
solemly declared, she would put an end to herself
if she did not get the man she had placed her heart
on, and that was no other than Miss Gordon's footman
In a few days her father called on Miss Gordon, who
gave her servant such an excellent character; and
as he had saved a considerable sum of money,Miss
Gordon promised to give him a handsome present
on the day of his marriage, to assist in setting him
up in business. He could find little or no objections
to their union. Matters being thus arranged, then
were duly proclaimed and the happy couple were
at length joined in matrimony, for better or worse
The wedding party returned, and partook of the
good things that were provided by Miss Gordon;
for the wedding was solely at that lady's expense.
After supper, drink went round, and healths were
freely drank, to the welfare of the happy couple;
the music struck up, and dancing commenced, in
which the bride and groom freely entered. All
went happily on, until by some accident M'Donald
slipped, and fell heavily on the floor in a swoon
The usual restoratives were applied, with little
effect. They next opened his rest, to give him air,
when to the great astonishment of all present, the
handsome young footman was discovered to be a
female. On being restored to consciousness, she
related the history of her past life, to the great
mirth of the whole wedding party; but as may be
expected, it was a great dsappointment to the newly
made wife, Miss Wilson, who could scarcely be-
lieve what had occured. M'Donald assumed her
proper character, and wishes to join in wedlock
with a suitable young man, with a £100, One
about to go to Australia would be preferred.
Probable period of publication: 1870-1880 shelfmark: L.C.Fol.178.A.2(085)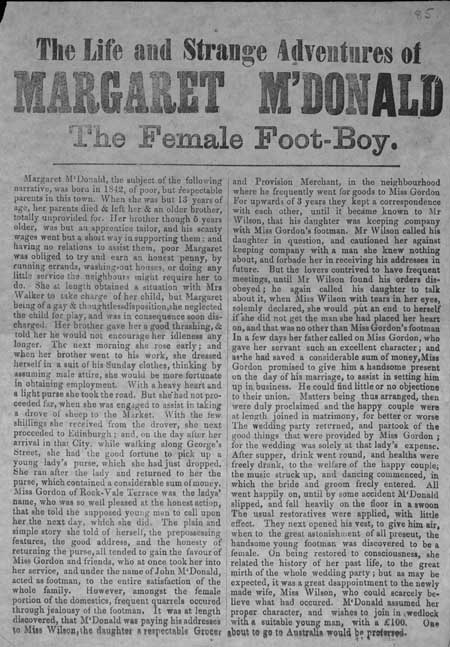 View larger image