Transcription
Lines on the Loss of the
Glasgow and Londonderry
Steam-Ship
"FALCON"
You people of Scotland I pray give attention,
A sad dismal story you quickly shall hear,
Concerning the wreck of the steam-ship the Falcon,
Which for Londonderry away she did steer.
On the fifth day of January she sailed from Glasgow,
The Falcon so proudly dashed o'er the salt waves,
With sixty-three persons on board of that vessel,
The most of them now has found watery graves.

The Falcon steamed o'er the wild surging waters,
That night it was stormy and dark was the sky,
They were in good hopes for to reach Londonderry,
They little did think that death was so nigh.
The snow and the sleet so thickly was falling;
And the lights on the land were hid from their view,
When they struck on the rock it was a sad warning,
And terror it struck both passengers and crew.

Captain Hugson he stood on board of the Falcon,
Till he saw that the yessel no longer could float ;
James Urie and the second mate Hugh O'Donnell,
Along with the captain they took to the boat.
The captain he cried for the others to follow,
And do all they could their lives for to save ;
They seemed in confusion the storm was raging,
In a few minutes after she sunk 'neath a wave.
There was two stewardesses on board of that vessel,
'Twas Mrs Montgomery and Mrs M'Lean ;
Together did perish on that fatal morning,
Alas ! their dear children they'll ne'er see again.
There was Gilbert Barr and Alexander Lindsay,
And John M'Ewan we'll ne'er see them more ;
There's Cuthbert, Paterson, Dougherty and Turner,
Whose bodies now lie near Cantyre's wild shore.
Many a tear will be shed for those people,
Their friends and relations in sorrow do mourn ;
For they little thought when they parted that morning
That those they loved dear they would never return,
I'd have you to consider before that you venture,
Or entrust your lives to the merciless waves :
Oh! think on the Falcon with sixty-three persons,
New sixty of them lie in a cold watery grave.
shelfmark: L.C.Fol.178.A.2(076)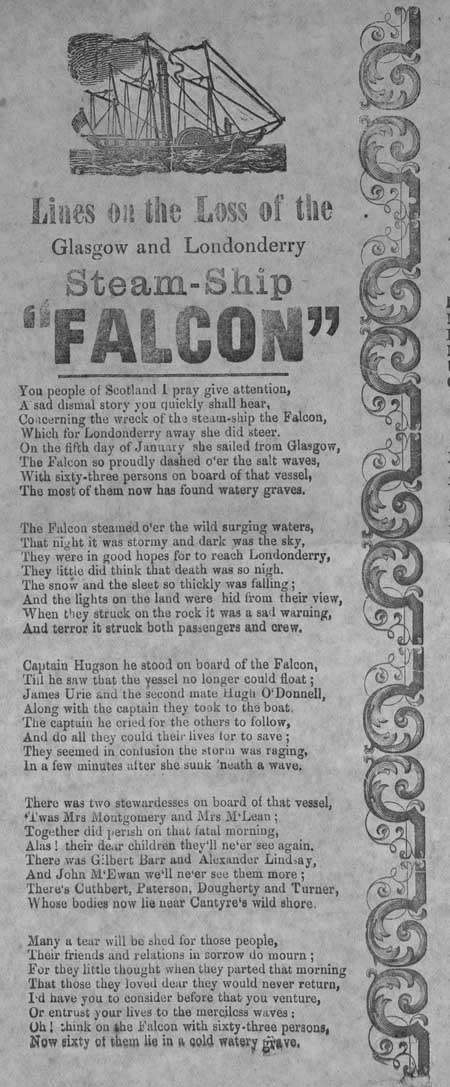 View larger image