Transcription
THE
REFORMED DRUNKARD,
AN ANSWER TO THE RAGGIT WEAN
Wi' a sair heart I wander and think on days that's gane,
hear the young anes singing o' the drunkard's raggit wean;
I ken' the tales ower true, when I turn my e'en on hame,
Farewell unto the drunkard's cup, from drinking I'll refrain.
When I view my wife and bairns in misery at hame,
baith naked cauld and hungry it gars me to think shame ;
My actions does upbraid me, as I view the dismal seene,
For o' how true's the story o' the drunkard's raggit wean.
0 Mary, dearest Mary, forgive though I'm much to blame,
For drinking in the ale-house and you in grief at hame ;
Our bairns seeking bread and to gie them ye hae nane,
We'el may the sober say there's the drunkards wife and wean,
But noo the drunkard's cup nae langer I will drain,
And a' my care will be for my wife and bairns at hame,
Kind heaven may yet be kind dear, but oh ! I'm sair to blame,
Nae langer shall our bairns be ca'd a' drunkard's raggit wean.
And noo my dearest Mary, dry up that tearfu' e'e,
nae mair I'll grieve your heart, for I aye will sober be ;
In happiness and pleasure, for life I will remain,
For o' it is a pity o' a' drunkard's raggit wean.
What pleasure dearest Johnie to hear you noo say so,
nae langer will I mourn in sorrow grief and woe;
And noo our bonny bairns a' their weeping will refrain,
For nae mair will they e'er he ca'd a' drunkard's raggit wean.
M'Intosh, Printer, 96 King Street Calton.
Probable date published: 1849 shelfmark: L.C.Fol.178.A.2(018)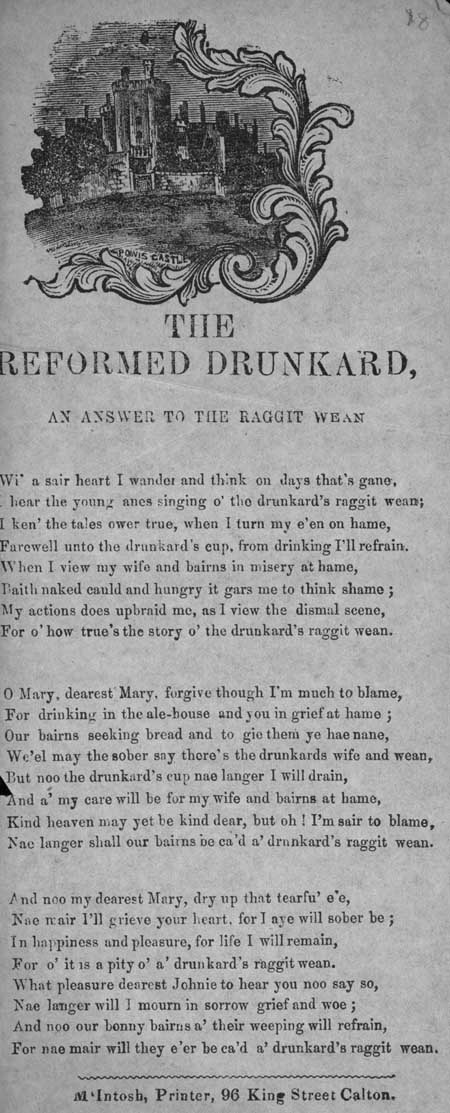 View larger image