Transcription
Seven Men
Sentenced to Die.
An account of the notorious WILLIAM PROBERT, and
Six other unfortunate Men, who are all to be Executed in
London on Monday Morning next, for the crimes of Horse-
Stealing and Forgery. Probert was the companion of the late-
notorious Thurtell and Hunt, the horrid Murderers, the for-
mer of whom was also executed, for the bloody murder of their.
companion, William Weare, in a lonely part of the country.
Tuesday the 14th June, the Recorder of London made a report to the King in
Council, of the prisoners remaining under sentence of death in the gaol of Newgate,
who were convicted at the two last Old Bailey Sessions, namely?
William Probert aged 33, and Wm. Sargeant alias Thos. Baker 30, of horse-Steal.
ing, Henry Goff 18; James Corbet 17; Stephen Medwinter 14; Edw. David Dunn
17; James Golf 21; Edward Crawley 17; of burglary. Henry Williams 27; Frederick
Morgan 17; Elizabeth Doyle 21; Henry Brown.23; and John Bowers 27; of stealing
in a dwelling house to the amount of 40s. and upwards. John Thompson 17, of
highway rubberv; and Wm. August 23, of cutting and maiming. Henry Morgan 23,
of housebreaking; Jacob Myers 15, highway robbery. Wm. Brooks 25; Wm. Ben-
yon 41; James Harper 30; James Hill 18, horse stealing. James Broom 17; Wilfred
Barnett 19; Joseph Saint 13; Mary Beresford 28, Elizabeth Powell 23; Thos. Her-
ring 24; John Wilcox 16; Henry Palmer 23; and Peter Carrel alias Geo. Day 18;
stealing in a dwelling house to the amount of 40s. and upwards. Daniel Morgan
18; James Brown 15; John Turpin alias Tuck 21; Wm. Royston 15; Joseph Flowers
19; John Smith 23; and Wm. Mills 22, burglary.
His Majesty was graciously pleased to respite, during his Royal pleasure, all the
above named convicts, excepting William Probert, William Sargeant, James Har-
per, John Smith, Edward David Dunn, James Goff, upon whom the law is left to
take its course, and they are ordered for Execution on Monday next.
Probert was found guilty of stealing a mare, value L.25, on the 10th Feb. last,
the property of William Meredith, (a relation of his own) in the county of Glouces-
ter, and which he took to London and sold.
It will be recollected that Probert was the companion and friend of John Thurtell
and Henry Hunt, who were all concerned in the savage and bloody murder of one
of their bottle friends, whom they decoyed out of London into a lonely part of the
country, and brutally murdered him, which created a great sensation throughout the
whole country at the time, and for which Thurtell was executed, and Hunt banish-
ed for life, in consequence of his .confession where the dead body was concealed; but
Probert having been admitted a witness against his companions,he, for a time escap-
ed that fate which his crimes so justly deserved, and which now most assuredly a-
waits him on Monday morning next.
Ever since his dismissal from custody he had been wandering about the country,
and even in the remotest village he was spurned as an outcast from society, and
hunted down like a wild beast of the forest. He and his wife were both on the point
of starvation, and without a friend to assist them, which drove him to commit the
crime which seated his doom.
On learning his fate he was greatly surprised, as he always expected that his life
would have been spared, and immediately sat down to write letters to his wife and
aged mother.
Glasgow?Printed by John Muir.
Date of publication: 1825 shelfmark: L.C.Fol.73(082)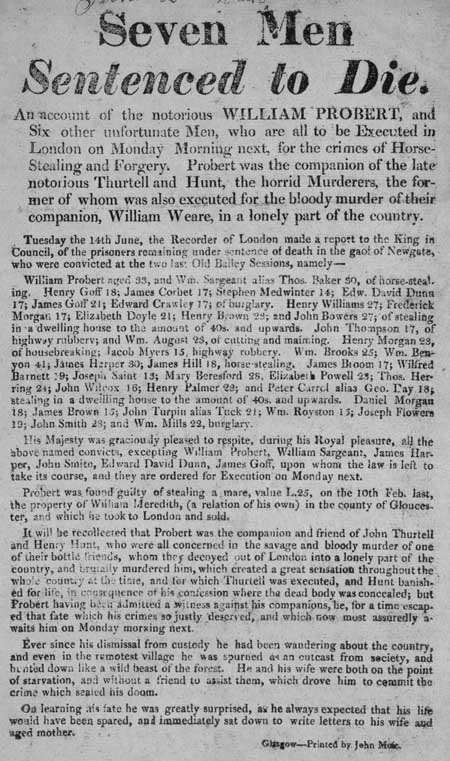 View larger image