Transcription
Fy on the Wars that hurri'd Willie from me.
An excellent New Song, Much in request:
Fy on the Wars that hurri'd Willie from me,
Who to love me just had Sworn;
They made him Captive sure to undo me;
Wo'sme he will ne're return;
A'Thousand Lowns abroad will fight him;
He from Thousands ne'er will run :
Day and Night I did entreat him
To stay safe from Sword and Gun,
I used alluring Graces
With meikle fond Embraces
Now Sighing then Crying, Tears droping fall,
But had he my soft Arms.
Preferr'd to Wars Alarms:
My Soul groweth Mad,
Its sore opprest and sad,
I fear in my Fit, I had granted all.
I Wash'd and painted,to make me look provoking
Snares that told me would catch the Man:
And on my Head high Commodes had cocking,
Which made me look as tall again
For a new gown I payed much Money,
Which with Gold Flowers abroad did shine
my love well might think me Gay and Bonny,
No Scots Lass was e'er so fine:
My Petticoat was spotted,
Earings too, with Freinges knotted,
Lac'd shoes, silk Hoes garten'd o're the Knee
But oh the fatal thought,
To Willie these were nought,
But l'le ride to the Town
And riffle with dragoon
And the sillie Lown might have plundered me:
FINIS.
Probable date of publication: 1710 shelfmark: Ry.III.a.10(062)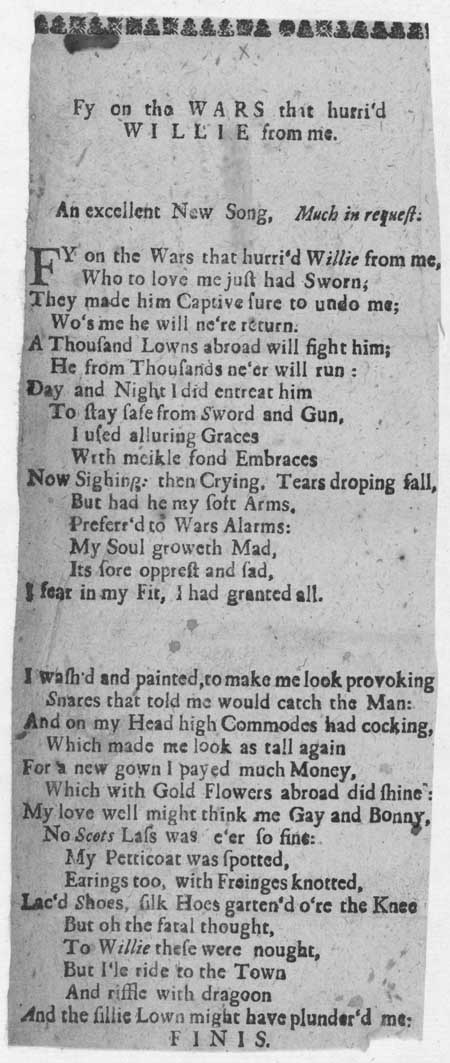 View larger image