‹‹‹ prev (14)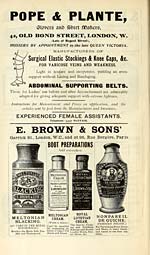 (16) next ›››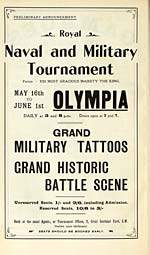 Download files
Complete book:
Individual page:
Thumbnail gallery: Grid view | List view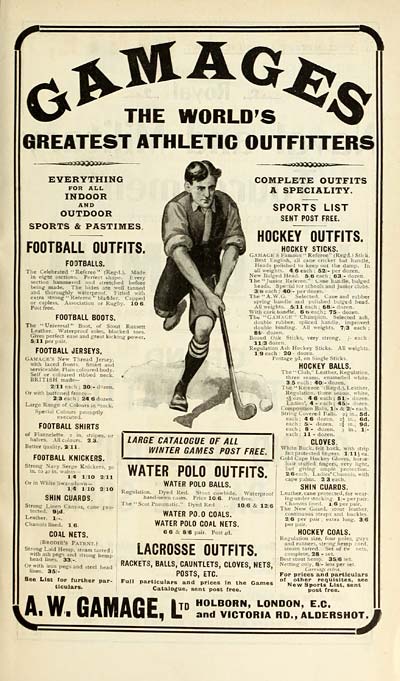 o
fcjUAG*
THE WORLD'S
S
GREATEST ATHLETIC OUTFITTERS
EYERYTHING
FOR ALL
INDOOR
AND
OUTDOOR
SPORTS & PASTIMES.
FOOTBALL OUTFITS.
FOOTBALLS.
The Celebrated "Referee" (Regd.). Made
in eigtit sections. Perfect shape. Every
section hammered and stretched before
being made. The hides are well tanned
and thoroughly waterproof. Fitted with
extra strong " Referee * bladder. Capped
or capless. Association or Rugby. 10 6
Post free.
FOOTBALL BOOTS.
The "Universal" Boot, of Stout Russett
Leather. Waterproof soles, blocked toes.
Gives perfect ease and great kicking power.
5 11 per pair.
FOOTBALL JERSEYS.
GAMACE'5 New Thread Jersey.
with laced fronts. Smart and
serviceable. Plain coloured body.
Self or coloured ribbed neck. «
BRITISH made—
2/11 each ; 30.'- dozen.
Or with buttoned fronts—
3/8 each ; 24 6 dozen.
Large Range of Colours in Stock.
Special Colours promptly
executed.
FOOTBALL SHIRTS
of Flannelette- 2 in. stripes, ur
halves. All colours. 2 3.
Better quality. 2J11.
FOOTBALL KNICKERS.
Strong N'avy Serge Knickers, 3 "
in. to 40 in. waist —
1/4 110 2/11
Or in White Swansdown—
1/4 1/10 210
SHIN CUARDS.
Strong Linen Canvas, cane pro-
tected. 9id.
Leather. 1/-.
Chamois lined. 1 6.
COAL NETS.
(Brodie's Patent.]
Strong Laid Hemp, steam tarred ;
with ash pegs and strong hemp
head lines. 33,-.
Or with iron pegs and steel head
lines. 35/-
8ee List for further par-
ticulars.
COMPLETE OUTFITS
A SPECIALITY.
SPORTS LIST
SENT POST FREE.
LARGE CATALOGUE OF ALL
WINTER GAMES POST FREE.
WATER POLO OUTFITS.
WATER POLO BALLS.
Regulation. Dye.l Ked. Stout cowhide. Waterproof
hand-sewn cases. Price 10-6. Host free.
The "Scot Pneumatic." Dyed Red 106 & 12/6
WATER PO.O COALS.
WATER POLO COAL NETS.
6 6 & 8/8 pair. Post 4d.
LACROSSE OUTFITS.
RACKETS, BALLS, CAUNTLETS, CLOVES, NETS,
POSTS, ETC.
Full particulars and prices In the Games
Catalogue, sent post free.
HOCKEY OUTFITS.
HOCKEY STICKS.
Gamage s Famous " Referee" (Regd.) Stick.
Best English, all cane cricket bat handle,
Heads polished to keep out the damp. In
all weights. 4 6 each . 52f- per dozen.
New Bulged Head. 5 6 each ; 63- dozen.
The "Junior Referee.'' cane handle, bulged
heads. Special tor schools and junior clubs.
3/6 each ; 40,'- per dozen.
The"A.W.G. ' Selected. Cane and rubber
spring handle ai.d polished bulged head.
All weights. 511 each ; 68,- dozen.
With Lurk handle. 6 t> each; 75 - dozen.
The "GAMAGE" Champion. Selected ash,
double rubber, spliced handle, improved
double binding. All weights. 7/3 each ;
84i- dozen.
Bound Oak Slicks, very strong, /- each:
11 3 dozen.
Regulation Ash Hockey Sticks. All freights.
1,9 each : 20- dozen.
Postage 3d, on Single Sticks.
HOCKEY BALLS.
The "Club," Leather, Regulation,
three seams, enamelled white.
3 5 each ; 40/- dozen.
The " Keieree"(Regd.)> Leather.
Regulation, three seams, white,
54 ozs. 4 6 each ; 51, - dozen.
Ladies*, 4 - each ; 45/- dozen.
Composition Balls, 1/- St 21- each.
String Covered Halls. 2$ in., 5d.
eai n 4 6 dozen. ?J in., 6d.
each ; 5/- dozen. 2% in., 9d.
each; 8- dozen. 3 in, 1/-
each ; 11 - dozen.
CLOVES.
White Buck, felt back, with strip
felt protected fingers, llljea.
Gold Cape Hockey Glovt_-s. horse-
hair stuffed fingers, very light,
but giving ample protection.
26each. Ladies' Chamois, with
cape palms. 2 3 each.
SHIN CUARDS.
Leather, cane protected, for wear-
ing under stocking, lr- perpair.
Chamois lined. 1/6 per pair.
The New Guard, stout leather,
continuous straps and buckles.
2;6 per pair; extra long, 3/6
per pair.
HOCKEY COALS.
Regulation size, four poles, guys
and runners, strong hemp cord,
Steam tarred. Set of tw nets,
complete, 28 - set.
Best stout hemp. 35/6 set.
Netting only, 8/- less per set.
Carriage extra.
For prices and particulars
of other requisites, see
New Sports List, sent
post free.
0>
yA.W. GAMAGE, L
TD HOLBORN, LONDON, E.C.
and VICTORIA RD., ALDERSHOT
n.B

Set display mode to: Large image | Transcription
Images and transcriptions on this page, including medium image downloads, may be used under the Creative Commons Attribution 4.0 International Licence unless otherwise stated.
(15)

| | |
| --- | --- |
| Permanent URL | https://digital.nls.uk/101029489 |
1907
Attribution and copyright:

The physical item used to create this digital version is out of copyright

More information
1904-1908 - Hart's annual army list, militia list, and imperial yeomanry list
Description
Vol. 65 (1904)-v. 69 (1908).
Shelfmark
GWB.73
Additional NLS resources:
More information
1839-1915 - Hart's Army Lists
Description
Unofficial lists of Officers of the British Army and, from 1862, the Indian Army, that were published annually between 1840 and 1915. There are also quarterly issues for 1839, 1842 and 1854. The lists are contained in 75 volumes and appear under various titles. They were initially created by Lieutenant-General George Hart (1808-1878).
More information
Army lists
Description
Military lists recording details of officers who served in the three main branches of Britain's armed services during the First and Second World Wars. Official lists for the British Army, Royal Navy and Royal Air Force have been published since the 18th, 19th and early 20th centuries respectively. Also includes unofficial 'Hart's Army Lists' of British Army and, from 1862, Indian Army Officers published between 1839 and 1915.
More information
British Military lists
Description
Military lists recording details of officers who served in the three main branches of Britain's armed services during the First and Second World Wars. Official lists for the British Army, Royal Navy and Royal Air Force have been published since the 18th, 19th and early 20th centuries respectively. Also includes unofficial 'Hart's Army Lists' of British Army and, from 1862, Indian Army Officers published between 1839 and 1915.
More information