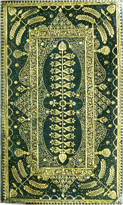 Herringbone design, 1715.
View larger version
The National Library of Scotland has the pre-eminent collection of decorative bookbindings produced in Scotland during the last five centuries.
This section of the Digital gallery includes wheel and herringbone bindings. It will be expanded to display examples of other Scottish binding styles, in particular the work of the Edinburgh binder James Scott, and his son William. It will also show the creations of contemporary binders who feature in the National Library's annual Elizabeth A Soutar Bookbinding Competition.