‹‹‹ prev (631) Page 619
(633) next ››› Page 621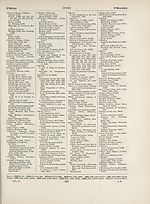 Download files
Complete book:
Individual page:
Thumbnail gallery: Grid view | List view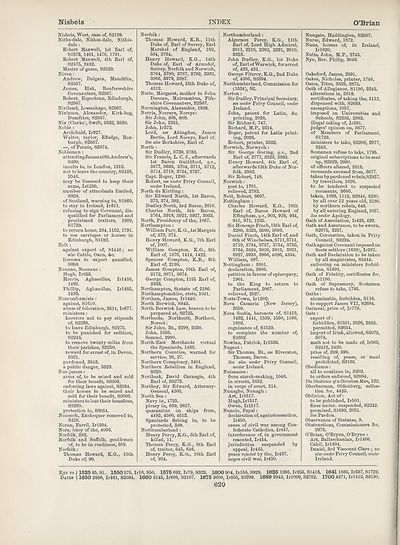 Nisbets
INDEX
O'Brian
Nisbets, West, case of, S2139.
Norfolk :
Northumberland :
Nungate, Haddington, S2567.
Niths-dale, Nithes-dale, Nithis-
Thomas Howard, K.B., 11th
Algernon Percy, K.G., 11th
Nurse, Edward, 1872.
dale :
Duke of. Earl of Surrey, Earl
Earl of. Lord High Admiral,
Nuns, houses of, in Ireland,
Robert Maxwell, 1st Earl of,
Marshal of England, 162,
2011,2216, 2262, 2291, 2610,
Irl620.
S1373, 1461, 1476, 1791.
534, 3764.
8323.
Nutts, John, M.P., 2745.
Eobert Maxwell, 4tlj Earl of.
Henry Howard, K.G., 14th
John Dudley, K.G., 1st Duke
Nye, Rev. Philip, 3049.
S2475, 2482.
Duke of, Earl of Arundel,
of, Earl of Warwick, for arrest
Master of game, S2529.
Surrey, Norfolk and Norwich,
of, 423, 431.
Niven :
3764, 3780, 3787, 3792, 3933,
George Fitzroy, K.G., 2nd Duke
Oakeford, James, 2891.
Andrew, Dalgain, Mauchlin,
3966, 3979, 3987.
of, 4305, S3394.
Cakes, Nicholas, printer, 1746.
S2567.
Thomas Howard, 15th Duke of,
Northumberland, Commission for
Gates, Titus, 3828, 3875.
James, Eisk, Renfrewshire
4312.
(1524), 92.
Oath of Allegiance, S1180, 3248,
Covenanters, S2567.
Norie, Margaret, mother to John
Norton :
alterations in, 2818.
Robert, Espertoun, Edinburgh,
Duncan, Muircambus, Fife-
Sir Dudley, Principal Secretary,
certificates, of taking the, 1112,
S2567.
shire Covenanters, S2567.
see under Privy Council, under
dispensed with, S2689.
Niviland, Lesmahago, S2567.
Normington, Alexander, 1986.
Ireland.
exemptions, 1057.
Nivinson, Alexander, Kirk-bog,
Norris, Norreys, Noreys:
John, patent for Latin, &c.
imposed on Universities and
Dumfries, S2567.
Sir John, 805, 809.
printing, 2026.
Schools, S2233, 2883.
Nix (Clarke), Swift, 3522, 3530.
Sir John, 2231.
Sir Richard, 747.
illegal taking of, Ir391.
Noble :
John, Ir372.
Richard, M.P., 2314.
judges' opinion on, 3677.
Archibald, Ir927.
Lord, see Abingdon, James
Roger, patent for Latin print¬
of Members of Parliament,
Walter, taylor, Efladge, Rox¬
Bertie, Lord Noreys, Earl of.
ing, 2026.
S1728.
burgh, S2667.
See also Berkshire, Earl of.
Robert, printer, 3332.
ministers to t.nke, S2208, 2977,
—, of Fernie, S3074.
North :
Norwich, Norwych :
3243.
Noblemen :
Sir Dudley, 3739, 3783.
Sir George Goring, q.v., 2nd
Scotsmen refuse to take, 1795.
attendingJamesatSt.Andrew's,
Sir Francis, L. C. J., afterwards
Earl of, 2777, 3323, 3363.
original subscriptions to be sent
S490.
1st Baron Guildford, q.v.,
Henry Howard, 4th Earl of,
up, S2929, 2930.
insults to, in London, 1313.
3677. 3693, 3704, 3711, 3712,
afterwards 13th Duke of Nor¬
of officers altered, 2818.
not to leave the country, S2423,
3714,3719, 3734,3737.
folk, 3582.
recusants excused from, 3677.
2546.
Capt. Roger, 1280.
Sir Robert, 148.
taken by pardoned rebels,S2837.
may be licensed to keep their
Robert, see under Privy Council,
Norwich:
by travellers, 1626.
arms, Ii?1250.
under Ireland.
post to, 1701.
to be tendered to suspected
number of attendants limited,
North de Kirtling :
relieved, 2782.
recusants, 3660.
S958.
Sir Edward North, 1st Baron,
Nott, Robert, 8697.
taken, 1093, 1112, S2844, 3230.
of Scotland, warning to, S1860.
373, 374, 382.
Nottingham :
by all over 12 years old, 2186.
to stay in Ireland, IrSll.
Dudley North, 3rd Baron, 2610.
Charles Howard, K.G., 10th
by northern rebels, 648.
refusing to sign Covenant, dis¬
Charles North, 6th Baron,
Earl of, Baron Howard of
by all entering England, 1057.
qualified for Parliament and
3764, 3918, 3921, 3927, 3933.
Efflngham, q.v., 903, 928, 934,
See under Apology.
proclaimed traitors, 1809,
North, Presidency of the, 1067.
941, 971, 1225.
Oath of Association, Ir425, 429.
SI 729.
Northampton :
Sir Heneage Finch, 13th Earl of,
Oath and Assurance, to be sworn,
to return home, 284,1152, 1791.
William Parr, K.G., 1st Marquis
8280, 8323, 3580, 3693.
S2975, 3237.
to use carriages or horses in
of, 373, 374.
Daniel Finch, 14th Earl of, and
Oath, Coronation, taken in Privy
Edinburgh, SI 182.
Henry Howard, K.G., 7th Earl
6th of Winchelsea,3711,8714,
Council, S8224.
Nolt :
of, 1007.
3719, 8734, 3737, 3754, 3755,
Oathagainst Covenant imposed on
against export of, S1448; see
William Compton, K.G., 8th
3764, 8824, 8826, 3913, 3921,
Scots settlers (1639), Ir831.
also Cattle, Oxen, &c.
Earl of, 1376, 1414, 1422.
8927, 3933, 3966, 4086, 4334.
Oath and Declaration to be taken
licenses to export annulled,
Spencer Compton, K.B., 9th
William, 897.
by all magistrates, S2444.
S888.
Earl of, 2198.
Nottingham : 3881.
enforcing on ministers forbid¬
Nonane, Noonane :
James Compton, 10th Earl of.
declaration, 3906.
den, S1691.
Hugh, Ir863.
2172, 3671, 3674.
petition in favour of episcopacy.
Oath of Fidelity, certificates for,
Morris, Aghasollus, Irl485,
George Compton, 11th Earl of.
1901.
IrllSO.
1493.
3933.
to the King to return to
Oath of Supremacy, Scotsmen
Phillip, Aghasollus, Irl485,
Northampton, Statute of, 2186.
Parliament, 2067.
refuse to take, 1795.
1493.
Northamptonshire, riots, 1041.
relieved, 2527.
Oaths :
Nonconformists :
Northan, James, Irl440.
Notts-Town, Irl202.
abominable, forbidden, SI 16.
against, S1610.
North Berwick, S845.
Nova Caesaria (New Jersey),
to support James VII, S2684.
abuse of toleration, 3514, Ir677.
North Berwick Law, beacon to be
2559.
Oatmeal, price of, Ir778.
ministers :
prepared at, S2725.
Nova Scotia, baronets of, S1413,
Oats:
heretors not to pay stipends
Northcote, Northcott, Northcot,
1432, 1441, 1539, 1550, 1566,
export of:
of, S2238.
Norcot:
1602.
forbidden, S1521, 2626, 2882.
to leave Edinburgh, S2275.
Sir John, Bt., 2299, 2380.
cognizance of, SI 589.
permitted, S2634.
to be punished for sedition.
John, 1635.
to complete the number of.
import of Irish, allowed, S3075,
S2248.
Samuel, 2990.
S1602.
8078.
to remove twenty miles from
North-East Merchants victual
Nowlan, Patrick, Irl836.
malt not to be made of, Ir508,
their parishes, S2250.
the Spaniards, 1463.
Nugent:
S2412, 2420.
reward for arrest of, in Devon,
Northern Counties, warned for
Sir Thomas, Bt., see Riverston,
price of, 889, 390.
3821.
service, 26, 27.
Thomas, Baron.
reselling of, pease, or meal
pardoned, 3843.
Northern Conspiracy, 8401.
See also under Privy Council,
prohibited, S3163.
a public danger, 3529.
Northern Rebellion in England,
under Ireland.
Obedience :
Non-jurors :
S220.
Nuisances:
all to continue in, S202.
arms of, to be seized and sold
Northesk, David Carnegie, 4th
from starch-making, 1046.
to orders enforced, S2084.
for their benefit, S3003.
Earl of, S8273.
in streets, 3852.
Tlie Obedience of a Christian Man, 122.
enforcing laws against, S3394.
Northey, Sir Edward, Attorney-
in verge of court, 314.
Oberbarmen, Oldenburg, collec¬
their horses to be seized and
General, 4305.
Nunaghe, Nunagh :
tion for, 4425.
sold for their benefit, S3003.
North Sea :
Art, Irl517.
Oblivion, Act of:
ministers to lose their benefices.
Navy in, 1725.
Hugh,Irl517.
to be published, Ir501.
S3230.
piracy in, 639, 2627.
Owen, Irl517.
fines under, suspended, S2242.
protection to, S3054.
quarantine on ships from.
Nuncio, Papal:
promised, S1699, 2051.
Nonsuch, Exchequer removed to.
4492, 4500, 4512.
declaration of, againstcessation,
See Pardon.
3428.
Spaniards fishing in, to be
Ir450.
Observance of Statutes, 9.
Noran, Farril, Irl304.
protected, 580.
cause of civil war among Con¬
Obstructions, Commissioners for.
Nore, buoy of the, 4060.
Northumberland :
federate Catholics, Ir447.
2975.
Norfolk, 282.
Henry Percy, K.G., 5th Earl of.
interference of, in government
O'Brian, O'Bryen, O'Bryne :
Norfolk and Suffolk, gentlemen
killed, 11.
resented, Ir444.
Art, Ballaschanlan, Irl466.
of, to be in readiness, 369.
Thomas Percy, K.G., 8th Earl
jurisdiction suspended by
Cahil, Irl304.
Norfolk:
of, traitor, 645, 646.
appeal, Ir445.
Daniel, 8rd Viscount Clare ; see
Thomas Howard, K.G., 10th
Henry Percy, K.G,, 10th Earl
peace rejected by the, Ir437.
also under Privy Council, under
Duke of, 90.
of, 934.
urges civil war, Ir450.
Ireland.
Key TO ) 1525 95, SI. 1550 375, Irl6, S50, 1575 692, Ir79, S323. 1600 904, Irl55, S929. 1625 1393, Ir255, SI416. 1641 1835, Ir837, SI722.
Dates \ 1650 2886, Ir461, S2034. 1660 3145, Ir608, S2167. 1676 8606, Ir855, S2398. 1688 3942, Irl009, S2762. 1700 4271, Irl413, S3190.
620

Set display mode to: Large image | Transcription
Images and transcriptions on this page, including medium image downloads, may be used under the Creative Commons Attribution 4.0 International Licence unless otherwise stated.
(632) Page 620

| | |
| --- | --- |
| Permanent URL | https://digital.nls.uk/105795001 |
Volume 2 - Ireland -- Scotland
Attribution and copyright:

The physical item used to create this digital version is out of copyright

More information
1910 - Bibliography of royal proclamations of the Tudor and Stuart sovereigns and of others published under authority, 1485-1714
Description
With an historical essay on their origin and use, by Robert Steele. Two volumes. Issued also under title: Tudor and Stuart proclamations, 1485-1714. Bibliotheca Lindesiana, v. 5-6. v. 1. England and Wales.--v. 2. pt. 1. Ireland. pt. 2. Scotland. Oxford: Clarendon Press, 1910. "The bibliography of proclamations": v. 1, p. [xxxiii]-xlviii. "Authorities consulted": v. 1, p. [cliii]-clvi.
Shelfmark
SCRR (2.1 Craw)
Additional NLS resources:
Attribution and copyright:

The physical item used to create this digital version is out of copyright

More information
Bibliotheca Lindesiana catalogues

| | |
| --- | --- |
| Description | Privately printed catalogues of the special collections of the Bibliotheca Lindesiana, the family library of the Earls of Crawford and Balcarres. Reformation Tracts, English Newspapers and De Bry Collection catalogues provide the only record of the contents of these collections. Also include catalogues of Bibliotheca Lindesiana collections now held elsewhere. |