‹‹‹ prev (626) Page 614
(628) next ››› Page 616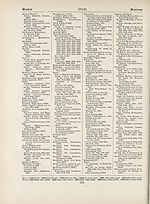 Download files
Complete book:
Individual page:
Thumbnail gallery: Grid view | List view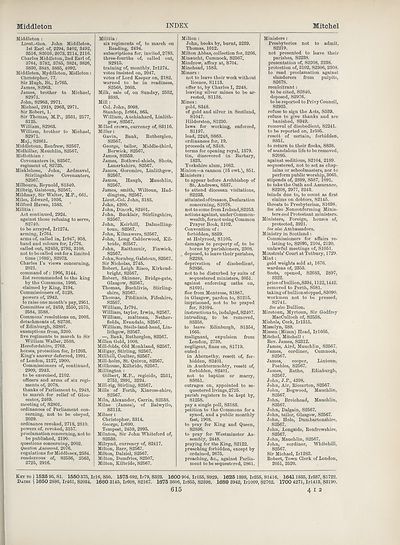 Middleton
INDEX
Mitchel
Middleton :
Lieut.-Gen. John Middleton,
1st Earl of, 2294, 3402, 3492,
3516, S2016, 2073, 2114, 2116.
Charles Middleton, 2nd Earl of,
3764, 3782, 3785, 3824, 3826,
3830, 3848, 3885, 4092.
Middleton, Myddleton, Midleton:
Christopher, 77.
Sir Hugh, Bt., Ir765.
James, S2963.
James, brother to Michael,
S2971.
John, S2963, 2971.
Michael, 2918, 2963, 2971.
Sir Robert, 1.
Sir Thomas, M.P., 2531, 2577,
3125.
William, S2963.
William, brother to Michael,
S2971.
Maj., S2861.
Middletoun, Renfrew, S2567.
Midhillar, Mauchlin, S2567.
Midlothian :
Covenanters in, S2567.
regiment of, S2725.
Mieklehose, John, Ardmavel,
Stirlingshire Covenanters,
S2567.
Milbourn, Reynold, S1340.
Milbrig, Galstoun, S2567.
Mildmay, Sir Walter, M.P., 661,
Miles, Edward, 1036.
Milford Haven, 1583.
Militia :
Act continued, 2924.
against those refusing to serve,
S2740.
to be arrayed, Irl274.
arming, Ir764.
arms of, called in, Ir947, 958.
band and colours for, Ir776.
called out, S2458, 2793, 3108.
not to be called out for a limited
time (1693), S2973.
Charles I's views concerning,
2021.
command of : 1966, 3144.
list recommended to the king
by the Commons, 1986.
claimed by King, 2194.
Commissioners of, 3128.
powers of, 2942.
to raise one month's pay, 2951.
Committee of, 2459, 2550, 2575,
2584, 2588.
Commons' resolutions on, 2003.
detachments of, S2736.
of Edinburgh, S2807.
exemptions from, 3200.
five regiments to march to Sir
William Waller, 2588.
Herefordshire, 2763.
horses, protection for, Irl203.
King's answer deferred, 1991.
of London, 2127, 2900.
Commissioners of, continued,
2909, 2943.
to be exercised, 2102.
officers and arms of six regi¬
ments of, 2078.
thanks of Parliament to, 2948.
to march for relief of Glou¬
cester, 2469.
meeting of, S2801.
ordinances of Parliament con¬
cerning, not to be obeyed,
2029.
ordinance revoked, 2718, 2810.
powers of, revoked, 3157.
proclamation concerning, not to
be published, 2190.
questions concerning, 2002.
Question Answered, 2076.
regulations for Middlesex, 2584.
rendezvous of, S2536, 2563,
2725, 2916.
Militia :
six regiments of, to march on
Reading, 2494.
subscriptions for, invited, 2783.
three-fourths of, called out,
S2915.
training of, monthly, Irl274.
votes insisted on, 2047.
votes of Lord Keeper on, 2182.
warned to be in readiness,
S2568, 2603.
Milk, sale of, on Sunday, 2552,
3383.
Mill:
Col. John, 3098.
Stanhop, Ir864, 865.
William, Auchinhard, Linlith-
gow, S2567.
Milled crown, currency of, S3116.
Miller:
Gavin, Bank, Rutherglen,
S2567.
George, tailor. Middle-third,
Berwick, S2567.
James, S2559.
James, Bothwel-shiels, Shots,
Lanarkshire, S2567.
James, Goremire, Linlithgow,
S2567.
James, Haugh, Mauchlin,
S2567.
James, smith, Wiltoun, Had-
dington, S2567.
Lieut.-Col. John, 3183.
John, 4200.
John, Dinork, S2401.
John, Bucklair, Stirlingshire,
S2567.
John, Keirhill, Dalmelling-
toun, S2567.
John, Kilmawers, S2567.
John, Long Calderwood, Kil-
bride, S2567.
John, Raithmuir, Finwick,
S2567.
John,Sornbeg, Galstoun, S2567.
Sir Nicholas, 2745.
Robert, Laigh Risco, Kirkcud¬
bright, S2567.
Robert, Skinner, Bridge-gate,
Glasgow, S2567.
Thomas, Buchlivie, Stirling¬
shire, S2567.
Thomas, Pitdinnis, Fifeshire,
S2567.
William, Ir794.
William, taylor, Irwin, S2567.
William, maltman, Nether-
fields, Evandale, S2667.
William, Steils-land-head, Lin¬
lithgow, S2567.
—, Bank, Rutherglen, S2567.
Millen Gold, 1008.
Mill-folds, Old Monkland, S2567.
Millgay, Stirling, S2567.
Millhill, Coulter, S2667.
Mill-holm, St. Quivox, S2567.
Millhouse, Kilbride, S2567.
Millington :
Gilbert, M.P., regicide, 2531,
2751, 2891, 3224.
Mill-rig, Stirling, S2567.
Mills of Forth, Kinross-shire,
S2567.
Miln, Alexander, Carrin, S2538.
Milne (James), of Balwyllo,
S3H3.
Milner :
Christopher, 3314.
George, Ir690.
Tempest, 2459, 299-5.
Milnton, Sir John Whiteford of,
S2538.
Milrynd, currency of, S2417.
Milton, Barr, S2567.
Milton, Dalziel, S2567.
Milton, Dumfries, S2507.
Milton, Kilbride, S2567.
Milton :
John, books by, burnt, 3239.
Thomas, 1012.
Milton Abbas, collection for, 3266.
Minaucht, Cumnock, S2567.
Mindrow, affray at, S704.
Minehead, 1583.
Miners:
not to leave their work without
licence, Sni3.
offer to, by Charles I, 2248.
leaving silver mines to be ar¬
rested, S1138.
Mines:
gold, S348.
of gold and silver in Scotland,
S1047.
Hilderston, S1230.
laws for working, enforced,
S1197.
lead, 2248, S863.
ordinances for, 19.
proceeds of, S348.
terms for opening royal, 1379.
tin, discovered in Baibary,
1823.
Yorkshire alum, 1082.
Minion—a cannon (15 cwt.), 851.
Ministers :
to appear before Archbishop of
St. Andrews, S537.
to attend diocesan visitations,
S2233.
attainted of treason. Declaration
concerning, S1078.
not to come from Ireland, S2253.
actions against, under Common¬
wealth, for not using Common
Prayer Book, 3102.
Convention of:
forbidden, S839.
at Holyrood, S1105.
damages to property of, to be
borne by parishioners, 2308.
deposed, to leave their parishes,
S2288.
deprivation of disobedient,
S2836.
not to be disturbed by suits of
sequestered ministers, 3051.
against enforcing oatlis on,
S1691.
flee from Montrose, SI 887.
in Glasgow, pardon to, SI 215.
imprisoned, not to be prayed
for, 81094.
instructions to, indulged, S2407.
intruding, to be removed,
S3358.
to leave Edinburgh, S1354,
1665.
malignant, expulsion from
London, 2739.
negligent, fines on, S1719.
outed:
in Abernethy. resett of, for¬
bidden, 82401.
in Auchtermuchty, resett of,
forbidden, S2401.
not to baptize or marry,
S3051.
outrages on, appointed to se¬
questered livings, 2725.
parish registers to be kept by,
81258.
pay a single poll, S3183.
petition to the Commons for a
synod, and a public monthly
fast, 1908.
to pray for King and Queen,
S2836.
to pray for Westminster As¬
sembly, 2448.
praying for the King, 82122.
preaching forbidden, except by
ordained, 2675.
preaching, &c., against Parlia¬
ment to be sequestered, 2861.
Ministers :
Presbyteries not to admit,
82219.
not presented to leave their
parishes, 82238.
presentation of, 82208, 2238.
protection of, 3102, S2306, 2308.
to read proclamation against
slanderers from pulpits,
S2678.
recalcitrant :
to be cited, S2840.
deposed, 82976.
to be reported to Privy Council,
82935.
refuse to sign the Acts, 8539.
refuse to give thanks and are
banished, 8949.
removal of disobedient, 82241.
to be reported on, Ir595.
resett of certain, forbidden,
8851.
to return to their flocks, S838.
of scandalous life to be removed,
82095.
against seditious, S2104, 2189.
sequestered, not to act as chap¬
lains or schoolmasters, nor to
perform public worship, 3065.
stipends of, 2899, 8587, 1091.
to take the Oath and Assurance,
S2208, 2977, 3243.
teinds due to, to count as first
claims on debtors, 82145.
threats to Presbyterian, 81698.
See also Nonconforming Minis¬
ters and Protestant ministers.
Ministers, Foreign, houses of,
protected, 3921.
See also Amlaassadors.
Ministry in Scotland:
Commissioners for affairs re¬
lating to, S2095, 2104, 2120.
unlawful meetings of, S1051.
Minstrels' Court at Tutbury, 1729.
Mint:
gold weights sold at, 1676.
wardens of, 2353.
Scots, opened, S2683, 2897,
3322
price of bullion,S394,1122,1442.
removed to Perth, 8581.
taking of bullion stopped, 83090.
workmen not to be pressed,
82741.
See also Bullion,
Miretoun, Myrtoun, Sir Godfrey
MacCuUoch of, S2538.
Mishels, Cork, Irl315.
Misselyn, 389.
Missen (Mizen) Head, Irl605.
Mitchel, Mitchell :
Rev. James, 82312.
James, Aird, Mauchlin, S2567.
James, cordiner, Cumnock,
82567.
James, cooper, Lintoun,
Peebles, S2567.
Edinburgh,
Breichead, Mauchlin,
James, Ratho,
S2567.
John, J.P., 4398.
John, Air, Riccarton, 82567.
John, Bogwood, Mauchlin,
82567.
John,
82567.
John, Dalgain, 82567.
John, tailor, Glasgow, S2567.
John, Hole, Dumbartonshire,
82567.
John, Longside, Renfrewshire,
S2567.
John, Mauchlin, 82567.
John, cordiner, Whitehill,
82567.
Sir Michael, Irl282.
Robert, Town Clerk of London,
2051, 2520.
Key to ) 1525 95, 81. 1550 375, Irl6, S50. 1575 692, Ir79, S323. 1600 904, Irl55, S929. 1625 1393, Ir255, S1416. 16411835, Ir337, S1722.
Dates \ 1650 2886, Ir461, S2034. 1660 3145, Ir608, S2167. 1675 3606, Ir855, S2398. 1689 3942, Irl009, S2762. 1700 4271, Irl413, S3190.
615
412

Set display mode to: Large image | Transcription
Images and transcriptions on this page, including medium image downloads, may be used under the Creative Commons Attribution 4.0 International Licence unless otherwise stated.
(627) Page 615

| | |
| --- | --- |
| Permanent URL | https://digital.nls.uk/105794941 |
Volume 2 - Ireland -- Scotland
Attribution and copyright:

The physical item used to create this digital version is out of copyright

More information
1910 - Bibliography of royal proclamations of the Tudor and Stuart sovereigns and of others published under authority, 1485-1714
Description
With an historical essay on their origin and use, by Robert Steele. Two volumes. Issued also under title: Tudor and Stuart proclamations, 1485-1714. Bibliotheca Lindesiana, v. 5-6. v. 1. England and Wales.--v. 2. pt. 1. Ireland. pt. 2. Scotland. Oxford: Clarendon Press, 1910. "The bibliography of proclamations": v. 1, p. [xxxiii]-xlviii. "Authorities consulted": v. 1, p. [cliii]-clvi.
Shelfmark
SCRR (2.1 Craw)
Additional NLS resources:
Attribution and copyright:

The physical item used to create this digital version is out of copyright

More information
Bibliotheca Lindesiana catalogues

| | |
| --- | --- |
| Description | Privately printed catalogues of the special collections of the Bibliotheca Lindesiana, the family library of the Earls of Crawford and Balcarres. Reformation Tracts, English Newspapers and De Bry Collection catalogues provide the only record of the contents of these collections. Also include catalogues of Bibliotheca Lindesiana collections now held elsewhere. |